Gone are the days of skipping a training session because you've found an exercise too advanced, complicated or generally above your fitness level. The hassle of spending countless hours searching for ways to improve or learn exercises can be demotivating. With Skill Progressions from the Coach, you can develop the skills you want as you progress through your Training Journey and towards your fitness goals, all within the Freeletics App.
Actively choosing one or more Skill Progressions you are interested in tells your Coach to focus on supporting your development by creating a clear progression path which you can access from within your personalized training plan.
There are currently 14 Skill Progressions offered by the Coach, as follows:
Strict Pullup
Strict Muscleup
Hanging Leg Raise
Full Hanging Knee Wipers
Pistol Squats
Pushups
One-Arm Pushup
Strict Handstand Pushups
Burpee Box Jumps
Handstand Walk
Double Unders with Jump Rope
Knee Jumps
Standups
Dragonflags
How to enable Skill Progressions
First, check to ensure that you are on a Training Journey which supports Skill Progressions. After this, the feature can be accessed as follows:
Navigate to the Coach settings tab and select the Skill Progressions section.
Once on the Skill Progressions tab, select as many Skills as you like. Selected skills will show up at the top of the list.
Selected Skill Progressions will be assigned by the Coach within your personalised training plan.
To view active Skill Paths, navigate to the achievements tab on the top right of the Coach tab (same as badges), click in and tap to switch from the achievements tab to the progress tab.

You can activate or deactivate selected Skill Progressions at any time by updating your Coach settings. Keep in mind that if you do not activate any skill progressions, the Coach will assign and progress you towards all available skills.
Please note: Some Training Journeys do not support Skill Progression at this time! The link below won't work for you if your current Training Journey is not currently supported.
If you'd like to try Skill Progressions, you'll need to first change your Training Journey or finish the one you're on. Then you can start a whole new Journey and activate Skill Progressions at that time.
Earn special badges for your commitment and hard work
Celebrate all the hard work and consistency when you master a skill with special badges. Badges can be earned for all the existing Skills. Find your earned badges in the achievements section of the Freeletics App.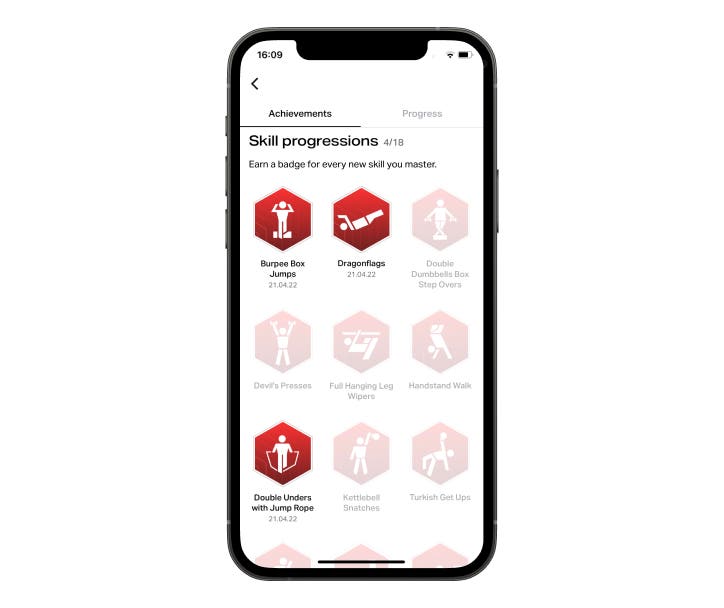 Ready to develop awesome skills and level up on advanced exercises? Activate your skill progressions and start learning today.
A few common questions about Skill Progressions
My Skill Progressions are Partially or Fully Blocked
Your Skill Progression may be fully or partially blocked for a myriad of reasons: Here's what you can do to free up your path:
Check if your weight is correct, up to date and using the correct unit of measurement in the app? Certain Skill Progression will be blocked for certain weights and heights for safety reasons.
Check if your equipment settings are up to date? For example; only activating the Pull-up bar is not enough for certain Skill Progressions, you also need to enable all the different space settings for your bar in your Coach settings.
Check if you exclude some exercises which are fundamental to advancing towards a skill.
When is a skill considered mastered?
A skill is only considered as mastered when you assign yourself a Star by sliding to the maximum on the Coach feedback scale. This enables the Coach to include more of the advanced exercises in your training plan, so make sure you give appropriate feedback.
I cannot find the Skill Progressions feature
Skill Progressions are available in bodyweight-exercise-inclusive Training Journeys only. If you cannot find them, check to make sure you are in the following Training Journeys:
| | |
| --- | --- |
| Male | Female |
| Hybrid Running | Hybrid Running |
| Explosive Strength | Natural Tone |
| Hybrid Strength | Slim & Toned |
| Weights-Free Gain | Balanced Fat Burn |
| Balanced Burn | Calorie Burn |
| Cardio Burn | Full Body Fitness |
| Shred & Burn | Hybrid Strength |
| Strength & Stamina | Legs, Core and Curves |
| Everyday Strength | Tone & Tighten |
| | Fit & Toned |
Try Freeletics now