Spring is here! Time to get off that couch and finally get outdoors. Easier said than done? We know that after spending the winter months running on a treadmill or training in the comfort of your living room, training outdoors can seem daunting. Running, exercising and sweating in public can be terrifying to begin with, but there are so many benefits that go along with it. Here are five reasons to put your fear to the side and get outdoors today.
Fresh air
Who doesn't need some fresh air after a long day in the office or library? It does wonders for the mind and will make you feel more alive and motivated. Way more enjoyable than training in a stuffy, hot room, and fresh oxygen leads to the release of happiness hormones and boosts your immune system.
Change of scenery
Training never has to be boring if you're outside. You can change your running route as often as you like, especially to keep your distance runs from becoming tedious. You can also pick a perfect spot for your Bodyweight workout, depending on what you need, such as a wall, a bar or a distance to run. If you keep changing your location, your training won't feel boring or repetitive. Parks, gardens, fields, forests – the world is yours.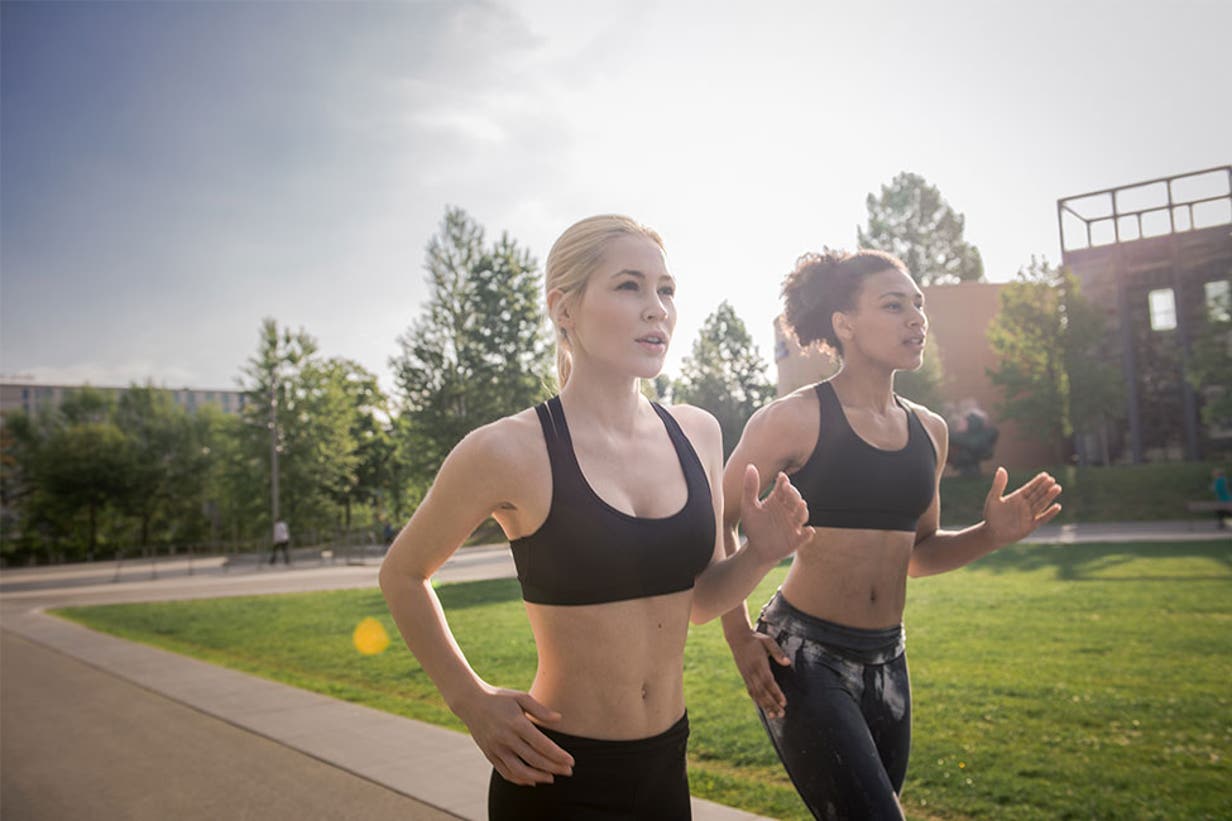 Community
Training together in a group outside boosts your motivation. Ever done a group-workout with 15 other Athletes? Ever ran through the city and seen people look wide-eyed at your big running crew? It's a fantastic feeling and will keep you motivated right until the end – a great way to get some new PBs. Trying out new spots will also let you meet lots of new, likeminded Athletes. So get out there!
Different Tracks
For running, training outside means lots of different tracks to conquer: hilly, flat, winding and different altitudes. You could also try out some of the running workouts on a proper running track if you can find one. It's very healthy for your feet to have different types of surface to run on, such as concrete, grass, trail and track, and there is so much more to be experienced when running if you're not stuck on a treadmill. Also, running outside provokes a much more natural movement and is a better way to run than on the treadmill, so you will also be doing your body a big favour by stepping outside.
Discover your City
When you're subconsciously on the lookout for a new workout spot or running route wherever you go, you are very likely to discover new parts of your city and places you never knew existed. Who knows, maybe you will even be able to start a workout group yourself when you find the ultimate training spot.
Now you know the benefits of training outdoors, grab your friends, get your speakers on and make the most of the weather. #Springiscoming