Hollyvia is such a passionate runner that you will struggle to find a pavement in Paris she's not covered over the years. But it's only recently that she's had a companion to accompany her: The Freeletics Running Coach.
She started training with the Bodyweight Coach, back in 2014 and enjoyed his company so much that she knew her Running Coach would not only track her steps but also prepare her for the next big race to come. Hollyvia has come far in becoming fast and strong, and with the two Coaches combined, she is now unstoppable. Here's why.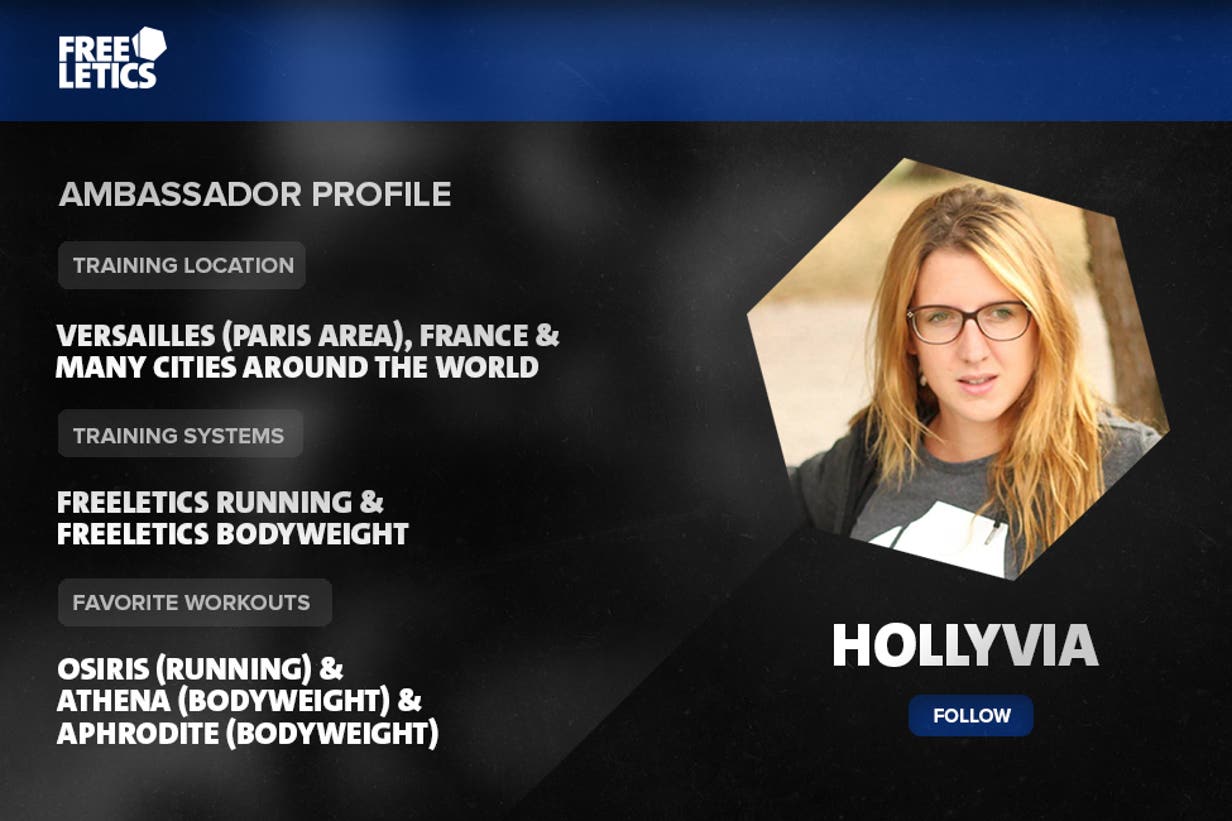 When did you start training with Freeletics?
"August 2014."
How has your training changed since then?
"At first, there was only one Coach available: Bodyweight. So I stuck to that in the beginning. Now I train with Bodyweight and Running. Together with Nutrition, this is the perfect combination for me. Bodyweight makes me stronger and Running helps me to be faster. Nutrition complements my training and boosts my performance and energy. That's why I recommend all Free Athletes to use it with any training Coach. You should never forget that abs are made in the kitchen."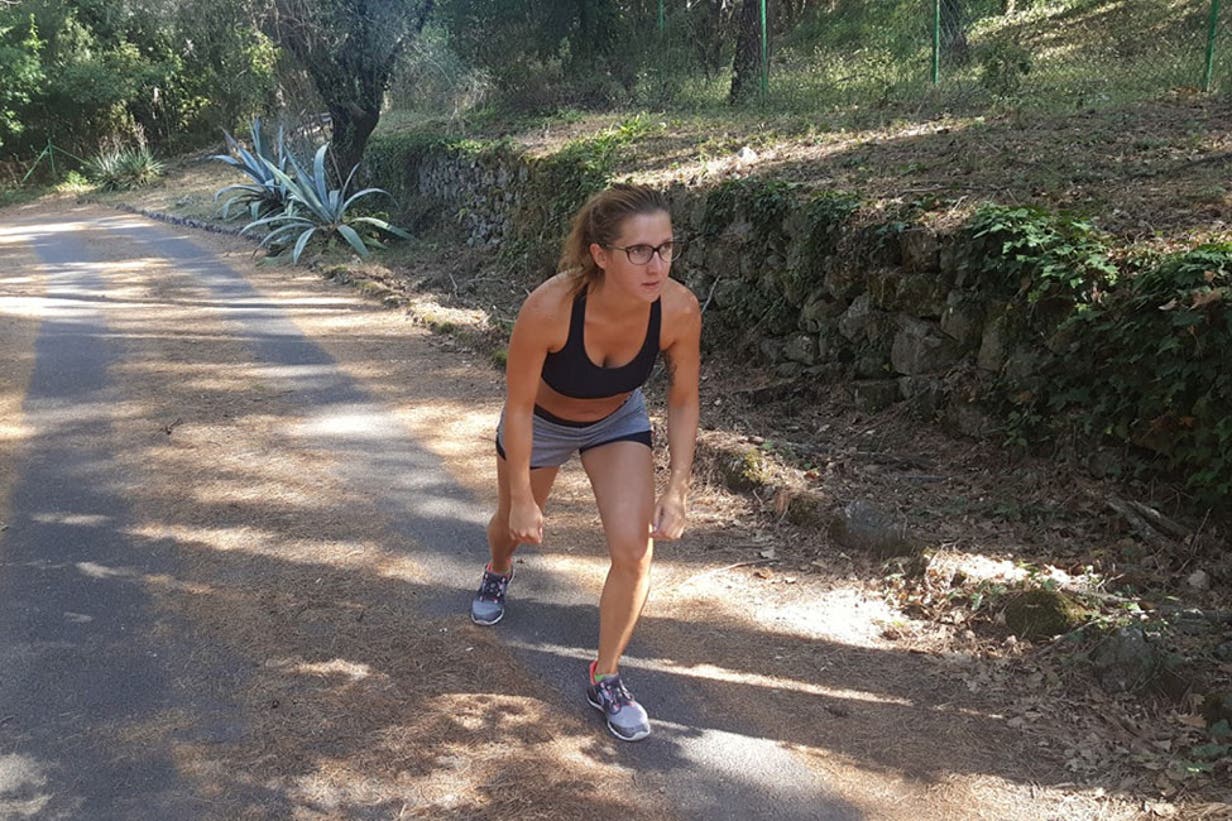 How often do you work out and how do you combine the different training systems?
"I usually do three Running workouts combined with two Bodyweight workouts per week ­– it's my ideal balance. Each training Coach has it's own advantage and together mutually benefit one another."
What do you like most about the new training systems?
"I love the fact that the training experience you get with the Running app, is the same as the Bodyweight app: fully individualized and adapts to you throughout your journey."
Where is your favorite training spot?
"My favorite spot is the parc at the Versailles Palace. But I also love going to the Stade des Chantiers where the Freeletics Community of Versailles trains almost every day."
Which equipment do you always have with you for training?
"I always have my phone, my workout mat, a bottle of water and my skipping rope in my gym bag. I love ending my training sessions with a few minutes of skipping."
Are you a morning or an evening athlete?
"I am definitely a morning person and train before I go to work."
Do you train together with Athletes from the community or on your own?
"Both. As I love working out at 6am, I often train on my own. At the weekend, I train a bit later so I can meet with the Freeletics Community of Versailles at our stadium."
What motivates you the most?
"I am most motivated by seeing how strong I've become both physically and mentally. This goes hand in hand with the support that I get from the Freeletics Community and my boyfriend Romain who is also a Free Athlete. Moreover, following Marcy, Zaida, Oohrelle, Annhia and many other Free Athletes on Instagram is also really inspiring me."
Do you have a tip on training in bad weather?
"I recommend to train it in the morning. When you're still half asleep, you won't realize how bad the weather actually is."
Do you have a nutrition secret? Maybe a special pre- or after-workout snack?
"I guess my secrets aren't really secrets, since they are all available in the Nutrition app. But what I love most after a workout is a toast (wholemeal bread) with avocado and a poached egg – you cannot do anything wrong with this. I strongly believe that a successful fitness journey starts with a healthy diet."
What else would you like to share?
"I also have my own blog that is currently only written in French but I plan to publish my articles both in French and English from now on. Blogging is a great source of motivation for me and I love reading about other people's experiences, too."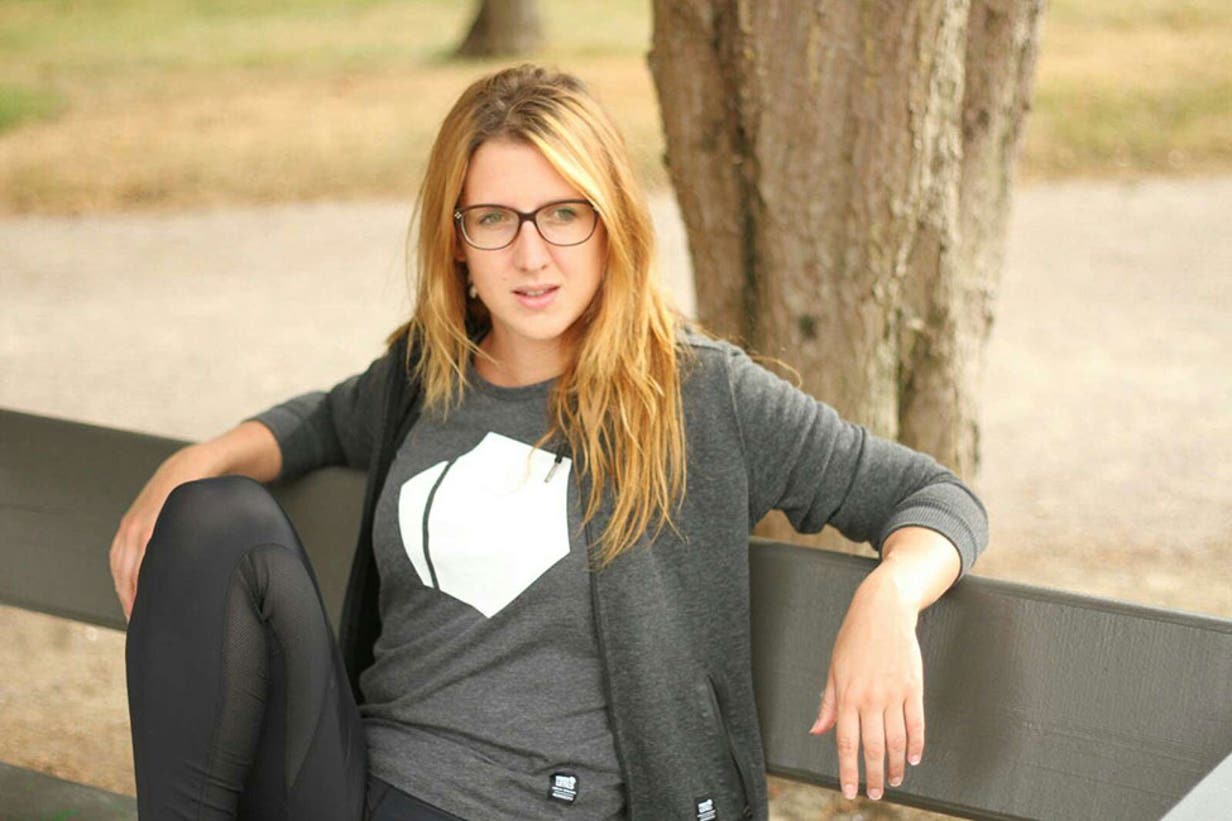 Hard work always pays off. Hollyvia has become faster and stronger thanks to the Freeletics Running and Bodyweight Coaches. She has reached and even surpassed her goals. ClapClap for that. What are your goals and how do you attain them?
Freeletics offers you three training systems to get you where you want to be – become fitter, lose weight or build muscle. The Bodyweight, Running and Gym Coaches are now available to you with only one single subscription. Start your journey now and become your best version.
Do you want to get more inspiration on how to combine Running and Bodyweight, then Ellie's story is right here for you.