It's fresh, creamy, refreshing and incredibly delicious! We're pretty much singing love songs about guacamole. Whereas last time we highlighted the importance of getting the original recipe right, this time we're challenging the status quo and going rogue with what we put in our favorite spread. Ready to try something new? These 4 recipes are guaranteed to give your guac an extra kick and make you fall in love with it all over again.
First things first: Get to know your guac
The name "guacamole" originates from the Aztecs and means nothing more than "avocado sauce". No one exactly knows when the first guacamole was prepared but when Spaniards explored South America around the 1500s, it was already popular amongst the Aztecs. Ever since, guacamole has never lost its popularity. So...what exactly goes into a good bowl of guacamole? The following recipe serves as a great basis for a delicious guac:
Ingredients for 1 medium bowl:
1 ripe avocado
fresh lime juice
a handful - or two handfuls - of coriander, roughly chopped
1 large - or extra large - garlic clove, finely chopped or pressed
½ onion finely chopped and soaked in lemon water for 10 mins
1 chilli, finely chopped, without seeds
salt and pepper
drizzle olive oil
Optional: Cumin & very finely chopped tomato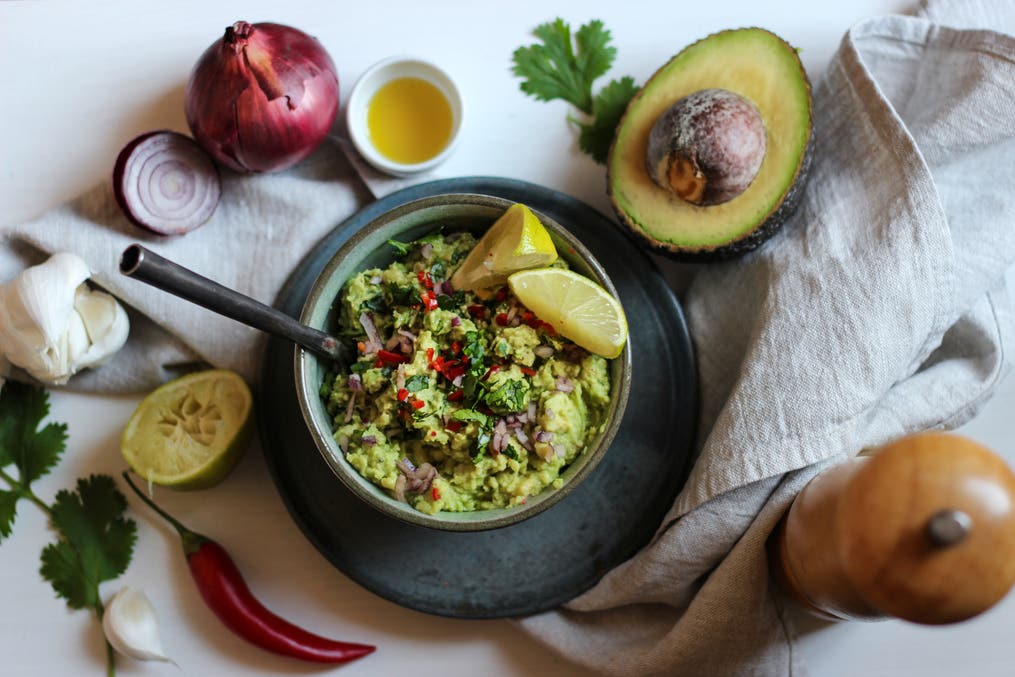 1) Guac with ginger and mint - superfood meets superfoods
You need: Fresh ginger, fresh mint
What to do: Grate a small piece of ginger and chop the mint into pieces. Add both ingredients to your bowl of guac using the recipe above and enjoy.
Goes well with: Whole grain bread, chickpea salads and beef.
2) Wasabi Guac - top up your dishes
You need: 1 tablespoon of sesame seeds, ¼ bunch of fresh mint, ½ bunch of parsley, 100g sugar-free soya yoghurt, 3 teaspoons wasabi paste
What to do: This one will blow your mind! Chop parsley and mint and mix all ingredients with your guacamole.
Goes well with: Beef burgers with portobello mushrooms, summer rolls and self-made bowls with rice, edamame, tofu and mango.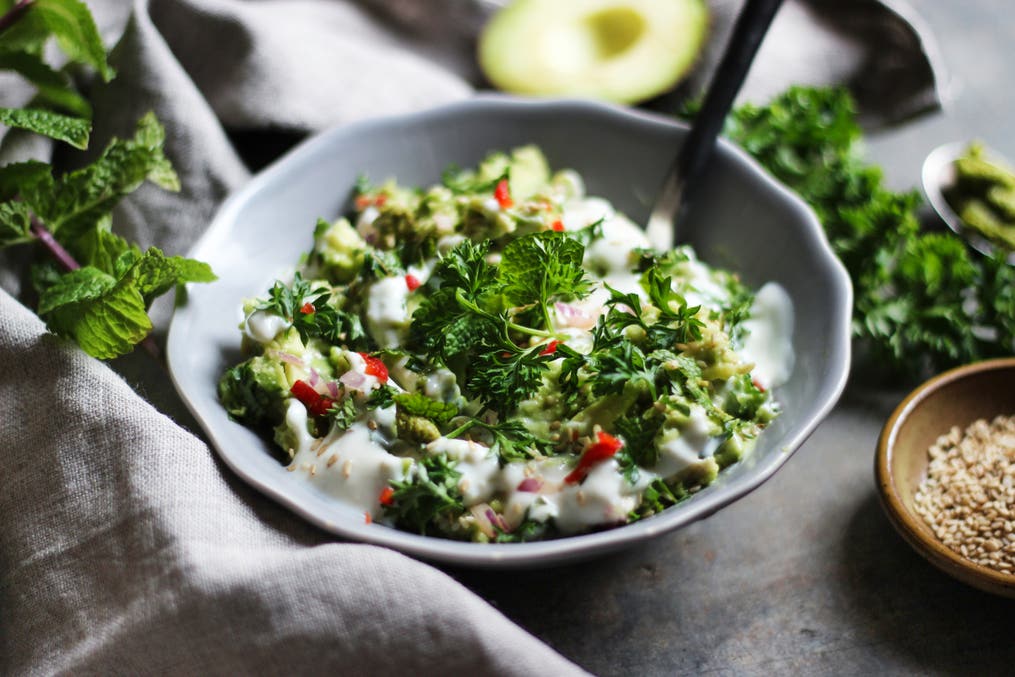 3) Guac Oriental - a sweet touch to your guac
You need: 2 tablespoons of pomegranate, ½ mango, optionally: agave syrup
What to do: Finely slice the mango and mix together will all other ingredients. Add agave syrup depending on how sweet you like it.
Goes well with: Couscous, quinoa and grilled chicken breast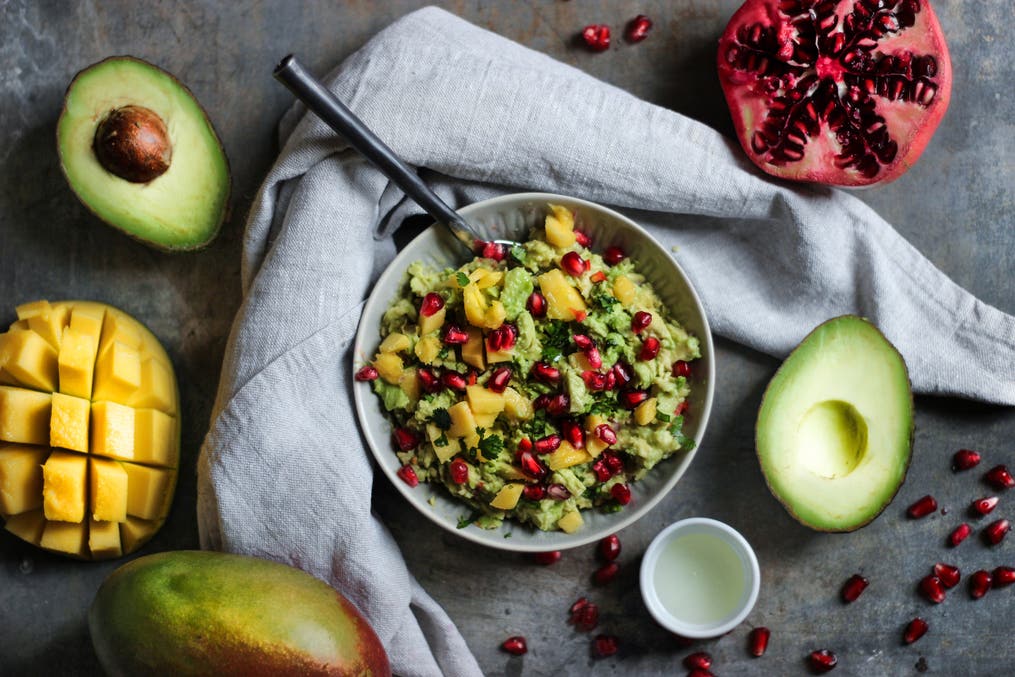 4) Crunchy Guacamole - with nuts and seeds
You need: 2 tablespoons of sunflower seeds, 1 spoon of cashews, 1 spoon of hemp seeds
What to do: Chop cashews. In a pan, roast nuts and seeds. Sprinkle on top of your guac to give it a crunchy twist.
Goes well with: Crisp bread and as a salsa for salads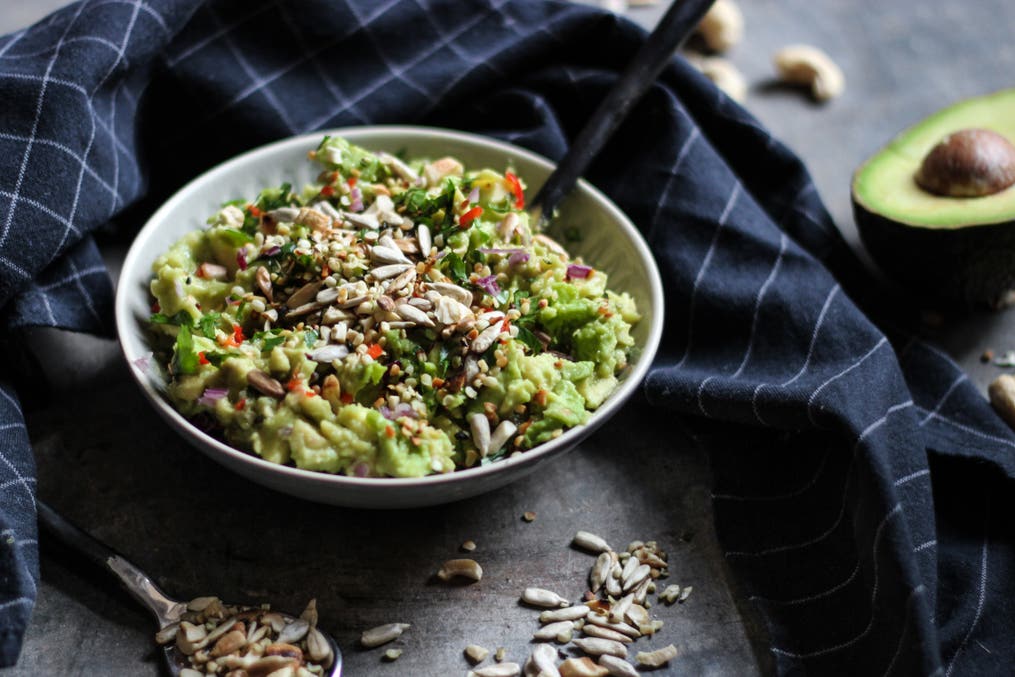 If guac's the love of your life, show it you care and spice things up.