Let's face it: sometimes you just need a burger. But how do you enjoy it without undoing your healthy eating? The answer is simple: swap meat for zucchini, keep it clean and make it yourself. Packed with Cannelloni beans, parmesan, and sliced almonds, these veggie burgers are just as mean and lean as the real thing.
Ingredients
Yields 6-7 burgers
For the patties:
4 cups shredded zucchini
1 (15 ounce) can Cannelloni beans, rinsed and drained
2/3 cup spelt flour
2 large eggs, lightly beaten
1/3 cup scallions, white and green parts
Zest of 1 lemon
1/3 cup grated parmesan cheese
¼ cup slivered almonds
Salt and pepper, to taste
Coconut oil for the pan
For the toppings:
Lettuce leaf buns (optional)
Toppings of your choice (grilled avocado and goats cheese is a tasty combo)
Sauce of your choice (our kale pesto recipe also works great here)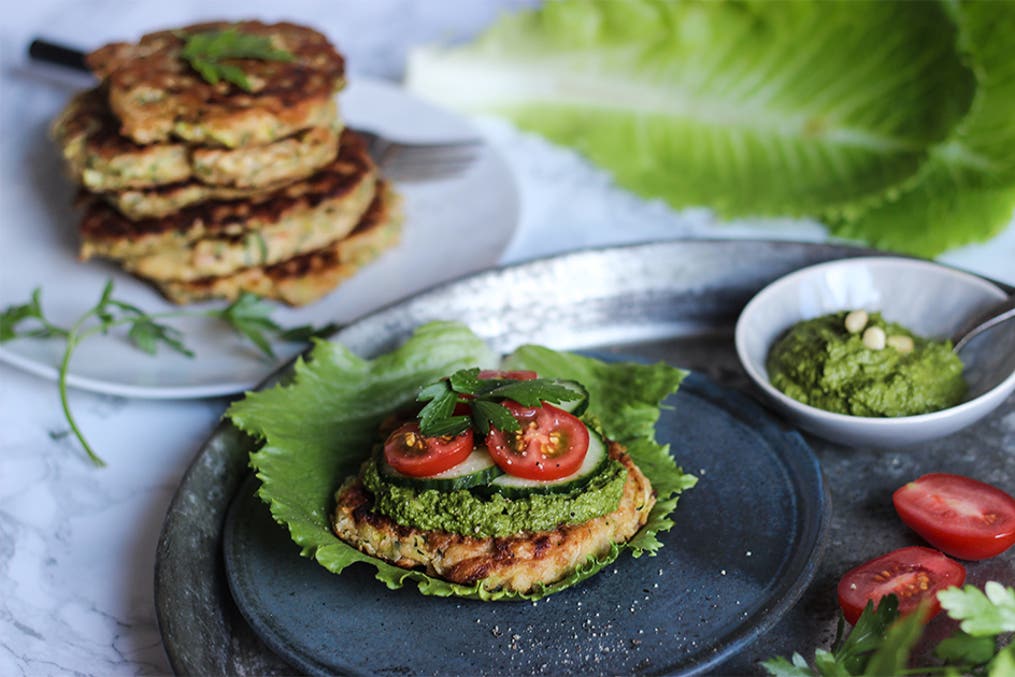 Instructions
Place the shredded zucchini in a colander set over a bowl. Sprinkle lightly with salt then let stand for 10 minutes to draw out the juices.
While the zucchini is draining, place the Cannelloni beans in a large mixing bowl and mash.
Transfer the zucchini to a tea towel, twist into a bundle and squeeze all the juices out. Transfer the drained zucchini to the bowl with the mashed beans.
Add flour, eggs, scallions, lemon zest, parmesan cheese, and almonds to the bowl. Season with salt and pepper. Stir until the mixture is combined. Divide the mixture into 6 or 7 even sized portions and using your hands, form into patties.
Heat enough coconut oil in the pan for frying, then add a few patties, pressing them to compact. Cook for 3-4 minutes on each side until golden brown. Transfer to a kitchen towel and sprinkle with salt and pepper. Top it off with whatever speaks your burger-loving language, wrap it all up in a lettuce leaf and enjoy.