It's that weird time of year again; it's not really winter any more, but it's certainly not spring. The change in season messes with your nutrition too; it's too mild for hot dinners every day, but still too chilly for cold salads. At this time, we need a transitional food to match the transitioning seasons. For the best of both worlds, why not try a warm salad?
With all the colors, greenery and lightness of a traditional salad and the added bonus of some cooked seasonal produce, warm salads could well be the perfect transitional meal as we move from winter to summer. Here are a few of our favorite warm salad recipes.
Roasted carrot and lentil salad
A perfect meal for when there's still a lingering chill in the air, this salad forms a base to which you can add other seasonal vegetables, nuts and even fruits!
Serves 2
Ingredients
450g carrots
100g puy lentils
3 tbsp coconut oil
1 tbsp white balsamic vinegar
Handful of coriander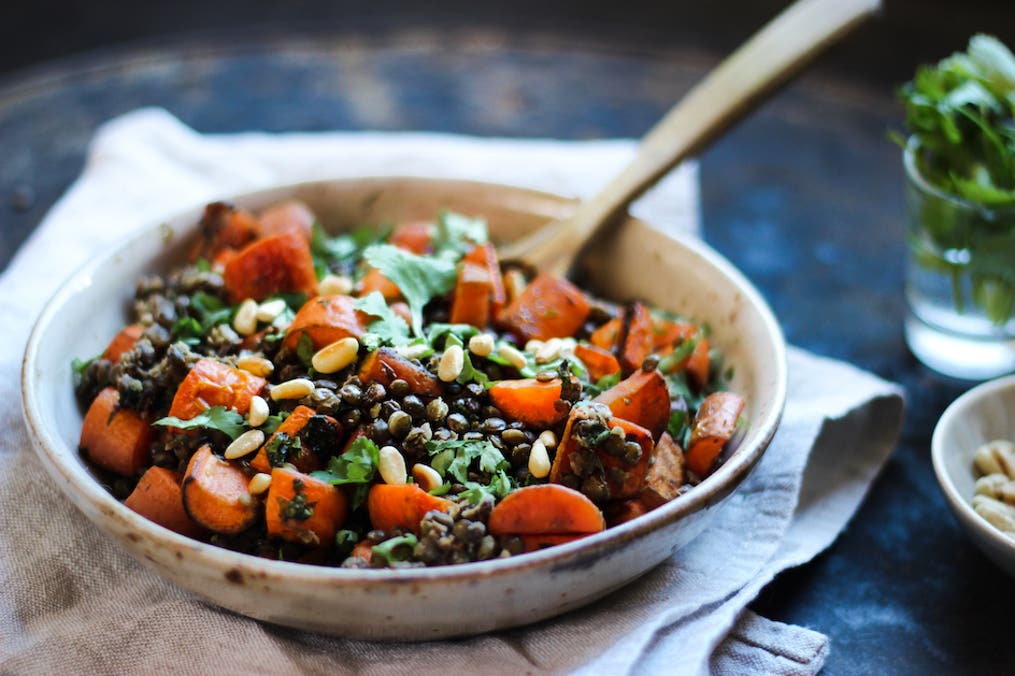 Preparation
Preheat the oven to 220 degrees. Rinse the lentils, boil them in a pan, then simmer gently for around 20 minutes before draining and setting them aside.
Cut the carrots into pieces of medium thickness, around 3 centimeters long. Heat the coconut oil in a pan and pour over the carrots, ensuring that the carrots are entirely coated in oil. Transfer the mixture to an ovenproof dish and sprinkle with chopped coriander stalks and a pinch of salt. Roast in the oven for around 30 minutes or until the carrots have softened slightly.
After removing from the oven, transfer the carrot mixture to a bowl and mix in the lentils, vinegar and coriander leaves and mix until well-combined.
Add seasoning to taste and serve with wholemeal bread or a sprinkling of pine nuts.
Warm goat's cheese salad
One for the cheese lovers. Add more dried fruit for a sweeter taste or try a sprinkling of walnuts to add some healthy fats.
Serves 4
Ingredients
140g green leaves (spinach, kale or lettuce work great)
A handful of sliced red cabbage
70g blueberries
250g goats cheese
2 tbsp sesame seeds
2 tbsp dried cranberries
2 tbsp olive oil
1 tbsp honey
1 tbsp sesame oil
1 tbsp unsweetened tahini
1 tbsp balsamic vinegar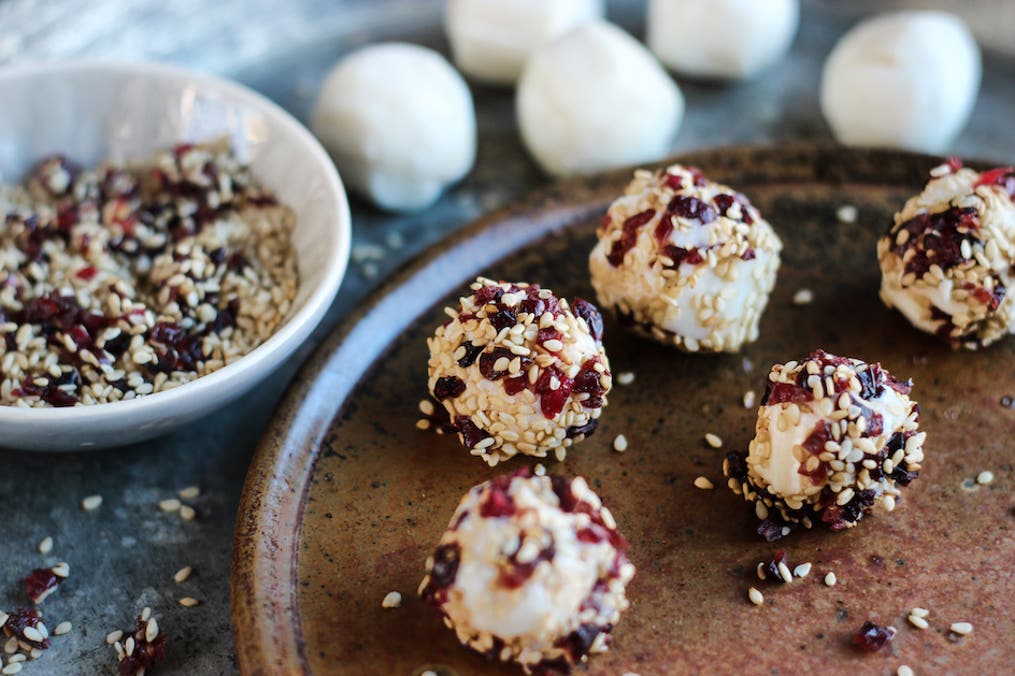 Preparation
Finely chop the dried cranberries, add them to a bowl with the sesame seeds and combine well.
Take around 2 teaspoons of goat's cheese, roll it into a ball then roll this in the cranberry/sesame mix, making sure to cover it well. Repeat this with all of the cheese and set the resulting balls aside.
For the dressing, mix together the sesame oil, tahini, honey, balsamic vinegar and olive oil in a cup until well-combined.
Heat a non-stick pan over a very low heat, add a dash of olive oil and a dash of honey before adding the cheese balls. Rotate constantly to ensure that they're evenly cooked and remove them from the heat just before they start to become misshapen.
Wash the lettuce and cabbage and add to a large salad bowl along with the cheese balls. Add the blueberries and dressing and combine well before serving.
Eggplant and chickpea salad
Salads don't always have to mean copious amounts of green leaves; a salad can be anything you want it to be! In this recipe, eggplant and chickpeas form the base, whilst fresh tomatoes add extra healthy goodness.
Serves 4
Ingredients
1 large eggplant, sliced into 1cm thick rounds
1 can chickpeas, drained
140g Greek yoghurt
5 tbsps extra virgin olive oil
1 tsp smoked paprika
1 tsp ground cumin
Pinch of cayenne pepper
1 small garlic clove, grated
600g plum tomatoes sliced into 0.5cm rounds
70g pomegranate seeds
40g fresh coriander leaves
Pinch of salt to taste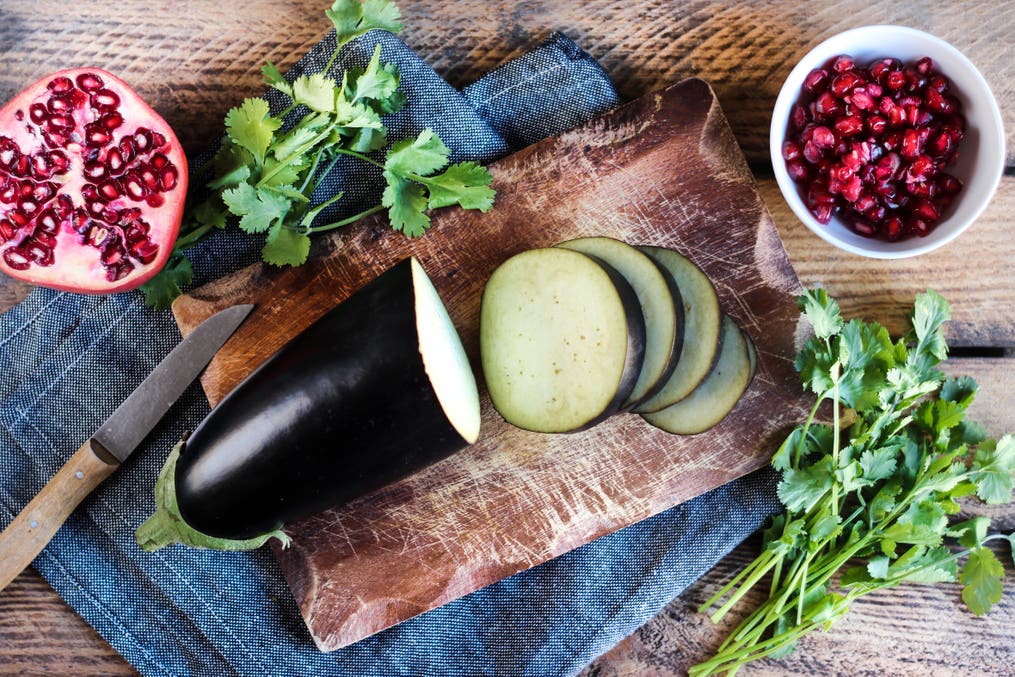 Preparation
Preheat the oven to 200 degrees. Arrange the eggplant in a single layer on a rimmed baking sheet, brushing both sides with olive oil.
In a small bowl, combine the paprika, cumin, cayenne pepper and salt. Sprinkle over the aubergine slices, along with the drained chickpeas.
Bake the eggplant and chickpea mixture for around 30 minutes, or until brown and tender, flipping part way through. Add the tomatoes for the final five minutes.
In a bowl, combine the yoghurt and garlic and season with salt.
When cooked, combine together the eggplant, chickpeas and tomato in a dish. Drizzle some oil over the salad and garnish with pomegranate, coriander and seasoning to taste. Serve with the yoghurt dressing.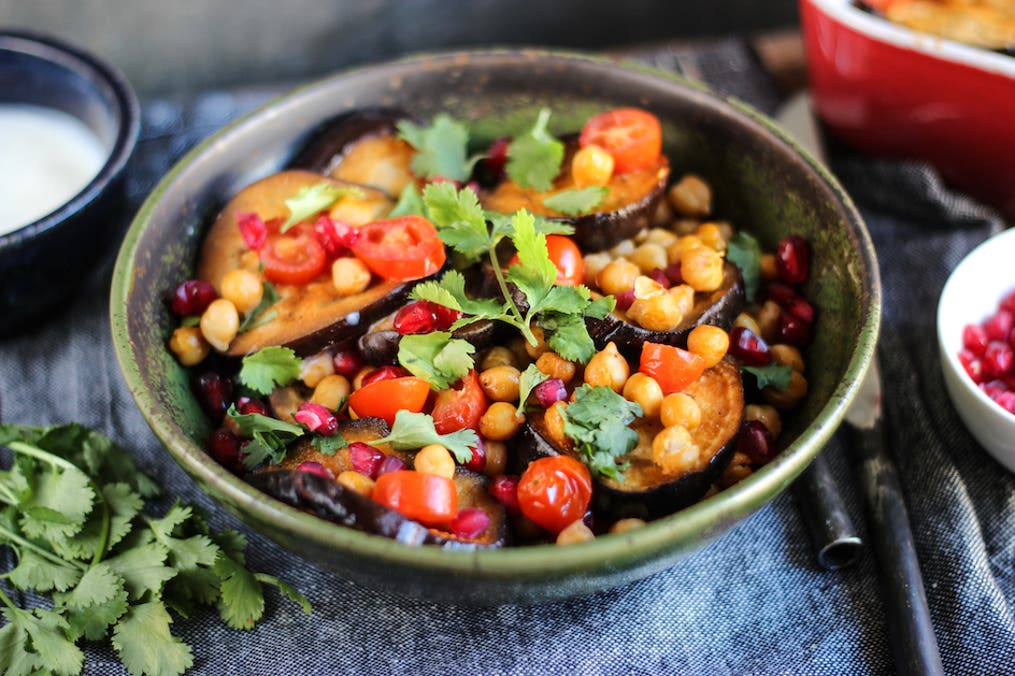 The great thing about warm salads is that you don't have to rigidly adhere to a recipe to guarantee a great taste. Fancy some extra protein today? Try adding chicken, turkey or tofu. Want a vitamin booster? Add berries or apple slices? Need something more filling? Add a handful of nuts or seeds. The possibilities are endless when it comes to warm salads. For even more healthy, nutritious recipes, download the Freeletics Nutrition app now.