Free Athlete. Have you ever come across an exercise that seems too advanced or that you couldn't quite nail? It happens to all of us. But it doesn't have to slow you down.
Choosing one or more Skill Progressions in the app tells your Coach to focus on supporting your development by creating a clear progression path for building the skills you need to master the exercise – all within your personalized training plan.
Adding Skill Progressions to your training
Navigate to the Coach settings section (gear icon in upper right of Coach tab) and select the Skill Progressions section.

Navigate to the Coach settings section (gear icon in upper right of Coach tab) and select the Skill Progressions section.

Once in the Skill Progressions section, select as many Skills as you like by tapping the circles to the right. Selected skills will show up at the top of the list and you can activate or deactivate selected Skill Progressions at any time.
Current Skill Progressions
Burpee Box Jumps
Devil's Presses
Double Dumbbells Box Step Overs
Double Unders with Jump Rope
Dragonflag
Full Hanging Leg Wipers
Handstand Walk
Kettlebell Snatches
Knee Jumps
Leg Raises
One-Handed Pushups
Pistol Squats
Pushups
Standups
Strict Handstand Pushups
Strict Muscleups
Strict Pullups
Turkish Get Ups
Please note, Skill Progressions are only available on certain Training Journeys. Learn more here.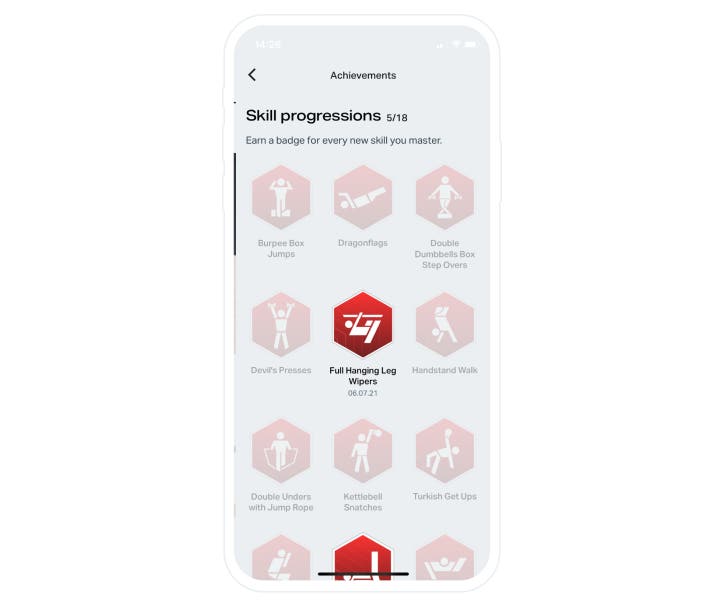 Tracking your progress
To view your active Skill paths and your progress on each one, tap the achievements icon (medal) on the top right of the Coach tab and tap to switch from the Achievements tab to the Progress tab.
Once you complete Skill Progressions, you also earn a badge for each one. Find all your earned badges in the Achievements section of the Coach tab (the same medal icon mentioned above) or in your Profile.
FAQs
How does the Skill Progression work?
When you opt into a Skill Progression, your Coach includes exercises in your training days that are designed to support mastery of the skill you've chosen. Based on the feedback you give after each workout, your Coach will advance you to the next exercise in a safe, progressive path towards mastery.
What happens if I don't select any Skill Progressions?
Keep in mind that if you do not activate any Skill Progressions, the Coach will assign and progress you towards all available skills.
Why are some Skill Progressions blocked?
There can be many reasons a Skill Progression is fully or partially blocked, including having excluded exercises, having certain equipment settings, having a high BMI, having adapted your session for limited training space, or not having completed previous skill paths that the exercise is dependent on first.
If there's one you want to do that's blocked, here are a few things you can try to do to free it up:
Check if you have excluded some exercises which are fundamental to advancing towards a skill. You can see and change which exercises you've excluded in your Coach settings (gear icon in upper right of Coach tab).

Check if your weight is correct and up-to-date and using the correct unit of measurement in the app. Certain Skill Progressions will be blocked for certain weights and heights for safety reasons. You can update your weight in your Profile tab settings (tap the gear icon in upper right and then select Edit Profile).
Check if your equipment settings are up to date. For example; only activating the Pull-up bar is not enough for certain Skill Progressions, you also need to enable all the different space settings for your bar in your Coach settings.
When is a skill considered mastered?
A skill is only considered to be mastered when you assign yourself a star by sliding to the maximum on the Coach feedback scale after finishing the assigned reps of each successive exercise along the skill path with correct technique and without breaks. This self-assessment enables the Coach to include more of the advanced exercises in your training plan at the right pace for you, so make sure you give appropriate feedback.
Where do I find the Skill Progressions feature?
Select Skill Progressions from the Settings section of the Coach tab by tapping on the gear icon at the upper right. If you can't see any Skill Progressions, you might be in a Training Journey that doesn't support them. Currently they are only available in bodyweight-exercise-inclusive Training Journeys.
Why aren't Skill Progressions available to me?
Skill Progressions are only available on certain Training Journeys and some might be blocked depending on your Training Journey and settings. The following Training Journeys don't support Skill Progressions. If you're on one of these Training Journeys, you'll need to first change your Training Journey or finish the one you're on and begin a new one to try Skill Progressions:
Run Further

Leg Strength & Sprints

Run & Burn

Barbell Gain (M)
Barbell Tone (F)

Hardcore

Dumbbell Tone (F)

Dumbbell Gain (M)

Kettlebell Fundamentals
Why are skills I've already achieved still being assigned?
The Coach will always rotate back through skills over a period of time to give you dedicated time to maintain your skill and possibly even further increase your technique. Even professional athletes spend a lot of time working on the technique of exercises that they have mastered.
Want to experience the power of progress and personalized training with Skill Progressions?
Skill up!