Think that no time, no space or no equipment = no training? Think again! Quick Adapt is the new feature in the Freeletics app that will level up your #NoExcuses game.
Picture the scene. Your Coach has set your workouts for the week, you're all ready to go and think there's nothing stopping you from training. Then, disaster strikes; you're pulled into a meeting that drags on long into the evening, your gym is closed for refurbishments or your running shoes are leaking. You think you can't do you Coach day after all and that training will have to wait for another day. Well that's where you're wrong, and here's why:
In short
Quick Adapt is here to help you make #NoExcuses a reality. You can now choose from a selection of limitations to tell your Coach exactly what is stopping you from doing your session and your Coach will automatically generate a new day for you based on all of the training you've done to date.
How does it work?
It's never been easier to have #NoExcuses. Simply click the blue Coach icon at the bottom of your Coach day and you'll receive the following list of options:
I don't have equipment
I don't have space
I only have 15 minutes
I cannot run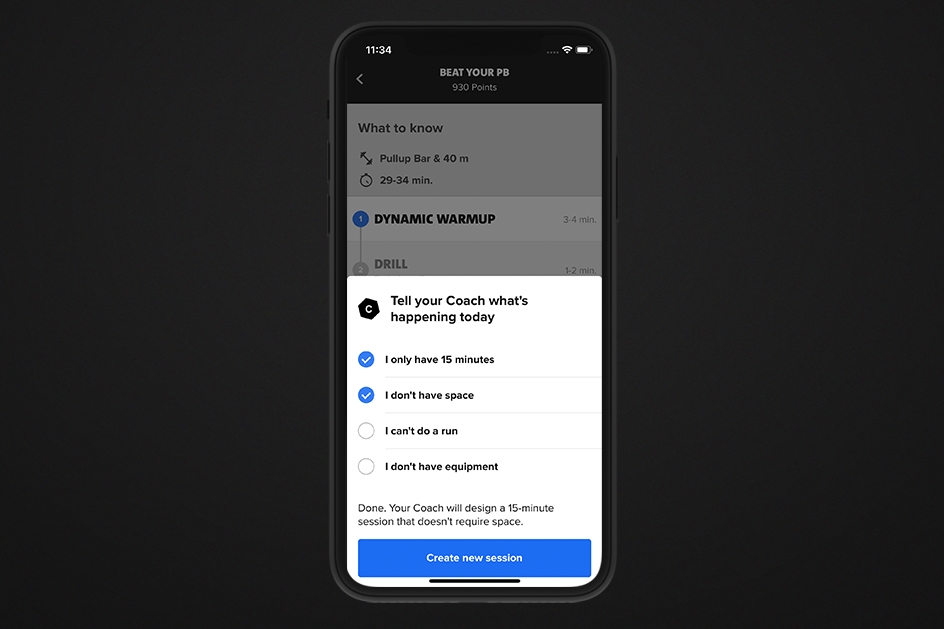 Check the obstacles that apply to you, click "Adapt my session" and your Coach will generate an entirely new Coach day based on your responses. For example, if you select "I only have 15 minutes", your Coach will adapt your session to be no longer than 15 minutes, including a warmup and cooldown. If you select "I don't have equipment", your new session will be equipment-free. Simple, right?
Quick Adapt works in real time, which means that you have to be connected to the internet for it to function. It takes all of the training that you've done (including your Coach week so far) and generates an alternative Coach day, free from excuses and limitations.
Will this affect my entire training week?
No. Quick Adapt can only be used on a day by day basis. You can currently update your equipment, space and running preferences at the start of each Coach week.
What's the big deal?
For the first time ever, Quick Adapt enables you to specify exactly which particular limitation applies to you.
You say, "I have no time, space or equipment", we say "NO EXCUSES!". Whatever your limitation might be, just hit Quick Adapt and your Coach will generate a whole new workout day. Training any time, anywhere has never been easier.