During fall, there is no such thing as "too much pumpkin". Whether it's lit up on our doorstep, or served on our dinner table, we just can't get enough of the stuff.  So we asked the Freeletics Nutrition Coach for some new and exciting ways to make the most of this limited edition ingredient. Here are three amazing recipes that will carry you through from breakfast to dinner and ensure you get your vital dose of Vitamin C this autumn.
Pumpkin Spice Muesli for breakfast
Waste not, want not. This self-made pumpkin puree is a great way to use up all that delicious pumpkin flesh you'll have lying around after carving. You can even prepare and freeze it in advance, saving you precious time in the morning.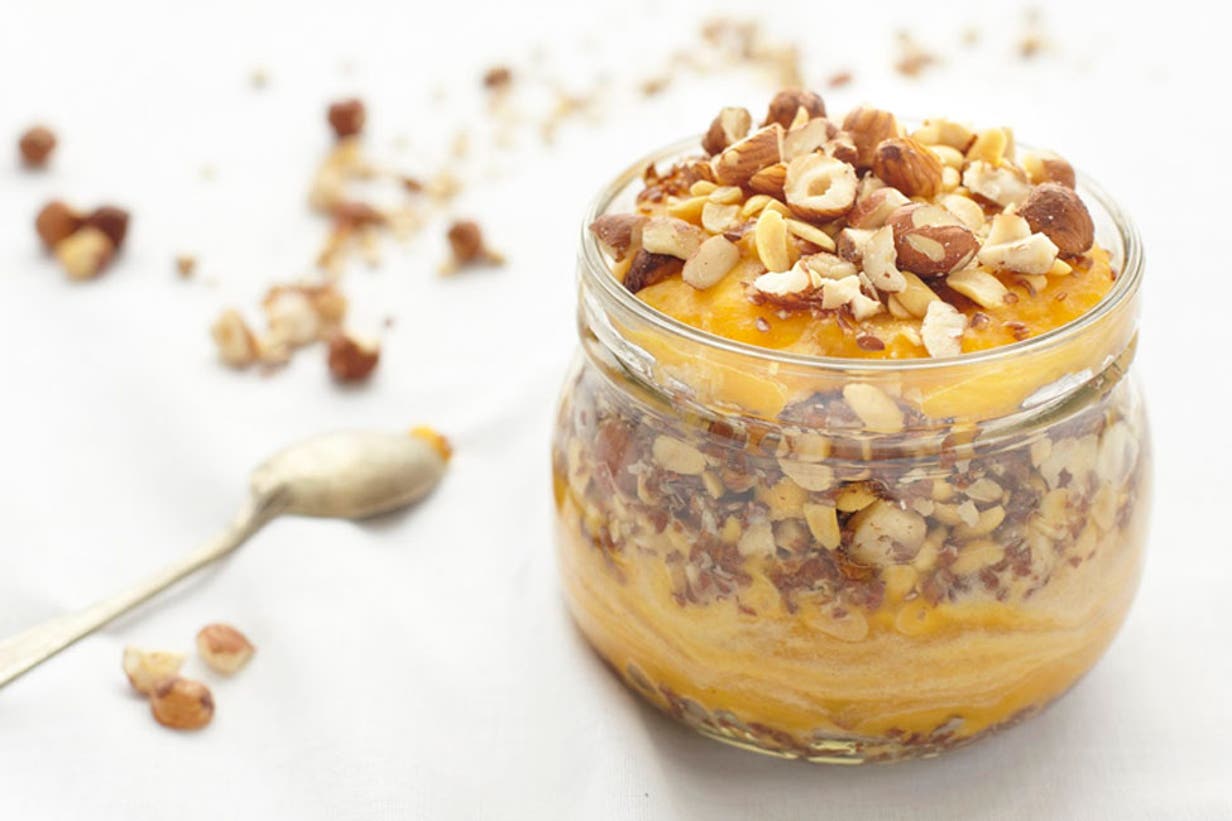 Here's how to enjoy pumpkin for breakfast:
Ingredients:
Serves 2
150g pumpkin
20g ground flaxseeds
50g soy seeds or soy flakes (unsalted)
20g chopped hazelnuts
100ml almond milk (unsweetened)
1 pinch grated nutmeg
1 pinch cinnamon powder
1 pinch ginger powder
Instructions:
In a small pot, bring water to boil.
Cut pumpkin into cubes and cook for approx. 15 minutes.
Drain the pumpkin and mash it with a fork, while mixing in the almond milk and spices.
Stir in other ingredients and let soak overnight.
Baked Pumpkin With Quark Sauce for lunch
French fries reinvented. More colorful and healthier than their potato alternatives, and packed with vitamins.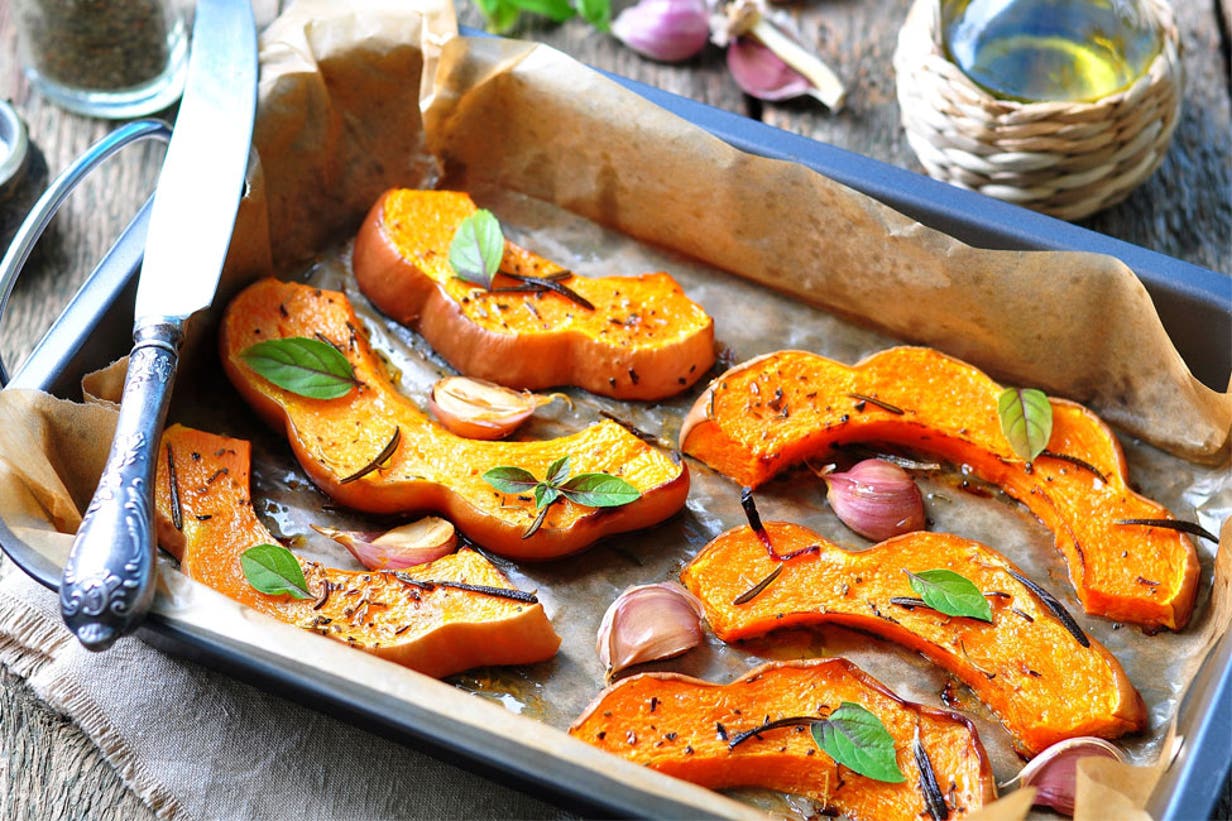 Ingredients:
Serves 2
400g pumpkin
10g grated ginger
1 clove chopped garlic
1 tsp olive oil
250g low-fat quark
1 tbsp natural cashew butter
0,5 tbsp cinnamon powder
0,5 tbsp chili flakes
Preheat oven to 180°C (355°F). Line a baking tray with baking paper.
Skin pumpkin, cut into slices of approx. 2 cm. (0,8"). Mix with coconut oil, grated ginger, chopped garlic, cinnamon and chili flakes in a large bowl. Season with salt and pepper as desired.
Put pumpkin slices on baking tray and bake on middle rack for about 30 minutes.
Mix quark and lemon or lime juice with cashew butter. Dip pumpkin slices in quark and enjoy.
Baked Pumpkin On Kale With Bread Chips for dinner
This colorful plate of goodness combines sweet, salty, sour and even spicy at the same time, creating a unique collage of taste you won't forget anytime soon.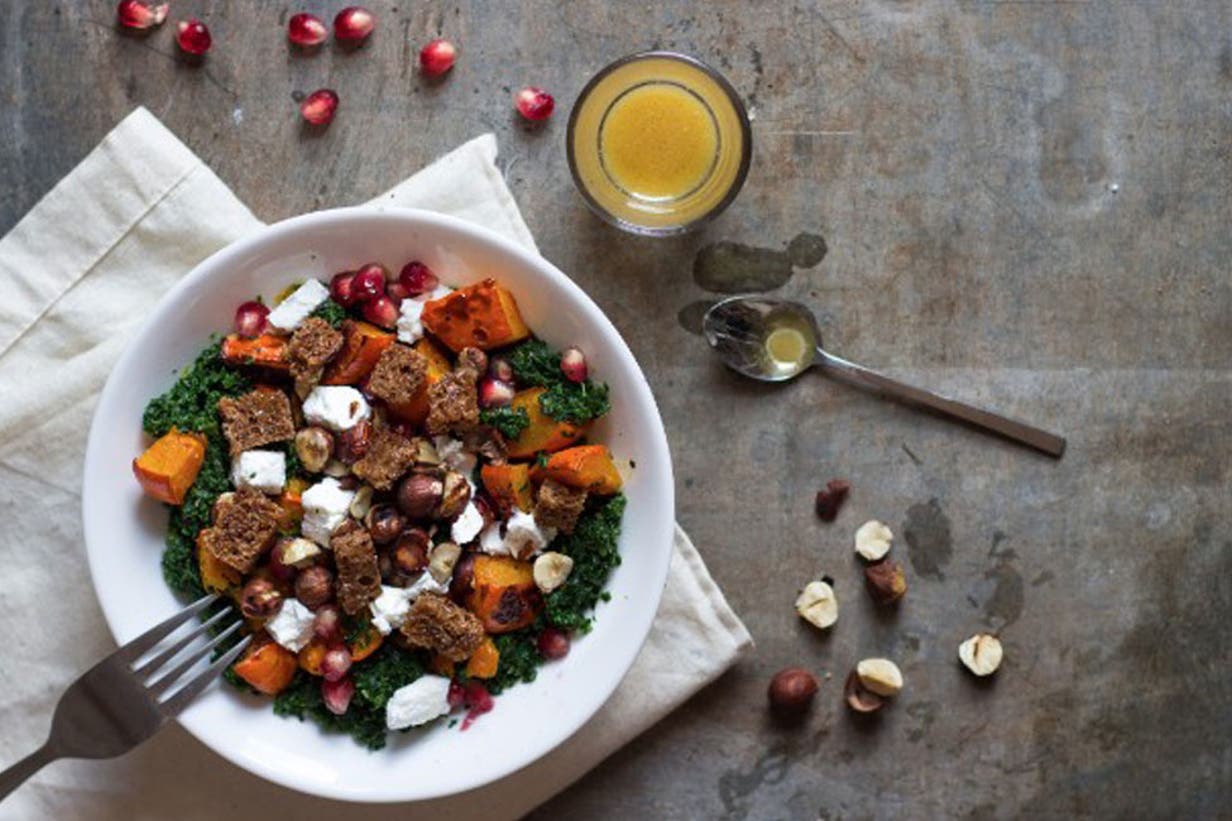 Ingredients:
Serves 2
200g pumpkin
100g kale
80g goats cheese
1/4 pomegranate
½ a slice of whole-grain bread
10g hazelnuts
0,5 lemons (juice)
0,5 tsp honey or maple syrup
0,5 tsp Dijon mustard
1 tsp hazelnut oil
Preheat oven to 180°C (355°F). Line a baking tray with baking paper.
Dice bread and pumpkin into pieces of approx. 1cm (0,4"). Mix both in bowl with half of hazelnut oil and a pinch of salt. Place on baking tray and bake on middle rack for approx. 25 minutes until golden brown.
Heat up a pan. Dry-roast nuts for approx. 4 minutes on medium heat.
Cut the pomegranate in the needed portion, hold over a bowl and gently squeeze until seeds come out. Remove any white skins.
Mix remaining oil, lemon juice, honey/maple syrup and mustard to create the dressing. Season with chili flakes, salt and pepper as desired.
Crumble goats cheese and kale, then mix with the other ingredients and serve.