In short
You can now see your future training sessions, and complete them in any order. While your Coach will always make sure each remaining training session is personalized to your abilities and fitness level.
In detail
"What's the benefit of seeing your week's training schedule?"
Seeing the training you have ahead of you for the week can be beneficial for your preparation, both mentally and physically.
Mentally, you can get excited about the workouts planned for the week, and feel less stressed in having to plan your week.
Physically, seeing the week ahead gives you more flexibility as you could switch days if you needed to. For example, if you see your workout on Thursday requires some equipment like a pullup bar, you could now complete that workout on Tuesday when you know you will be at the gym or somewhere with the right equipment.
Another example could be if you see there is a run planned in your training later in the week, if the weather is nicer earlier in the week, you might want to complete the run earlier.
In essence, seeing more of your future workout sessions gives you the flexibility to choose which to do on specific days.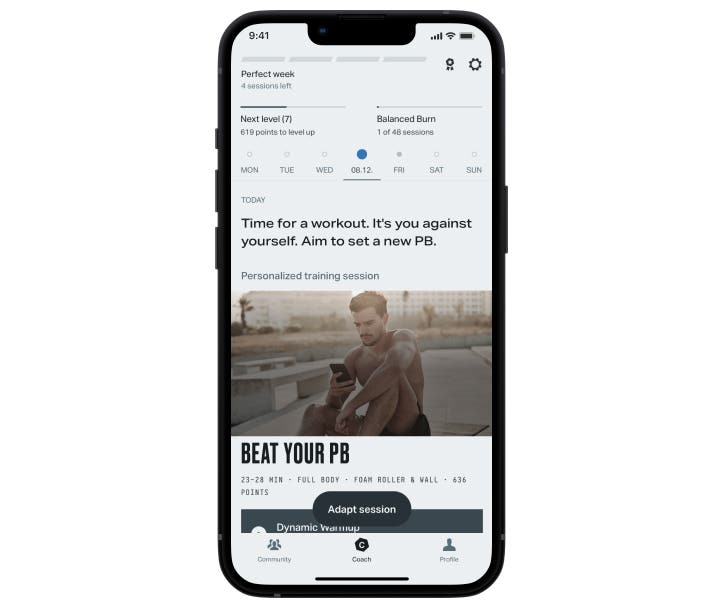 "Is switching days cheating my coach plan?"
No, not at all.
Your priority should be to keep up with your training and reach your goal. If it means completing your training days in a different order that doesn't mean you are cheating anything, it means you are taking control of your fitness journey.
The Coach creates personalized training sessions based on your fitness level, skills (physical capabilities) & goals. Doing them in a different order or using the Adapt Session feature will not be detrimental to your Training Journey progression, as you are still completing the workouts that are built specifically for you.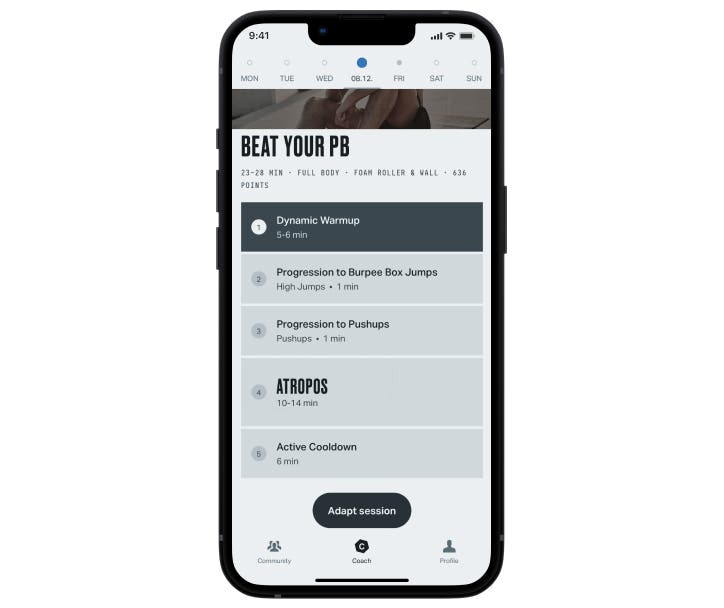 "So, I can adapt my week by choosing different days, but also through the Adapt Session feature?"
Absolutely, no one knows you better than yourself. You should adapt your workout to suit your needs, this could either be by completing your week's workouts in a different order, or by using the Adapt Session feature on a certain day.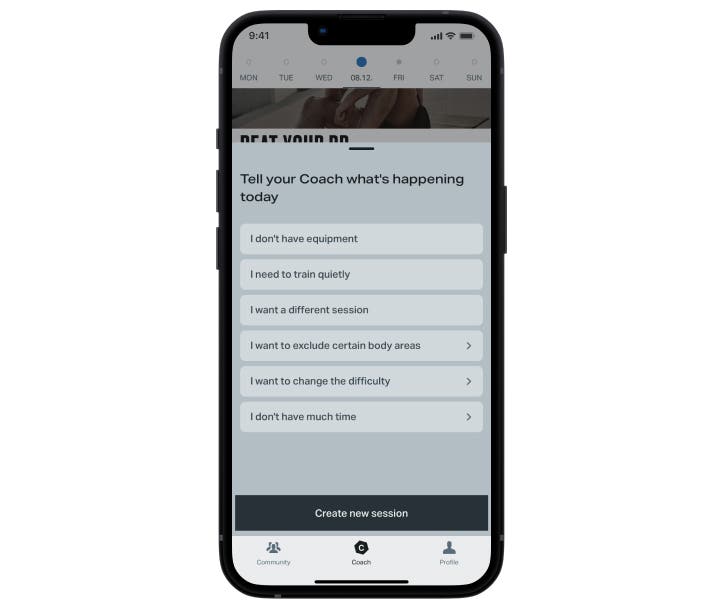 "How will doing a future workout impact my training session for the remainder of the week?"
Training sessions will move around and adjust based on the day you complete them and the feedback you give.
You will always see the workout you completed on the day you completed it. If, on Monday you decide to complete Thursdays workout, you would see Thursdays completed workout on Monday.
The training sessions you see in your week are dynamic, meaning they may change slightly based on your performance earlier in the week. For example, if you give feedback on your Monday workout that it was "Very hard" and you couldn't perform certain exercises with correct form, a workout later in the week might change. Whether or not a future workout updates all depends on how much data the Coach algorithm has on you, and how confident it is that the training sessions recommended are the right ones for you specifically.
Try Freeletics now