Diverse Ingredients + Diverse Cuisines = Enjoyable, Healthy Eating
To keep a healthy diet going steadily over time you'll need to incorporate a variety of micro- and macronutrients into your meals so that your body can get the nourishment it needs to perform at its best in all situations, whether you're regularly training or not. Cooking with a variety of fruits, vegetables, and major protein sources is a great way to make sure you're doing this.
However, while this kind of variety is at the heart of healthy eating, you'll likely also want to have a mix of different styles and cuisines across your meals. This can help keep your diet novel and interesting, allowing you to try new dishes and learn more about food cultures as well. Here are four popular dishes from around the world that are nutritious and can bring some new flavors, textures and colors to your table.
🇲🇾 Malaysia: Satay Skewers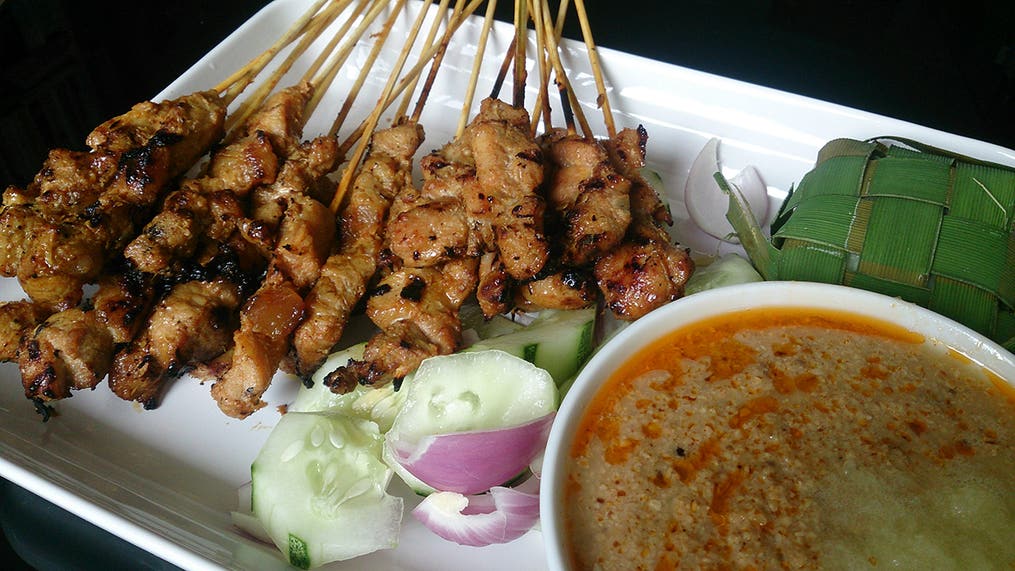 One of the most recognizable dishes of Southeast Asian cuisine, satay is almost as simple as it gets--small pieces of seasoned meat, cooked on skewers. The nice thing about this is that it makes portion control and meal planning easy, and it's great for sharing.
Versions of this dish exist all around the region, but the version below is based on a Malaysian recipe.
Ingredients:
6 chicken thighs (bones and skin removed)
3 shallots
1 stalk lemongrass
1 tsp. turmeric powder
1/2 tsp. coriander powder
1/2 tsp. cumin powder
1 tbsp. brown sugar
2 tsp. salt
Optional: coconut milk (30-100 ml)
Also needed:
How to make it:
Cut the chicken thighs into small, bite-sized pieces. Generally 2.5 to 3 cm per piece works nicely.
Cut the lemongrass stalk into pieces and combine with the shallots in a blender. Add coconut milk to help it blend better; water can be used if you do not have/want coconut milk.
Remove paste from blender and add turmeric, coriander and cumin powder, brown sugar, and salt, mixing the ingredients evenly throughout.
Rub paste onto the pieces of chicken, distributing evenly until all the paste is used. Let the chicken marinate on a covered dish in the refrigerator for a few hours or overnight, if desired.
After marinating, put the pieces of chicken onto the skewers, with 3 to 5 pieces on each skewer.
Add some oil to the chicken skewers (apply with a spoon or a brush), and cook the skewers for 2-3 minutes on each side on a grill or in a pan on medium-high heat.
🇧🇷 Brazil: Moqueca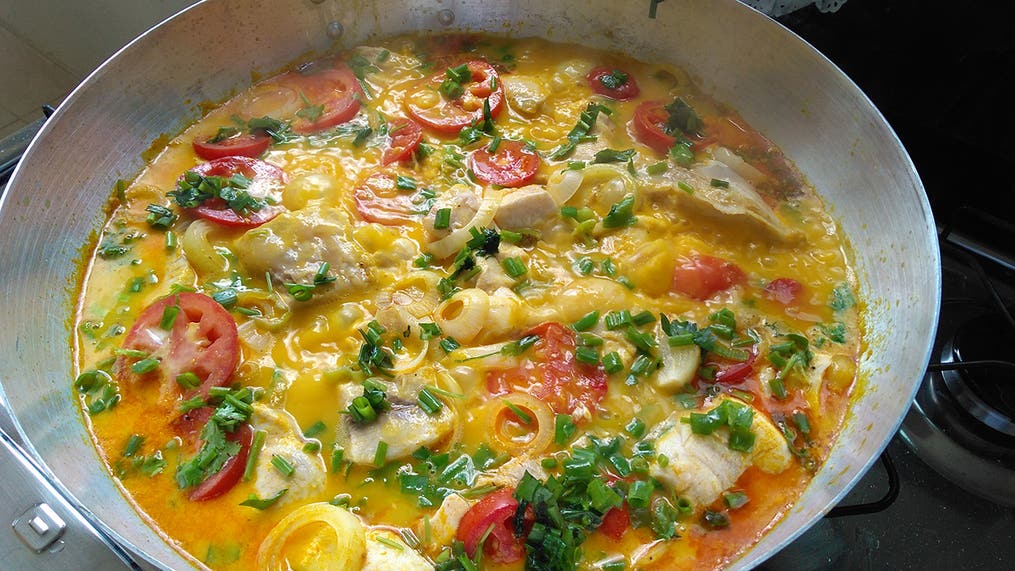 Moqueca is a hearty fish stew that Brazilians have been enjoying with their families for generations.
Ingredients:
1 1/2 to 2 pounds firm fish fillets (cod, salmon, catfish, or swordfish all work well)

Vegetarian/vegan substitutions: summer squash and/or zucchini

3 minced cloves of garlic
4 tablespoons lime or lemon juice
Salt
Ground black pepper
Extra virgin olive oil
1 cup chopped scallions
Chopped bell peppers (1/2 green and 1/2 red)
2 cups chopped tomatoes
1 tablespoon sweet paprika
Red pepper flakes
1 large bunch of cilantro
1 14-ounce can coconut milk
1-2 cups brown rice
How to make it:
In a large bowl, combine the fish, garlic, and lime juice. Make sure that all the pieces are covered evenly, and add in a few dashes of salt and pepper. Chill in the refrigerator until ready to cook.
Start preparing the rice now, using your preferred method (stovetop / rice cooker). When the rice is done cooking, set it aside to be served with the moqueca.
Place 2 Tbsp of olive oil into a large pan (with a cover) and heat on medium heat.
Cook the scallions in the oil until they begin to soften, then add the bell peppers, paprika, and red pepper flakes and add more salt and pepper. Stir the mixture gently until the bell pepper begins to soften.
Add the tomatoes and cilantro to the mixture, combine evenly (you don't need to stir too much), and simmer for 5 to 7 minutes,
Distribute the vegetables across the whole bottom of the pan (you want to create a bed for the fish pieces to lay on.
Arrange the fish pieces on top of the vegetables. Scoop some of the vegetable mixture from the edges of the pan and place them over the fish pieces.
Pour in the coconut milk, making sure to cover the fish and vegetables. Add a dash of salt and pepper.
Reduce the heat from medium to medium-low or low, and let the soup simmer for up to 20 minutes with the cover on, checking periodically.
Season to taste with salt, pepper, and any remaining seasonings.
Serve in bowls with rice on the side, or in the soup itself, as you prefer.
🇻🇳 Vietnam: Summer Rolls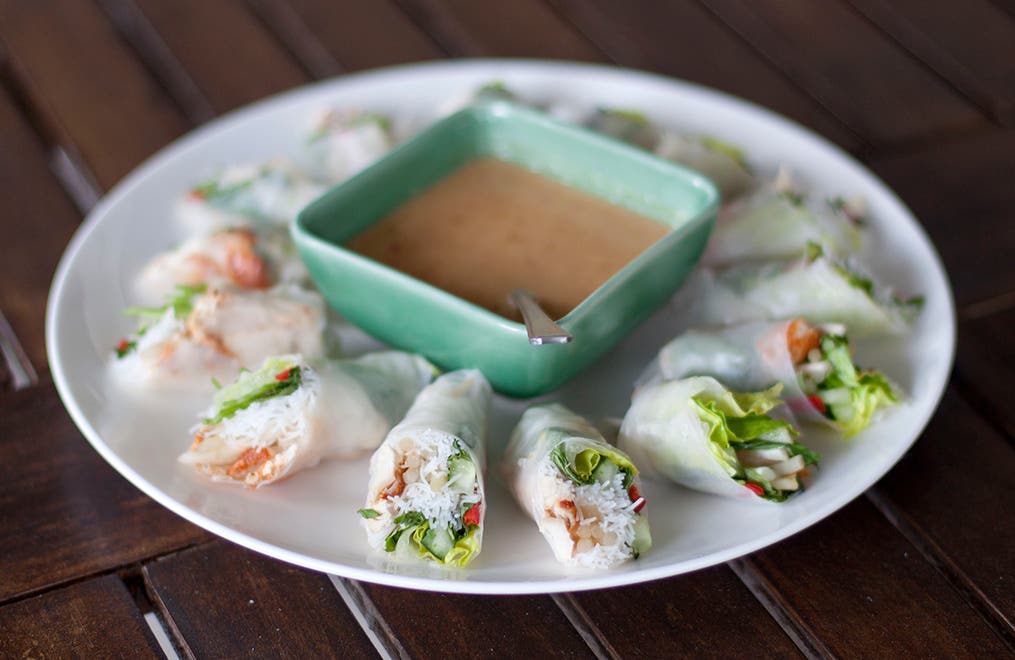 "Gỏi cuốn" is the Vietnamese name for the food that is more commonly referred to as "summer rolls" in other parts of the world.
Ingredients:
4 ounces bean thread noodles (cellophane or transparent noodles)
12 8'-9' rice paper rounds
18 cooked medium shrimp (about 10 ounces), peeled, deveined, halved lengthwise
Vegan/vegetarian alternative: 18 pieces of firm tofu
1 cup fresh basil leaves
1 cup fresh cilantro leaves plus 1 tbsp. chopped
1 cup fresh mint leaves
1 cup bean sprouts
1 cup cucumber, cut into matchstick-size pieces
1 cup carrot, cut into matchstick-size pieces
12 small green or red lettuce leaves
How to make it:
Put noodles in a large bowl. Pour enough hot water over to cover; let stand until softened, about 10 minutes. Drain. Transfer to a large bowl of ice water to cool; drain and set aside.
Fill a pie plate with warm water. Working with 1 rice paper round at a time, soak rice paper in water, turning occasionally, until just pliable but not limp, about 30 seconds.
Transfer to a work surface. Arrange 3 shrimp halves across center the rice paper. Top with some leaves of each herb, then the sprouts, cucumber, and carrot.
Arrange a small handful of noodles over. Place 1 lettuce leaf over, torn or folded to fit. Fold bottom of rice paper over filling, then fold in ends and roll like a burrito into a tight cylinder.
Transfer roll, seam side down, to a platter. Repeat to make 11 more rolls.
Can be made 1 hour ahead. Cover with a damp kitchen towel and refrigerate.
To serve, cut rolls in half. Add chopped cilantro.
🇱🇧 Lebanon: Tabbouleh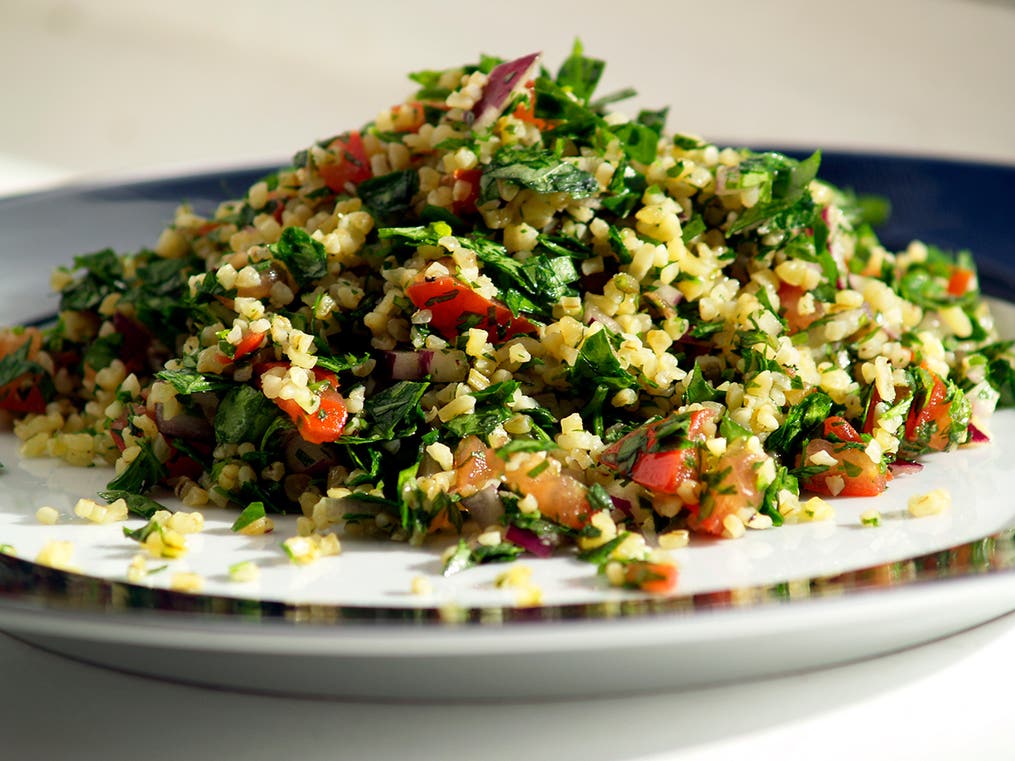 Tabbouleh is a popular salad most commonly associated with Lebanese cuisine. It's fresh and tangy, and makes for a great starter which can complement many different types of main courses.
Ingredients:
¼ cup fine bulgur wheat
1 small garlic clove, minced (optional)
Juice of 2 large lemons, to taste
3 cups chopped fresh flat-leaf parsley (from 3 large bunches)
¼ cup chopped fresh mint
½ pound ripe tomatoes, very finely chopped
1 bunch scallions, finely chopped
Salt, preferably kosher salt, to taste
¼ cup extra virgin olive oil
1 romaine lettuce heart, leaves separated, washed and dried
How to make it:
Place the bulgur in a bowl, and cover with water by 1/2 inch. Soak for 20 minutes, until slightly softened.
Transfer the grains into a strainer, pressing the bulgur gently against the strainer to squeeze out any excess water.
Combine the bulgur in a large mixing bowl with the garlic, lemon juice, scallions, parsley, mint, and tomatoes. Toss until uniformly mixed, and salt to taste.
Let the mixture sit covered for two to three hours on the counter or in the refrigerator, so that the bulgur can continue to absorb liquid and swell.
Splash in the olive oil and toss it all together once more, seasoning to taste.
Serve tabbouleh with the lettuce leaves.
Wrapping Up
Of course, healthy dishes exist all over the world and these are just four recipes from a world of healthy foods from different countries and cultures. If you're ever in need of some new meal ideas different from the normal fare you prepare for your meals, don't be afraid to search across cultures for recipes that use wholesome ingredients. It's an easy way to enjoy unique experiences of taste, color, and texture while minding your nutrition as well. Of course, we'll do our best to provide you with more of these here on the blog, so stay tuned!