When you think of cake, your mind most likely conjures up images of a moreish, guilt-laden sweet treat which can threaten to derail your training and nutritional progress. But cake doesn't have to be synonymous with stodge, sugar and saturated fats; healthy alternatives for sugar, butter and chocolate can turn even the most gluttonous of recipes into something a Free Athlete can eat guilt-free.
Vegan Sweet Potato Brownies
You're probably thinking, potato and cake??? WTF?! But just think about it...everyone's favorite type of potato in everyone's favorite cake? What could be better!? With this healthy alternative to the classic version, super sweet and dense brownies are a thing of the past.
Ingredients for 10 brownies:
2 medium-large sweet potatoes
2/3 cup of ground almonds
½ cup of coconut flour
14 medjool dates
4 tbsp raw cacao
3 tbsp pure maple syrup
A pinch of salt
A handful nuts, cacao nibs, or additional toppings (optional)
Instructions:
Preheat the oven to 180°C. Peel and cut the sweet potatoes into chunks and boil for 8-10 minutes, then add them to the food processor with the pitted dates.

Put the remaining ingredients into a bowl before mixing in the sweet potato, date combination and stir well.

Place into a lined baking dish and cook for about 20 minutes. Allow it to cool for 10 minutes outside of the oven.
Carrot Cake with Greek Yoghurt Frosting
Loaded with sweet raisins and carrots, and topped with Greek yogurt frosting, this secretly healthy cake is a guilt-free pleasure. But beware – it's so good you're going to want to eat it again the next morning for breakfast.
Ingredients for 8-12 servings:
For the carrot cake:
1 ½ cups almond flour
2 tsp baking soda
1 tsp ground nutmeg
¼ tsp ground ginger
1/8 tsp salt
¼ cup coconut oil, melted
2 large eggs
1 tsp vanilla extract
2/3 cup pure maple syrup
½ cup plain Greek yoghurt
1/3 cup unsweetened almond milk
2 cups carrot (grated)
½ cup raisins
For the frosting:
1½ cups plain Greek yogurt
2 tbsp pure maple syrup
1 tsp vanilla extract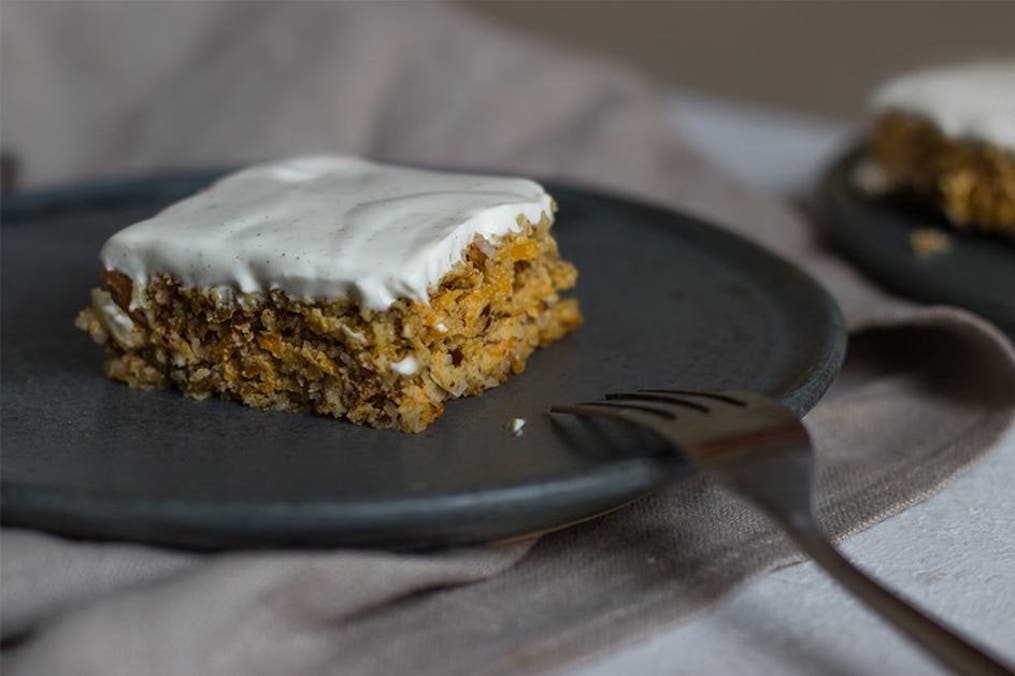 Preparation:
Preheat oven to 175°C. Coat baking tray with coconut oil.

In a mixing bowl, combine almond flour, baking soda, cinnamon, nutmeg and ginger. Set aside.

In a separate mixing bowl, whisk together eggs, coconut oil, vanilla extract, pure maple syrup, Greek yogurt and almond milk.

Add the wet to the dry and stir slowly until mixed thoroughly, then add the carrots and raisins.

Bake for 20-25 minutes. Allow to cool completely to room temperature before frosting.

To prepare frosting, stir together Greek yogurt, pure maple syrup and vanilla extract. Spread on top of cooled cake. Let frosting set for 1-2 hours before slicing and serving.
Baked oatmeal with dried figs
A special occasion calls for a special cake, but there's no reason why this has to mean turning to sugar and empty calories. How about making your next cake not only tasty but also healthy? If you're up for trying something new, we propose you try this:
Ingredients:
1/2 cup fine oats
50ml almond milk (unsweetened)
3 egg whites
4 dried figs (unsweetened)
1 tsp honey or agave syrup
1 tsp coconut oil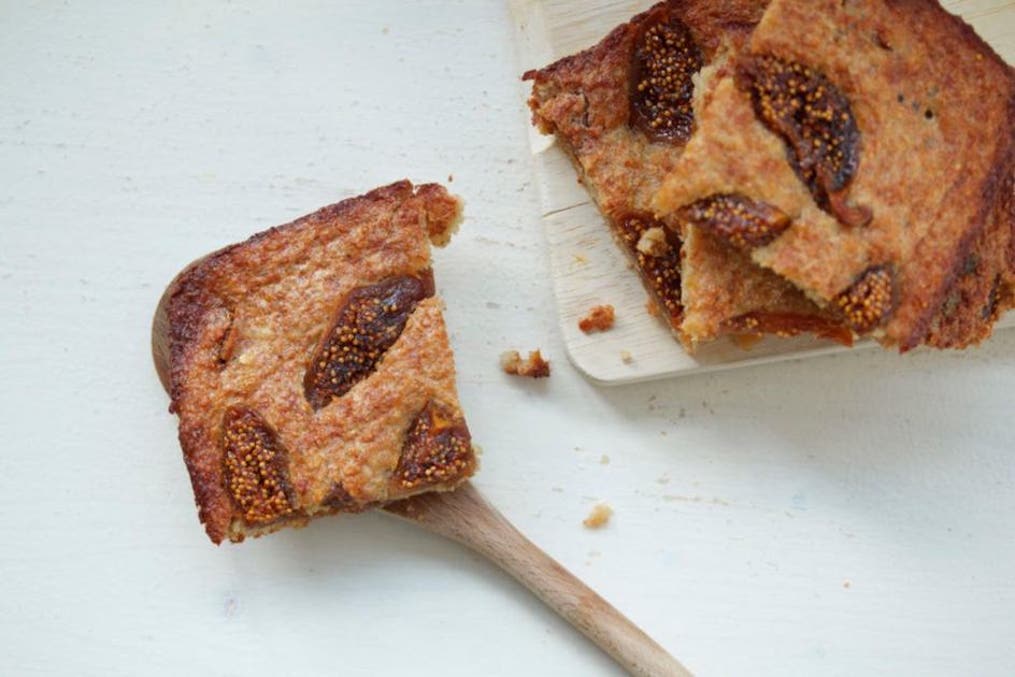 Preparation:
Preheat the oven to 180 degrees Celsius. Cut the dried figs into small cubes. Grease a small oven safe casserole with the coconut oil.

Mix other ingredients and pour them in the casserole. Bake on the upper third rack for approx. 30 minutes until oatmeal is set and slightly brown. You can prepare this oatmeal the evening before and let it stand overnight.
Tomato, mushroom and rosemary savoury cake
Who said cake needs to be sweet? For those of you who like your sponges savoury, why not try this veggie-heavy cake, perfect for a weekend brunch,
Ingredients
2 tomatoes
4 mushrooms
1 1/2 cups oat flour (blend oats in blender until flour consistency)
1 tsp baking powder
3 eggs
pinch salt & pepper
100ml milk
100 ml olive oil
2 tsp chopped fresh rosemary
1 cup grated parmesan cheese
½ tsp coconut oil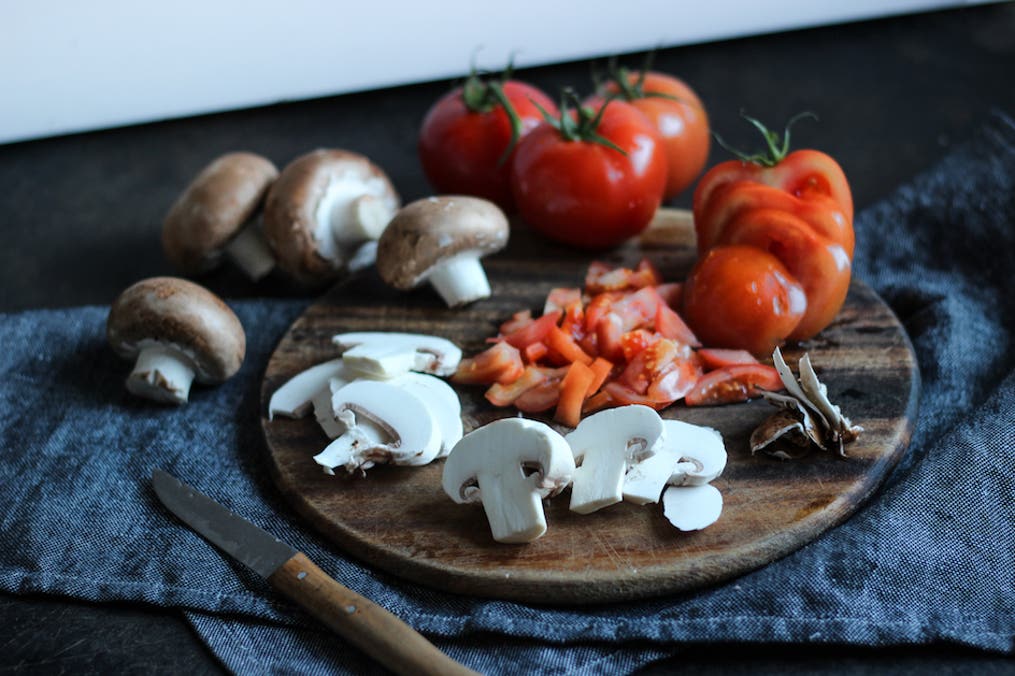 Preparation
Preheat the oven to 180 Celsius and grease a medium cake tin with coconut oil.

Peel the mushrooms and chop them into thin slices before frying them in a pan with the coconut oil until lightly browned. Afterwards, drain the oil and put the mushrooms to one side.

Wash and chop the tomatoes into quarters. In a bowl, mix the oat flour, baking powder, eggs and salt until combined. Then add the milk, rosemary, tomatoes, mushrooms and parmesan and stir well.

Transfer the mushroomy mixture into the cake tin and bake for 45 minutes, or until the centre is no longer gooey.

Once baked, let it cool for a while before tucking in.