Chia seeds are the ultimate superfood. Especially rich in iron, vitamins and omega-3 fatty acids, they also supply protein, therefore aiding muscle recovery. And not just that, but when soaked in liquid, these little guys expand, resulting in what we call chia pudding. Not only does this have a mouth-watering consistency that's likely to leave you addicted, it also makes you feel fuller for longer, reducing the likelihood of those nasty cravings that pop up every so often. Can't wait to try this magical ingredient sent from the Gods? Here are our top recipes for incorporating chia into every part of your daily meal plan.
Matcha Chia Seed Pudding
Ready to go green? A step up from your usual chia pudding, this version updates the classic treat with a slight green tea flavour and healthy dose of antioxidants. It requires no fancy kitchen equipment, just a little patience as it needs to soak for a few hours or overnight, so the pudding thickens and gets an extra creamy texture, just in time for breakfast. Worth the wait, this is an instant crowd-pleaser.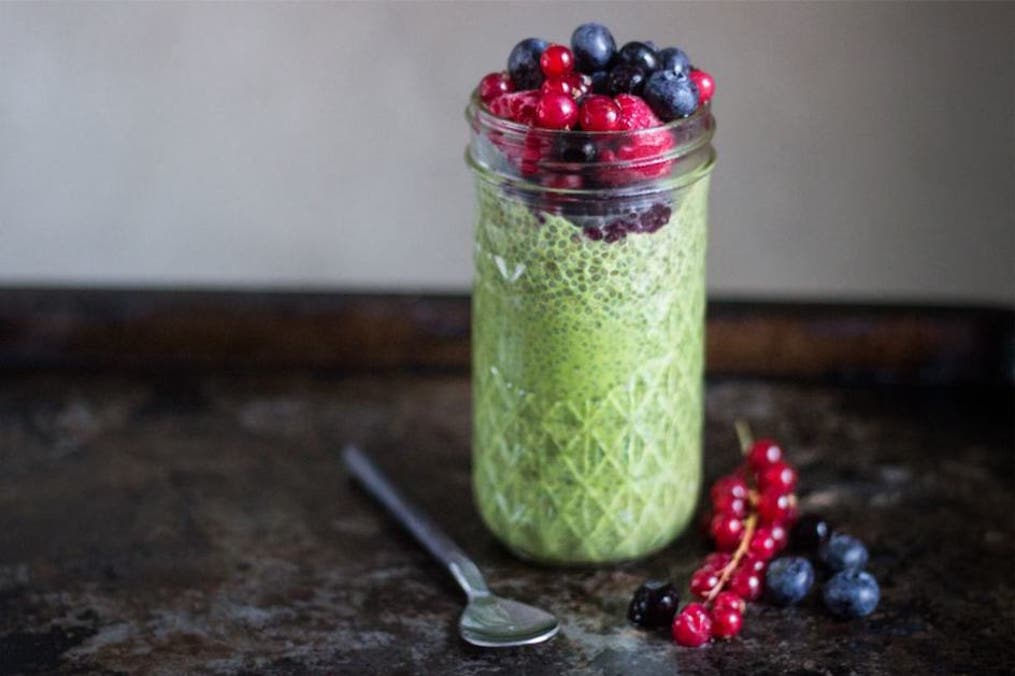 Ingredients
Serves 2
2 cups unsweetened almond milk / soy milk / low fat milk
½ cup chia seeds
½ tbsp matcha powder
1-2 tbsp honey or maple syrup
fruits/Topping of your choice
Preparation:
In a glass, whisk together the milk and chia seeds.
In a separate bowl, stir matcha powder, honey or maple syrup until the matcha doesn't have any lumps.
Add the sweetened texture to the chia seeds. Close the glass and shake it.
Let the matcha chia pudding soak at least for 3 hours in the refrigerator, but preferably overnight. Add more milk if the texture is too thin.
Add your preferred seasonal fruits or toppings and enjoy!
Chia granola bars
Not just the perfect addition to meals, chia seeds also make a great pre or post-workout snack. The high concentration of vitamins combined with their powerful protein power aid recovery and fuel you for your next Freeletics session.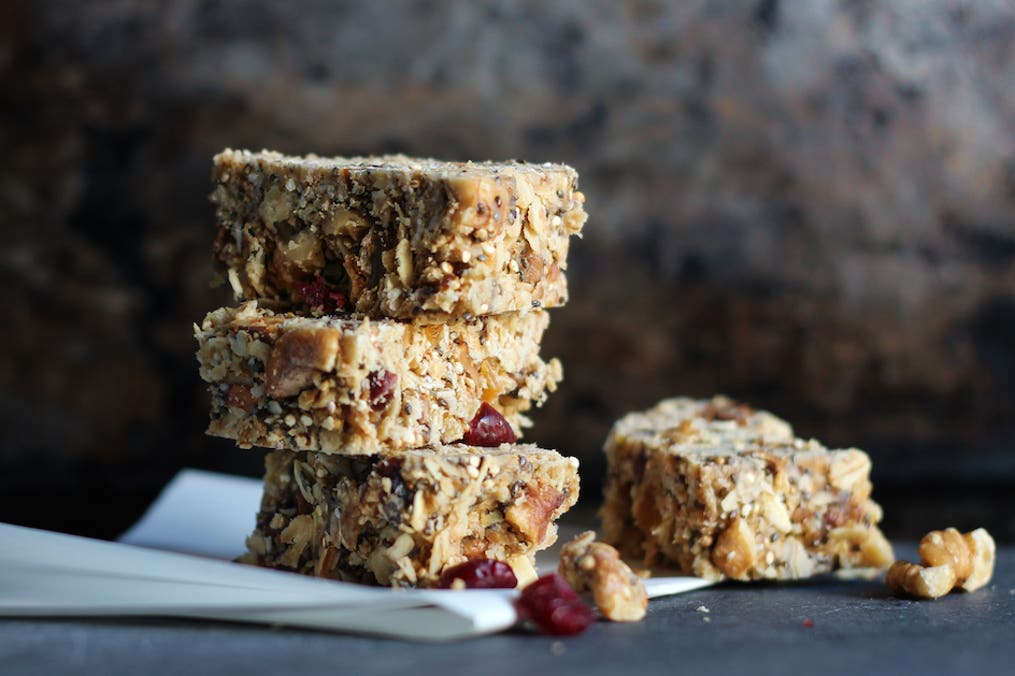 Ingredients
For a 20x20cm baking dish
500g rolled oats
500g chopped walnuts
80g uncooked quinoa
80g chia seeds
200g 100% natural peanut butter
100g agave nectar (or other honey alternative)
1 tsp vanilla extract
1 tsp cinnamon
200g dried fruit (think raisins, apricots or dates)
Pinch of salt
Preparation:
Preheat your oven to 180 degrees C. Spread the oats, nuts, quinoa and chia seeds on an ungreased baking sheet. Bake for around 10 minutes until toasted and golden.
Line a 20x20cm baking dish with greaseproof paper. In a small saucepan, melt together the peanut butter and agave nectar over a medium heat, stirring until the mixture is smooth. Remove from the heat and stir in the vanilla, cinnamon and salt.
Next, combine the oats/chia seed mixture in a large mixing bowl. Pour the peanut butter mixture over the top and stir well, adding in the dried fruits gradually.
Transfer the mixture to the lined baking dish, ensuring that it is spread evenly and pressed firmly into the edges. Refrigerate the mixture for around 2 hours until the bars have set, then slice up and enjoy!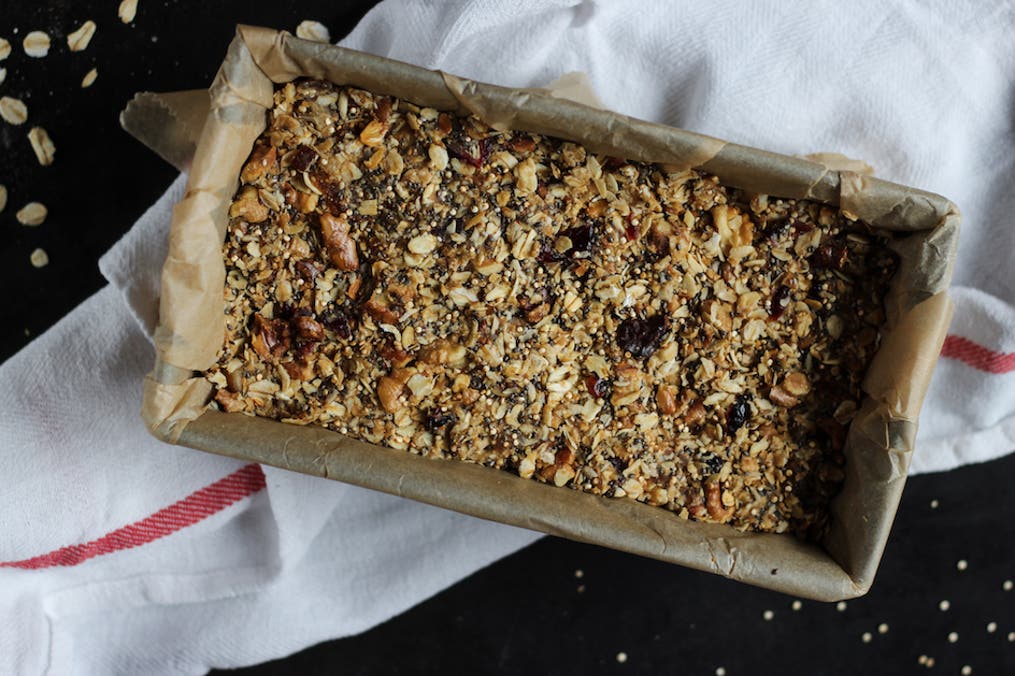 Chia, white bean and spinach stew
Whilst it's most widely used in pudding form, chia seeds can be savory too. This dish takes less than 30 minutes to prepare and is perfect for leftovers, tasting even better the next day.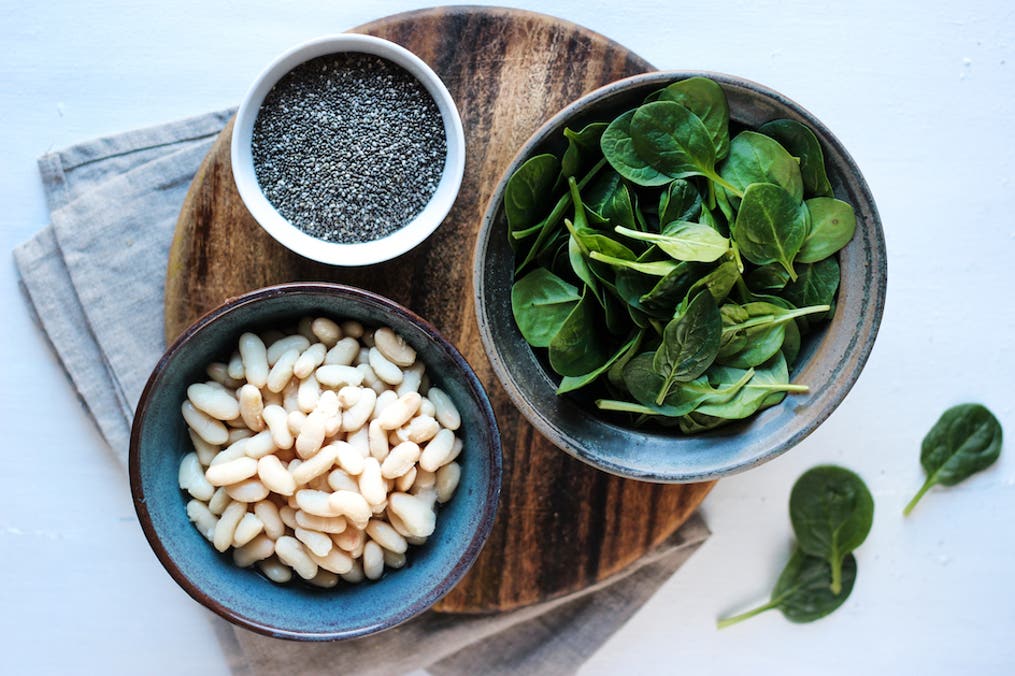 Ingredients:
Serves 2
2 tbsp extra-virgin olive oil
1 small (or 1/2 large) red onion, diced
2 large cloves garlic, peeled and minced
5 cups packed fresh spinach
1 can cannellini beans
Pinch of salt
Pinch of black pepper
400ml vegetable stock
1/4 cup black or white chia seeds
1 tsp fresh lemon juice or white balsamic vinegar
1/2 tsp finely chopped fresh rosemary or thyme
Handful of chopped parsley
Preparation:
Heat the oil in a large deep skillet over a medium heat. Add the onion and sauté until softened (approx 5 minutes). Add the garlic and sauté further until fragrant, about 30 seconds.
Stir in the spinach, salt, black pepper, stock, chia seeds and rosemary and bring to a boil over high heat. Turn the heat down slightly and cook uncovered, stirring occasionally until the spinach has wilted.
Add the beans and continue stirring occasionally until the beans are fully heated. Stir in the parsley, add any extra seasonings and you're ready to go!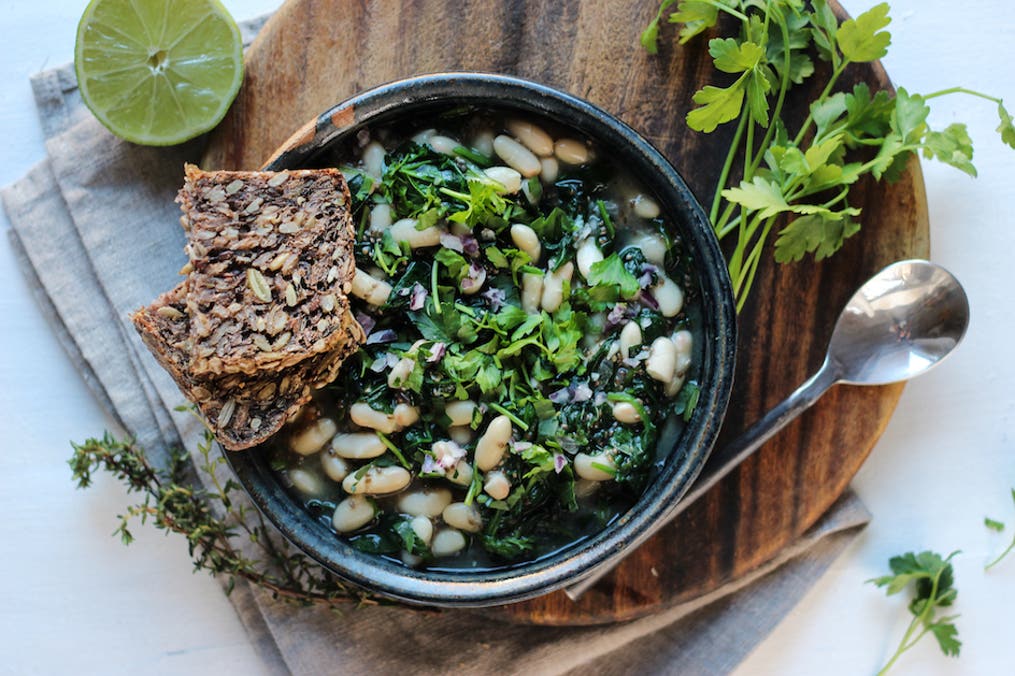 Want more where they came from? The Freeletics Nutrition app has even more chia seed recipes, whether you want them sweet or savory, breakfast or dinner.