This vegetable may sit at the bottom of the alphabet, but in terms of clean eating, its at the top of our list. Zucchini is incredibly low in calories and provides many health benefits, including strengthening teeth and bones, improving eye health, and reducing blood pressure. In need of some zucchini inspiration? We're about to prove that this green God is good for more than simple zoodles. Here are 3 recipes to help you up your zucchini game.
Seaweed-Free Sushi Rolls with Avocado Pesto
Raw zucchini rolls are super easy to prepare, don't require any special tools, and make the perfect lunch, snack, or light dinner. Lemony, sweet and spicy all at once, these little guys will definitely leave you wanting more. And did we mention they're super easy to make?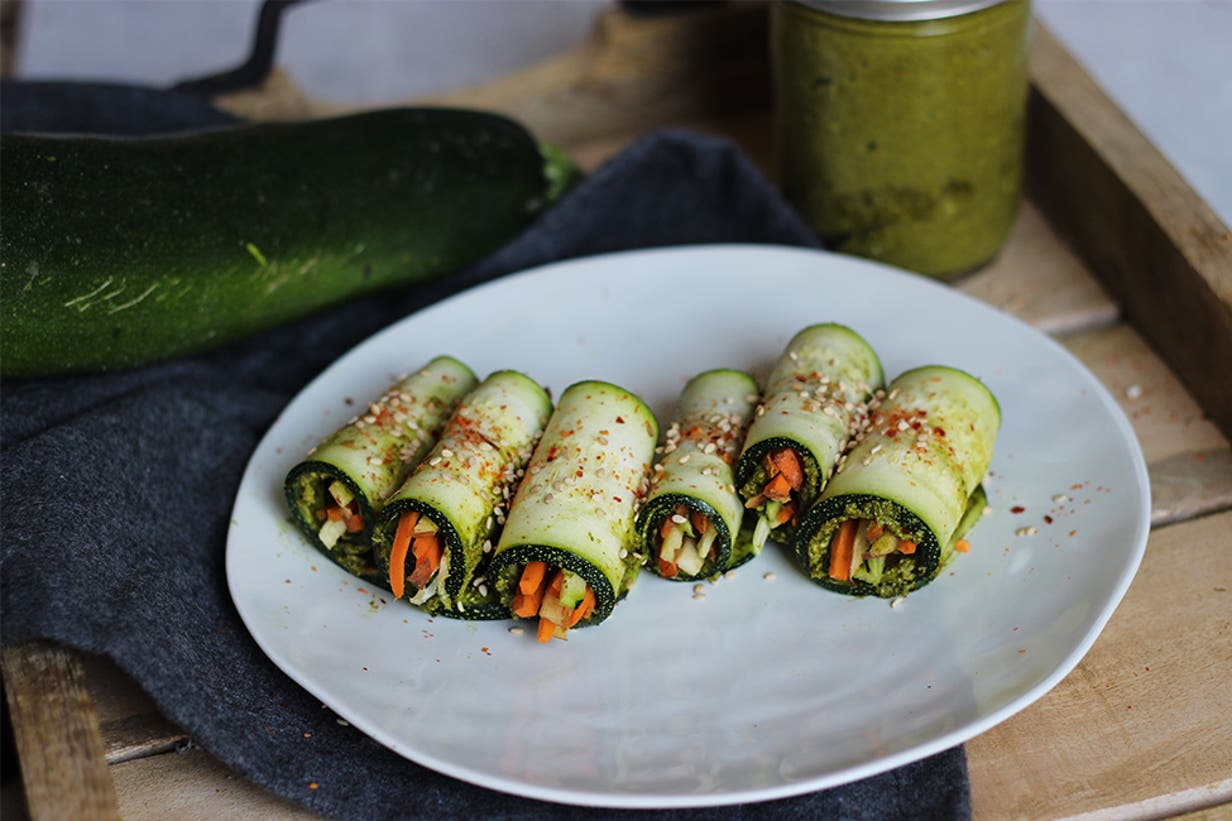 Ingredients:
Serves 2-4
Half a medium-sized zucchini, thinly sliced
Fruits & Veggies of your choice, julienned (we recommend cucumber, carrot and apple)
1 green onion (white part only), thinly julienned
Kale pesto or cream cheese
Chili flakes, to taste
Sesame seeds, to taste
Instructions:
Slice the zucchini into thin strips and sprinkle with a bit of salt, then let it soften in a colander while you make the pesto. Julienne your desired fruits and vegetables. Rinse zucchini to get rid of excess salt.
To make a roll, spread a spoonful of pesto or cream cheese – depending on which you prefer – across one zucchini slice, add 2-3 slices of each of the remaining fruit and vegetables, and roll it all up.
Sprinkle the finished rolls with chili flakes and sesame seeds (optional).
Fritter Burgers
Let's face it: sometimes you just need a burger. But how do you enjoy it without undoing your healthy eating? The answer is simple: swap meat for zucchini and ditch the bun. Packed with Cannelloni beans, parmesan, and sliced almonds, these veggie burgers are just as mean and lean as the real thing.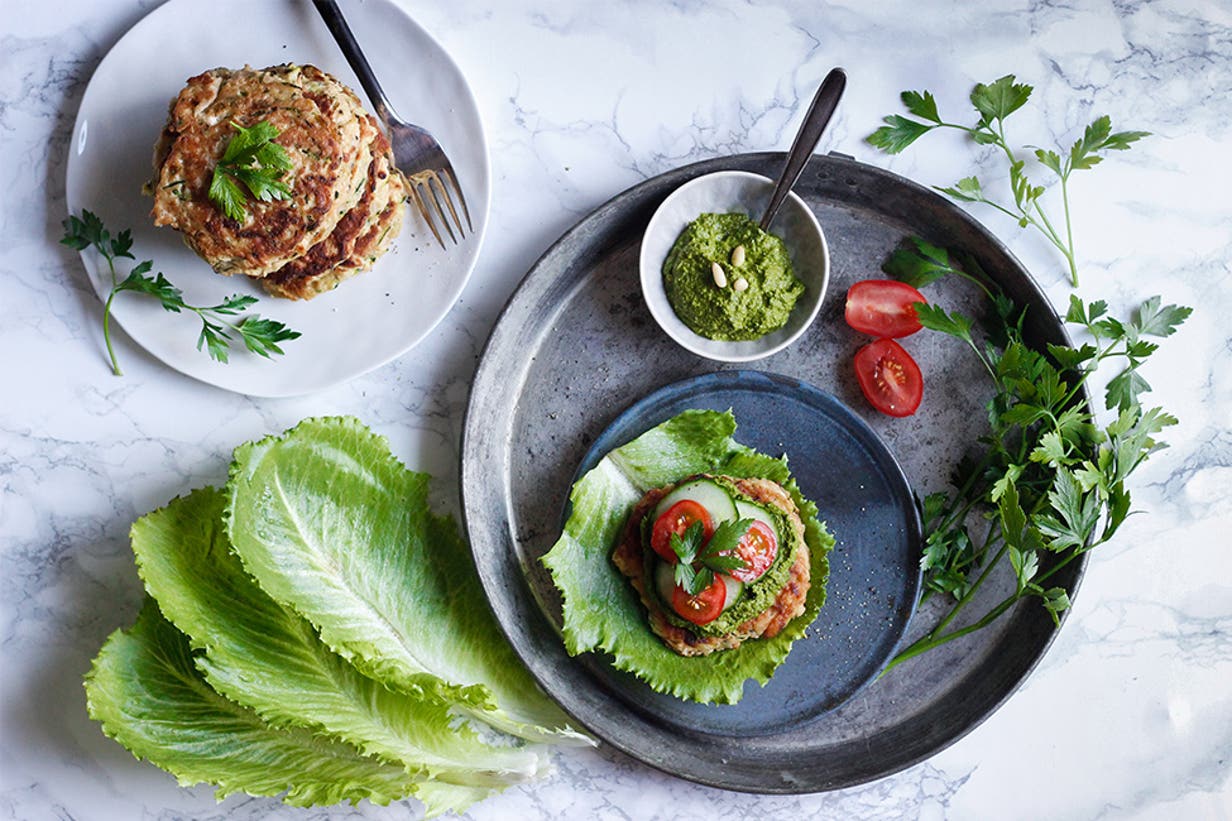 Ingredients:
Yields 6-7 burgers
For the patties:
4 cups shredded zucchini
1 (15 ounce) can Cannelloni beans, rinsed and drained
2/3 cup spelt flour
2 large eggs, lightly beaten
1/3 cup scallions, white and green parts
zest of 1 lemon
1/3 cup grated parmesan cheese
¼ cup slivered almonds
Salt and pepper, to taste
Coconut oil for the pan
For the toppings:
Lettuce leaf buns (optional)
Toppings of your choice (grilled avocado and goats cheese is a tasty combo)
Sauce of your choice (our kale pesto recipe also works great here)
Instructions:
Place the shredded zucchini in a colander set over a bowl. Sprinkle lightly with salt then let stand for 10 minutes to draw out the juices.
While the zucchini is draining, place the Cannelloni beans in a large mixing bowl and mash.
Transfer the zucchini to a tea towel, twist into a bundle and squeeze all the juices out. Transfer the drained zucchini to the bowl with the mashed beans.
Add flour, eggs, scallions, lemon zest, parmesan cheese, and almonds to the bowl. Season with salt and pepper. Stir until the mixture is combined. Divide the mixture into 6 or 7 even sized portions and using your hands, form into patties.
Heat enough coconut oil in the pan for frying, then add a few patties, pressing them to compact. Cook for 3-4 minutes on each side until golden brown. Transfer to a kitchen towel and sprinkle with salt and pepper. Top it off with whatever speaks your burger-loving language, wrap it all up in a lettuce leaf and enjoy.
Quinoa Boats
Here, zucchini is hollowed into a "boat", then stuffed with quinoa, cashews, and a light lemon dressing. The result? A super tasty meal that's as fun to make as it is to eat.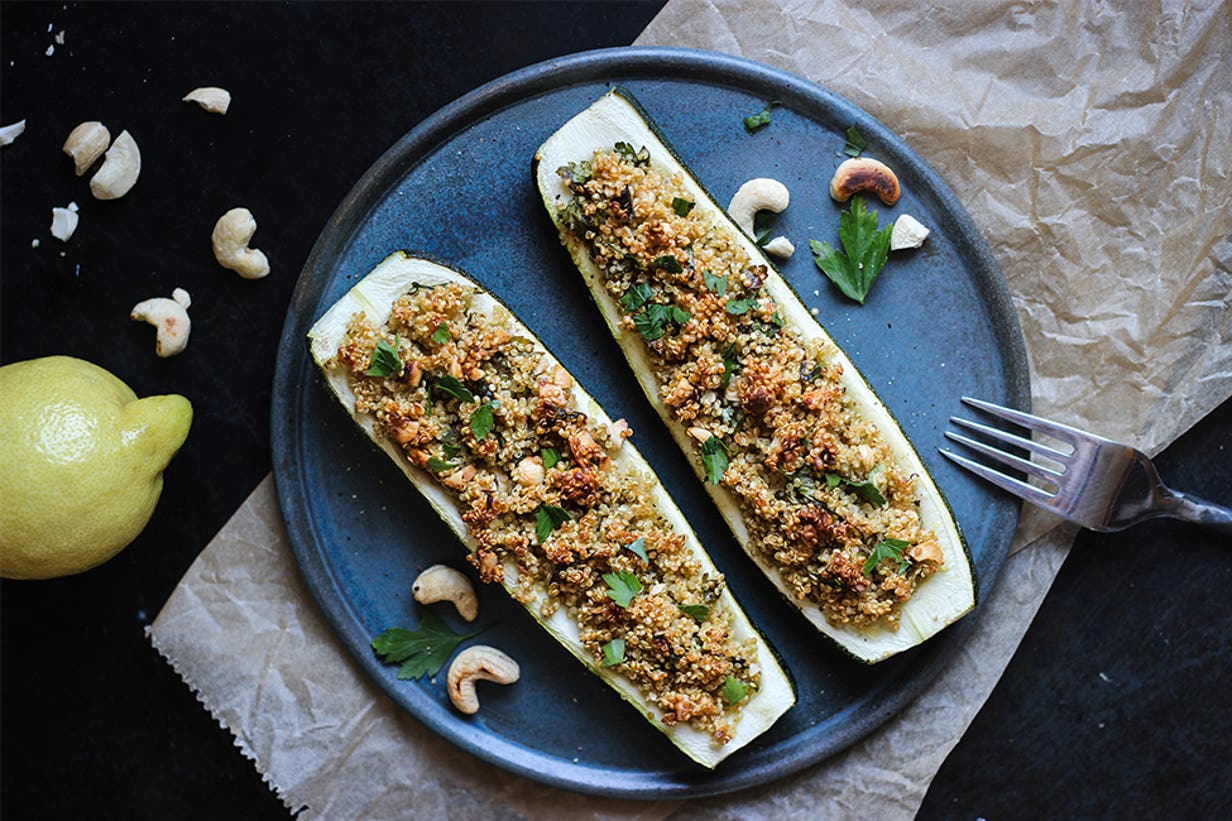 Ingredients:
Yields 8 boats:
For the filling:
½ cup raw cashews
2 ½ cups quinoa, cooked & seasoned to taste (parsley, chives, dill and oregano work great here)
1 clove garlic, chopped
juice of 2 lemons
2 tbsp olive oil
Instructions:
Preheat the oven to 175°C for the zucchini. Add cashews to a dry skillet over medium heat. Toast until golden, then transfer to a cutting board and roughly chop.
In a large mixing bowl, add cooked quinoa, garlic and herbs. Add cashews and stir everything together. Dress with olive oil and lemon juice, plus salt and pepper to taste.
Chop the ends off the zucchini and slice lengthwise. Scoop out the insides with a spoon to form little boats.
Place boats in the baking dish and stuff each one with quinoa. Bake for 20-25 minutes until the quinoa starts to brown and the zucchini becomes soft. Remove and let sit for 5 minutes.
Looking to up your fruit and vegetable game? Follow our food serial to discover our favourite innovative recipes.