Nutrient-dense and delicious raw or cooked, the carrot deserves better than a tub of hummus. As a sweet, earthy addition to dishes, its health benefits, particularly when it comes to our eyes, brain and skin, are unbeatable. While unearthing new ways to sneak more carrots into your diet can sometimes be a challenge – we've got you covered. Here are 2 easy recipes you shouldn't live without.
Carrot Cake with Greek Yogurt Frosting
Loaded with sweet raisins and carrots, and topped with Greek yogurt frosting, this secretly healthy cake is a guilt-free pleasure. But beware – it's so good you're going to want to eat it again the next morning for breakfast.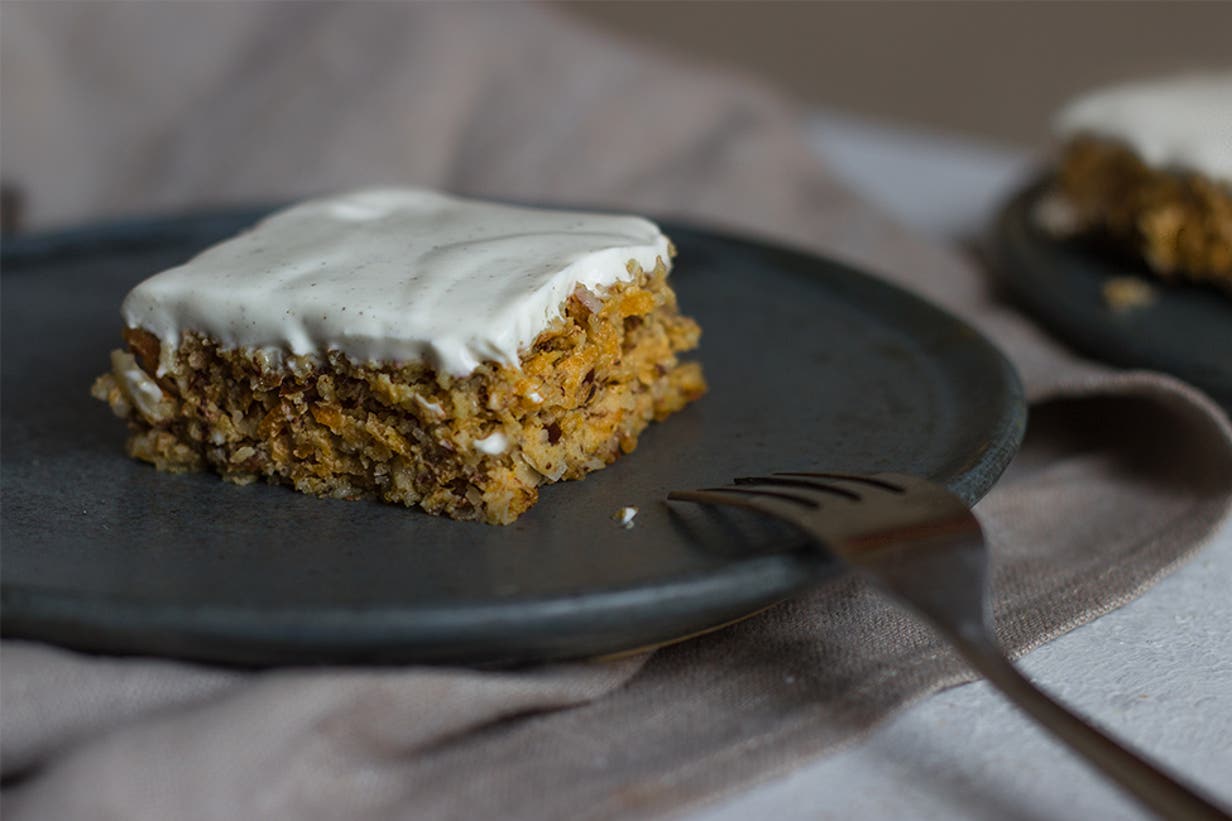 Ingredients:
8-12 servings
For the carrot cake:
1 ½ cups almond flour
2 tsp baking soda
1 tsp ground nutmeg
¼ tsp ground ginger
⅛ tsp salt
¼ cup coconut oil, melted
2 large eggs
1 tsp vanilla extract
⅔ cup pure maple syrup
½ cup plain Greek yogurt
⅓ cup unsweetened almond milk
2 cups carrots, grated
½ cup raisins
For the frosting:
– 1½ cups plain Greek yogurt
– 2 tbsp pure maple syrup
– 1 tsp vanilla extract
Instructions:
Preheat oven to 175°C. Coat baking tray with coconut oil.
In a mixing bowl, combine flour, baking soda, cinnamon, nutmeg and ginger. Set aside.
In a separate mixing bowl, whisk together eggs, coconut oil, vanilla extract, pure maple syrup, Greek yogurt and almond milk.
Add the wet to the dry and stir slowly until mixed thoroughly, then add the carrots and raisins.
Bake for 20-25 minutes. Allow to cool completely to room temperature before frosting.
To prepare frosting, stir together Greek yogurt, pure maple syrup and vanilla extract. Spread on top of cooled cake. Let frosting set for 1-2 hours before slicing and serving.
Simple Slaw
This quick and easy dish is proof that sometimes, even the most humble of ingredients can make for the best recipes. Toss the carrots with some cabbage and a simple dijon vinaigrette, and you've got yourself a colourful coleslaw that's bursting with fresh flavour and amazing health benefits. Enjoy!
Ingredients:
3-4 side servings
2 cups carrots, shredded
2 cups purple cabbage, finely sliced
2 cups green cabbage, finely sliced
5 tbsp dijon mustard
¼ cup extra virgin olive oil
¼ cup fresh parsley, finely chopped
3 tbsp fresh chives, minced
3 tbsp red wine vinegar
2 tsp orange zest
1½ tsp salt
Instructions:
Set aside carrots and cabbage. Whisk together remaining ingredients until evenly blended into a dressing.
Add carrots and cabbage and toss together with dressing until everything is well-coated. Season with freshly ground black pepper, to taste.
Let marinate at least 15 minutes and serve.