When Leandro's friends and family started to make derogatory comments about his weight, the 31-year-old from Fortaleza, Brazil knew he had a choice to make. He could either continue piling on the pounds, or he could make a drastic and irreversible lifestyle change. Leandro knew that it would be a difficult journey to get himself back in the shape he'd been in before his work and studies took over his life. What he didn't anticipate was that the results he would achieve would change his life and motivate him to become healthier, happier and stronger than he could have ever imagined.
Here is his story:
Like many people, I had never had any issues with my weight before I started studying and working. But when my life got busier, I found that I had no time to care about my nutrition or to do any physical activity. Before long, my family and friends started picking on me. Eventually, the jokes turned into real bullying, and, by this point, I wouldn't take my shirt off anywhere; I had put on 20kg and felt ashamed. This was when I decided I had had enough. It was time to change.
Leandro's weight gain began to get him down. He didn't want a quick fix to his problem, but rather a solution that would have a lasting impact. Naturally, he turned to Freeletics.
I'm good friends with Freeletics Ambassador Marcelo Shoji Takahashi. He had been inviting me to join his Freeletics training for a while already, but I never found the time. When I finally realized that I had to do something about my weight, I called him, and he explained everything about the app and the training program.
It was everything Leandro needed. A major factor in choosing to follow Freeletics were the other Brazilian Free Athlete transformations he could see. They had achieved everything he was looking for, so he decided to take the plunge. But it was by no means easy.
It took lots of hard work and dedication. At the beginning it wasn't easy; giving up crossed my mind many times. But I continued and every week I was improving my technique and pace. This kept me motivated. I also had the support of the Brazilian Freeletics community via Facebook and WhatsApp groups. My ultimate goal now is to be one of the top Brazilian Free Athletes.
There were many highs and lows on Leandro's journey to strength and fitness.
A real turning point for me was when I realized that I had mastered the perfect technique in complex exercises such as Jackknives and Pistols. This was the trigger for me to focus even more on achieving my goal of being an elite Free Athlete.
But it wasn't just training that lead to Leandro's physical reinvention; altering his nutritional practices proved invaluable in fueling his transformation.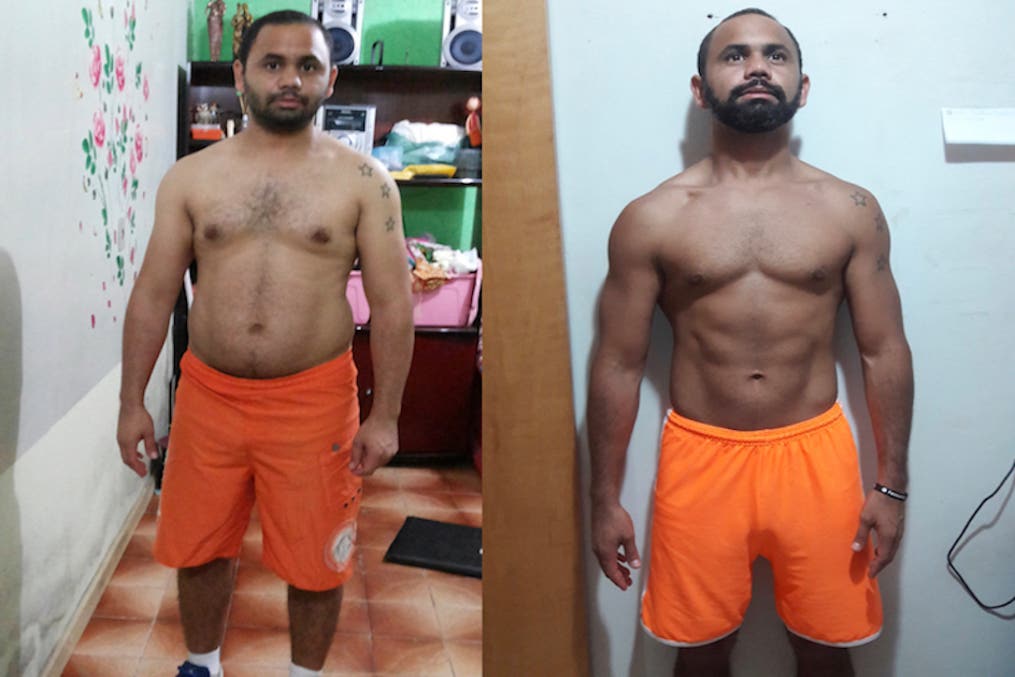 I stopped drinking beer and soda and cut out all the unhealthy snacks. I started eating more fruit and vegetables and other nutritious foods that would help me lose the extra weight. I now feel happy, healthy and comfortable in my body.
Leandro didn't just gain confidence, he gained the support of a community that helped him put the harsh criticisms of the past far behind him.
It is also very rewarding to see that the community recognizes me as a role model because of my journey and my results. In terms of performance, I can now challenge even the best Brazilian Free Athletes. Freeletics is now part of my life and I don't think I'll ever stop.
So, what does Freeletics mean to Leandro today?
Freeletics means overcoming my limits and never giving up.
Inspired by Leandro's story? You could be next. Download the Freeletics app today and start your journey to a better you.
The biggest pleasure in life is doing what people say you cannot do.