After years of being underappreciated, beets are finally enjoying their much-deserved place at the center stage of a healthy diet. Not only are they full of essential nutrients like B vitamins, iron, copper, magnesium, and potassium, these ruby gems are also high in immune boosting compounds, and incredibly versatile. Still skeptical? Check out these 3 unexpected ways to enjoy beets.
Roasted Beetroot Hummus
Roasted beetroots, with their subtle sweetness, add a delicious twist to traditional hummus. This stunning magenta snack is flavoured with tahini, garlic and spices, and is the perfect blend of creamy and tangy. Great as a dip or as a spread, it's as versatile as it is vibrant.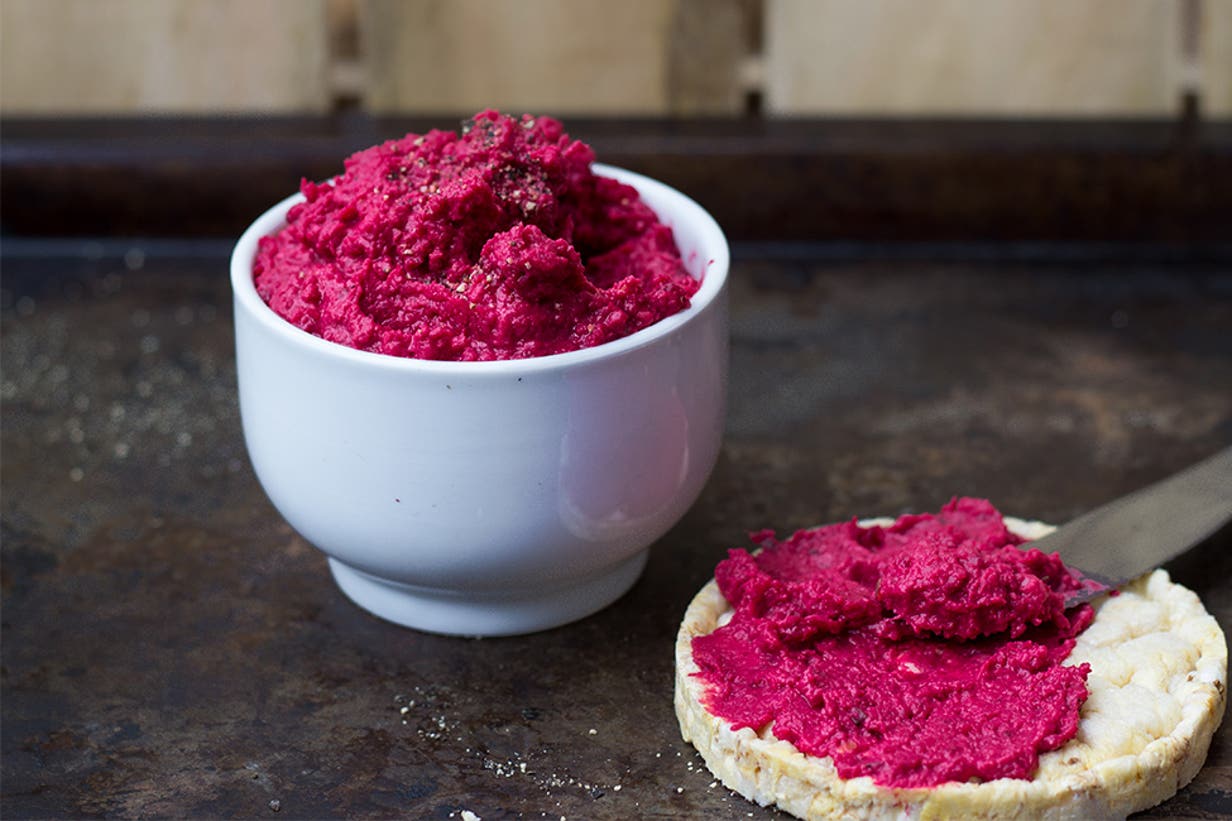 Ingredients:
Serves 6
1 small beet
1¾ cup cooked chickpeas, drained
zest of 1 large lemon
juice of half a large lemon
pinch of salt and pepper
2 large cloves garlic, minced
2 heaped tbsp tahini
¼ cup extra virgin olive oil
Instructions:
Preheat oven to 190°C and roast beet for about 1 hour. Make sure beet is wrapped in tin foil. Allow it to cool in fridge to room temperature.
Once beet has cooled, peel, quarter and place in food processor. Blend until almost smooth. Add remaining ingredients except for olive oil and blend until totally smooth.
Drizzle with olive oil as hummus is mixing. Taste and adjust seasonings as needed. If the mixture is too thick, add a little water.
Coconut Beet Soup with Ginger
This vibrant dish is surprisingly simple to whip up, and can be enjoyed hot or cold. Cozy up to it on a brisk night or enjoy it chilled on a summer afternoon. It's perfect when you're craving something creamy and spicy at the same time, not to mention how good it will look on your instagram feed.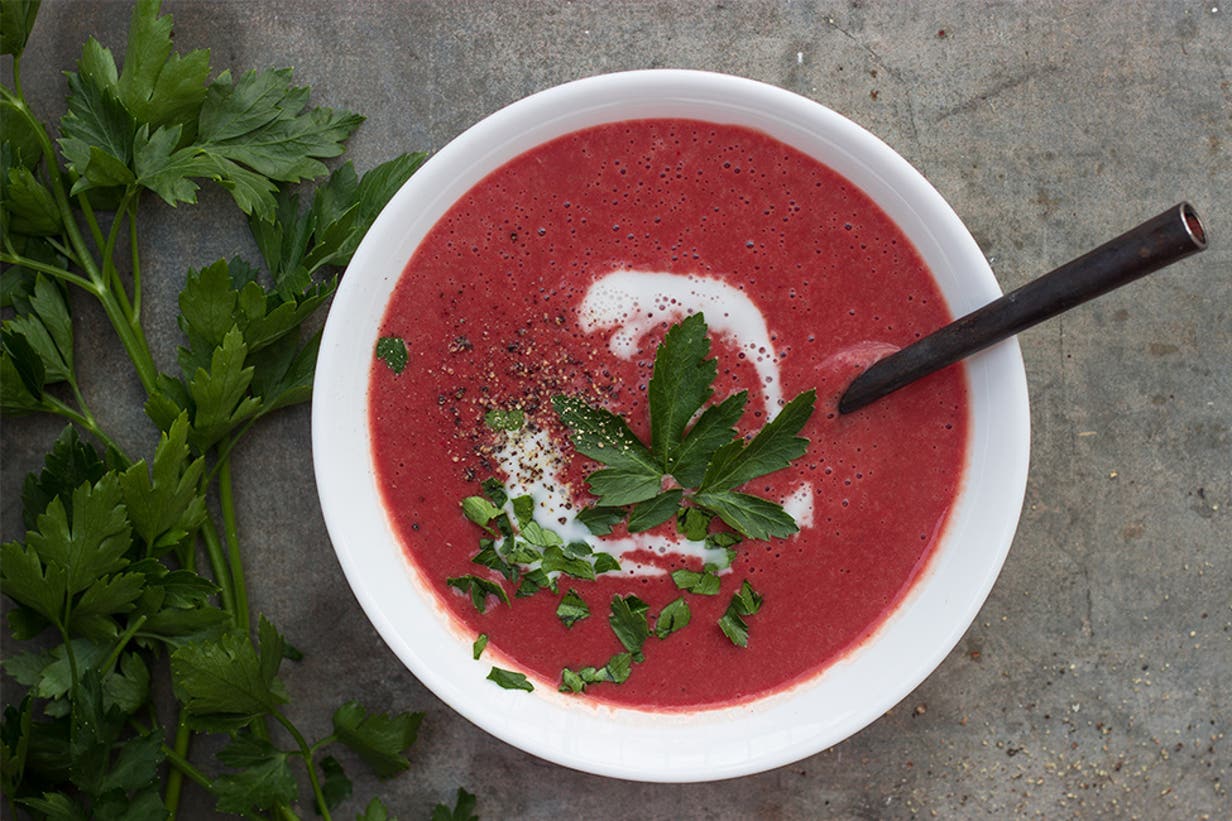 Ingredients:
Serves 4
1 tbsp coconut oil
3 cloves garlic, finely chopped
1 tbsp finely chopped ginger
3 large red beets, peeled and cut into ¼-inch pieces
5 cups vegetable stock, divided
1 can low-fat coconut milk
sea salt and pepper, to taste
parsley (optional)
Instructions:
In a large pot, heat coconut oil over medium heat. Add garlic and ginger and cook for about 5 minutes, stirring often.
Add beets and 4 cups of vegetable stock. Bring to a boil, then reduce heat and simmer until beets are fork-tender for about 20 minutes.
Puree the soup in a blender, adding as much of the remaining 1 cup of stock until desired consistency has been reached. Stir in coconut milk, salt and pepper. Garnish with parsley if desired.
Sorbet
It's time to stop thinking about beetroot as simply a colourful salad ingredient. Because it just so happens to make a deliciously healthy dessert too.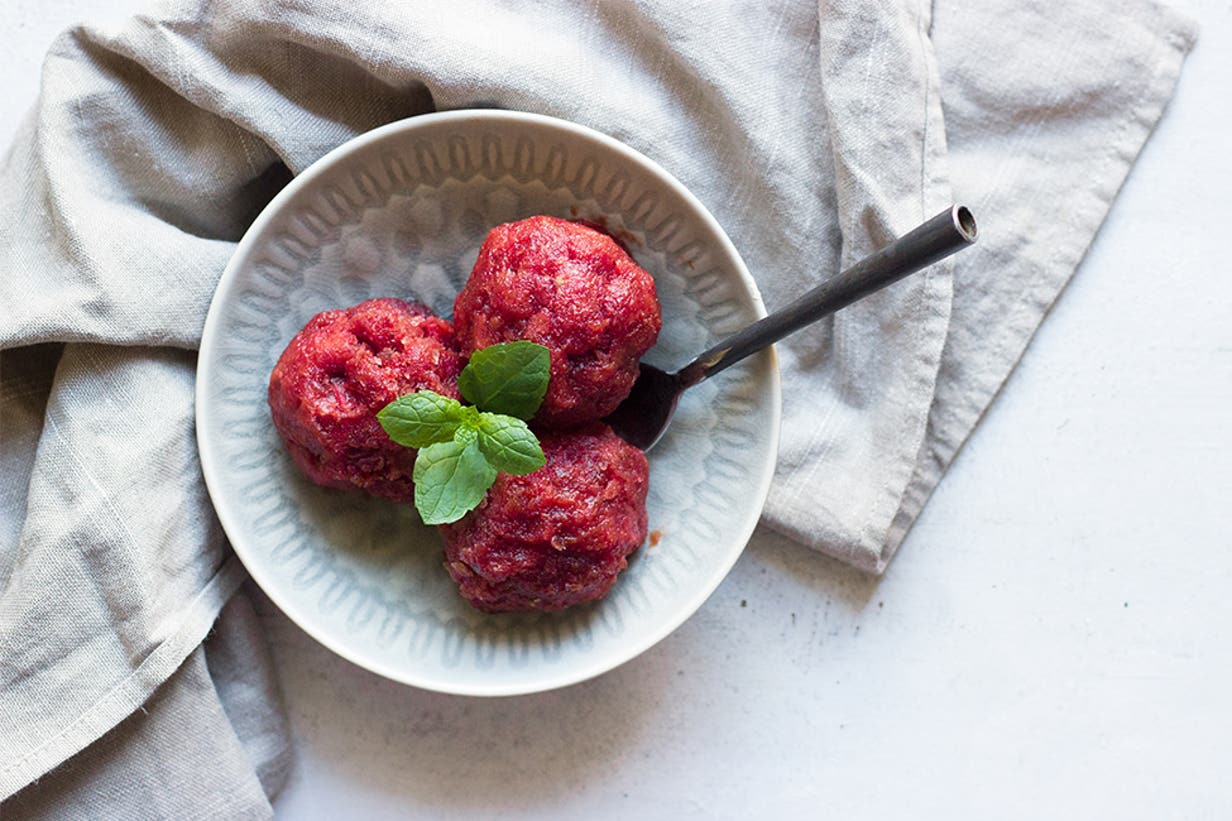 Ingredients:
Serves 2
2-3 large sliced beets (precooked and cooled)
8-10 mint leaves
juice of half a lemon
1 tbsp honey or maple syrup
2 tbsp coconut juice
1 cup water
Instructions:
Blend all ingredients together until completely smooth. Add more water if necessary.
Blend again before serving.