By starting with the Freeletics Coach, you've devoted yourself to a rewarding journey – a journey that will lead you to becoming the greatest version of yourself.
But before attacking your very first workout with our training system, we want to help make things as clear as possible for you, so all that's left for you to do is to focus on your performance.
Here's a short overview of the different types of workouts that your
Training Journey
may contain:
Interval trainings: Personalized Freeletics workouts
Interval trainings are individually crafted and personalized workouts given to you by your Coach, based on your needs and goals. No two are alike!
Intervals are sets of exercises that you'll do for several rounds, with rests in between each round. The pace of the training is tailored towards helping you improve on several levels – strength, focus, precision, and more.
Speaking of pace, the Coach will set your tempo. Try to perform the exercises as best as you can at the prescribed pace. Intervals are all about your skill level and perfecting the technique.
You may feel at times like you could go faster or harder during the session if the Coach sets a slower tempo, but make no mistake. Sometimes it can be even more difficult to perform exercises well at a slow pace.
Overall, Intervals guide you towards mastering new exercises and help you to reach your goal. Most importantly, they help you improve the quality of your movement in your own time.
Want to know even more? You can dive deeper into the different kinds of interval training you'll encounter
here
.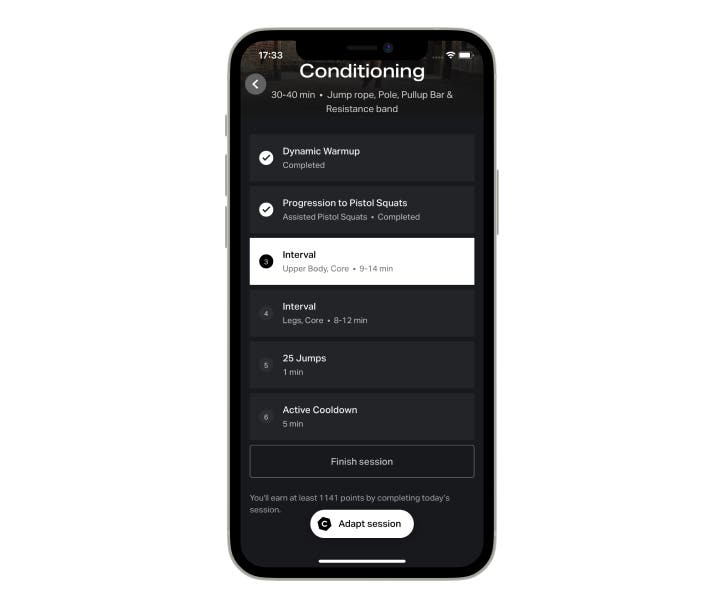 Skill Progressions
The Coach will also assign you repetitions of single exercises in varying amounts.
A key part of the design of the Coach's system is ensuring that you can maintain your mastery of basic movements so that you have a solid foundation that will enable you to make progress in the way you want to towards your fitness goals — whether that's building up your cardio endurance, losing weight, gaining muscle mass, or something else.
For example, you'll find that sometimes the Coach will assign you something like 5 Burpees, 10 Crunches, or 15 Squats.
Advanced athletes might wonder why the Coach has given them so few repetitions to do, especially when they've already leveled up, trained much harder, and can easily do more.
If you guessed that there's some science behind this, you're right. It isn't just to keep things interesting.
Very often, the real challenge lies in doing it right rather than doing more. Single exercises can therefore be seen as a technique training session.
Think of Skill Progressions as the maintenance work you do on your body over the course of your training.
Those few reps of very familiar exercises are an opportunity to fine-tune your movements and efforts. When you focus on performing each of those with the best possible movement quality, you'll have the mastery you need to work on more complex exercises and expand your fitness horizons.
Watch the instruction videos properly. Imagine the whole world is watching you.
Make sure you're executing the exercise as correctly as possible.
You will need it when you're up against the Gods.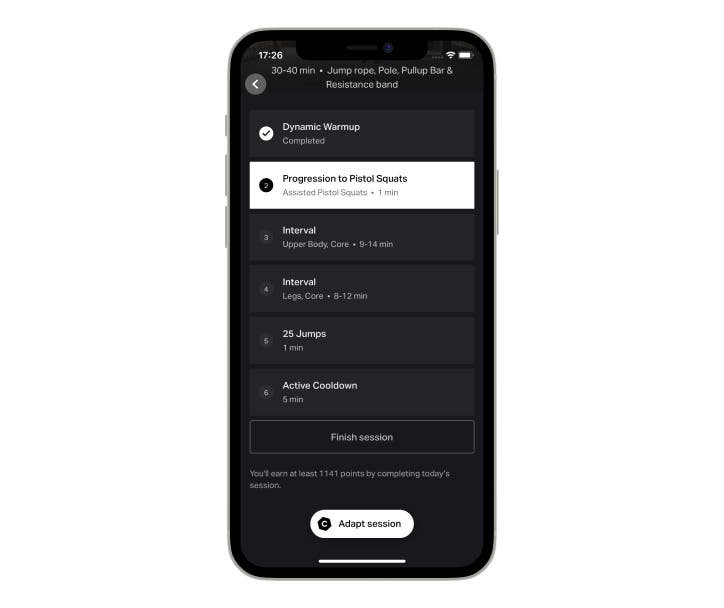 The classics: Freeletics God workouts
If you're up to the test, Aphrodite, Hades, Kentauros, and a whole pantheon of otherworldly challengers await.
Whenever you spot a God workout in your Training Journey, you know it's time to face the ultimate test.
These unique workouts are designed to push you past your comfort zone. You'll be going all out, as fast as you can, all while maintaining proper technique with every repetition.
It's meant to be tough. They're not called God workouts for nothing.
Completing a God workout is a milestone event, and each time you set a personal best (PB) time, the Coach records it. You can also measure your progress and compare your next workout time to your current or previous time.
Of course, you should always try to top your best performances, but don't be discouraged if you don't. You can't always beat your fastest time. But as long as you focus on giving everything you've got, you're sure to improve.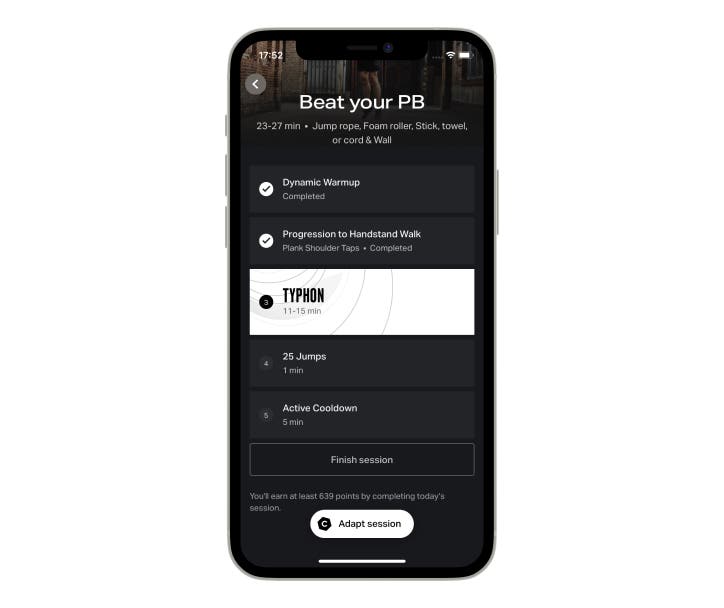 Short(er), efficient, effective: Partial God workouts
Partial workouts are abridged versions of the Freeletics God workouts.
Sometimes your Coach might assign you ⅗ of a full Aphrodite workout, ⅓ of Kentauros or any other partial workout.
This is so that those who are still building up their abilities and may not yet be able to take on complete God workouts can get a taste of what's in store and ease their way towards that challenge.
Another reason the Coach might assign you a partial God workout is to modulate the training intensity of your overall training, so that you can keep making steady and satisfying progress in the long term.
Sometimes you may get a partial God workout and feel that you could do more, especially after you've been training very strenuously over several weeks. Don't worry, though. Your Coach knows that you have it in you to conquer the Gods.
While sometimes long, tough God workouts can help you train with a special intensity, the Coach's goal is not to provide you with the longest workout possible, but instead with the most effective training possible.
Look at world-class athletes. Their training is set up for their unique needs with long, challenging workouts, short trainings, and rest days all built into their plan.
Your Freeletics Coach does the same for you by adding variety to your training sessions.
On some days you're going to be put through hell, on others you won't have to push yourself hard to finish – because you've earned it and also to allow you to recover faster. #CoachKnows.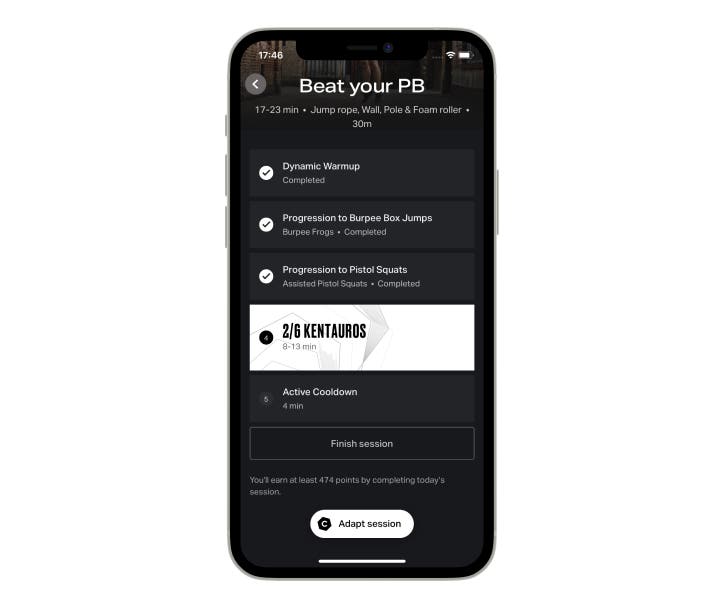 Single Exercises: A few final reps to finish strong
From time to time, but not every session, you might notice single exercises assigned to you between your Interval or God and your Active Cooldown.
Like Gods, you should perform these single exercises for time (while still ensuring proper form) to close your workout on a high note.
The purpose of having this at the very end is to improve your muscle endurance, your stamina, your speed and execution while fatigued, and to also improve your mental resilience.
It also may allow the Coach to assign you an exercise that works a body part or area that was not addressed in the core of your training session.
You can feel good about giving it your last bit of energy because once they're done, it's time for that sweet Active Cooldown!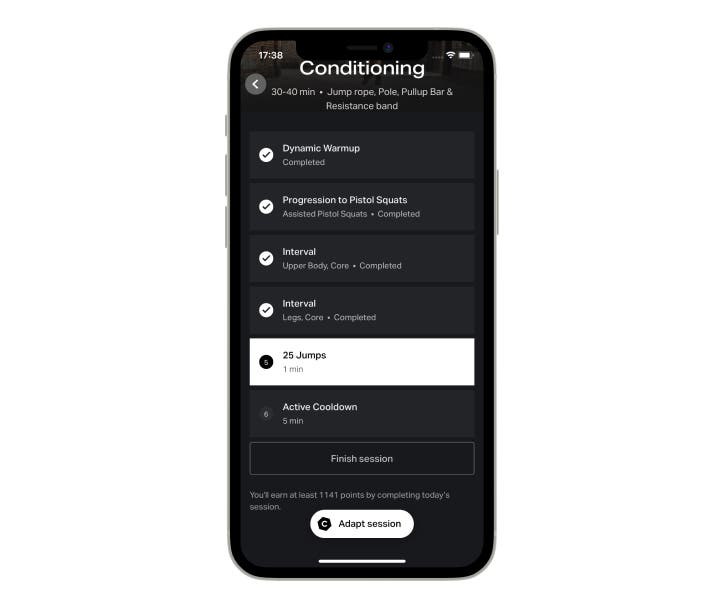 Key Takeaways: Freeletics Training Journeys
These are the of Freeletics' unique Training Journeys:
Interval workouts are designed just for you and your personal goals. They will make you faster, more persistent, stronger and help you unlock new exercises and skills.
Skill Progression sessions are built-in technique trainings that will help keep up your mastery of the basics as you progress.
God workouts are your challenge to show the community and yourself what you're capable of.
Specially assigned single exercises at the ends of workouts enable you to finish strong, and keep your training well rounded.
Combined, the Training Journeys and their individual elements are time-tested, science-based building blocks for personal improvement.
Trust the Coach and commit to putting in the time and effort to finish them and nothing can stop you from reaching your goals and becoming the greatest version of yourself.
Try Freeletics now