Sweet potatoes are the new side dish in town. Known for their incredible flavor, it's no wonder these guys are becoming more popular than the traditional white potato. As well as this, they're richer in nutrients and protein, making them a must-have food for the dinner table. Here are our top 6 favourite ways to prepare them:
Baked and Stuffed
Say goodbye to the jacket potato and hello to its new and improved cousin. This modern twist on the classic baked potato is completely vegan, not to mention packed with every Free Athlete's favorite thing: protein. Customize yours by stuffing it with your favourite fillings and spreads – the options are endless, so get creative!
Ingredients:
Serves 1
1 medium sweet potato
desired toppings
desired dressing
Instructions:
Bake the sweet potato in the oven at 220°C for around 1 hour or until soft. Alternatively, microwave on high for 8-10 minutes.
Meanwhile, prepare your toppings. Personally, we love filling it with quinoa, guacamole, and mushrooms, but you can't really go wrong here.
Prepare the dressing. We recommend tahini mixed with olive oil and honey, for a nice blend of sweet and savoury. Aubergine dip is also a good idea.
Once the potato is soft enough for a knife to slice through it, cut it almost in half and fill it with your favorite toppings and spreads.
Spicy Fries
Good news – fries don't always have to be fast food! Seasoned with paprika, these guys are spicy, sweet, satisfying and guilt free – all at once. A real crowd-pleaser.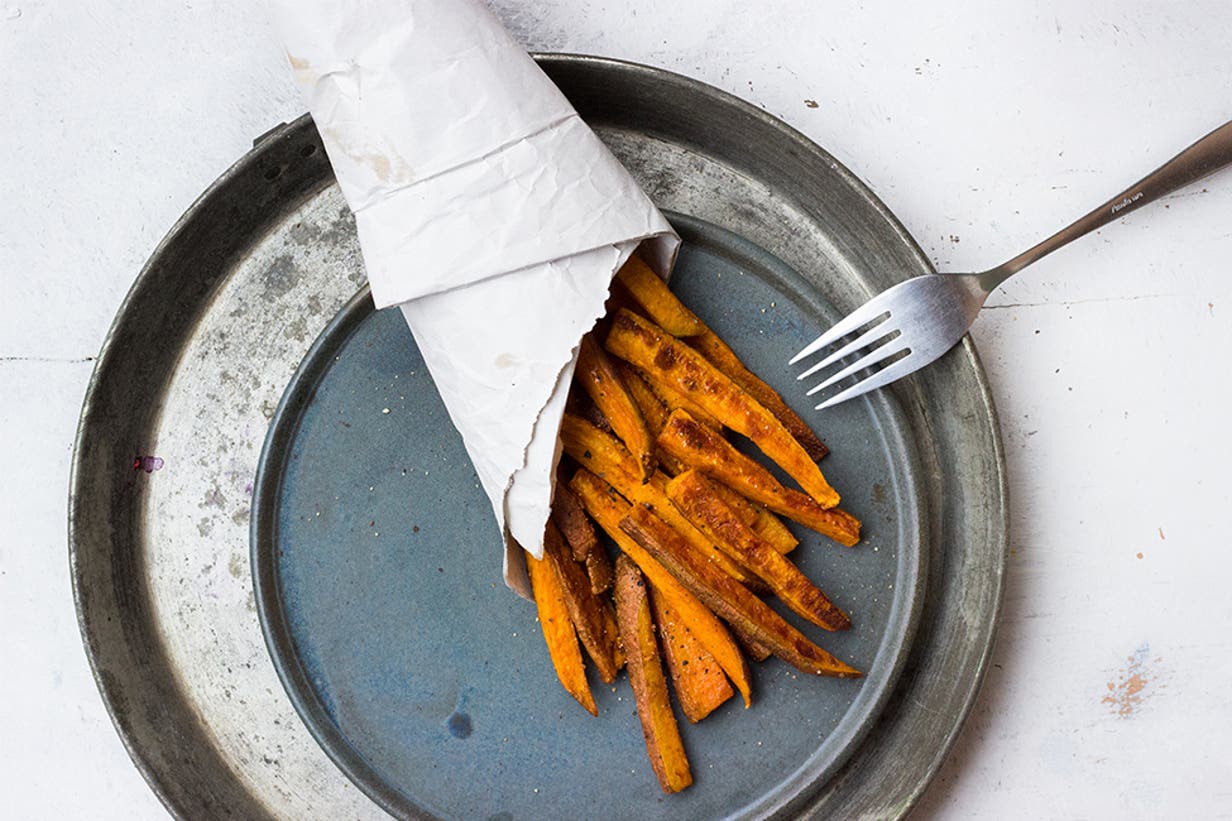 Ingredients:
Serves 2
2 large sweet potatoes
sea salt and pepper
paprika
1 tbsp coconut oil
Instructions:
Preheat the oven to 200°C.
Scrub and chop sweet potato into wedges – our tip: leave the skin on for that extra dose of fiber, beta carotene, Vitamin C and Vitamin A, and crispiness!
Toss with coconut oil, paprika, salt and pepper.
Spread the wedges on a large baking tray, and bake for 35-40 minutes before chowing down.
Gooey Brownies
Finally, a brownie recipe that's equally delicious as it is healthy. But wait…sweet potatoes in a dessert? What the…?! You better believe it! And actually, considering the "sweet" in "sweet potato", it makes total sense. All you need is a handful of ingredients and you can customize your brownies to your craving.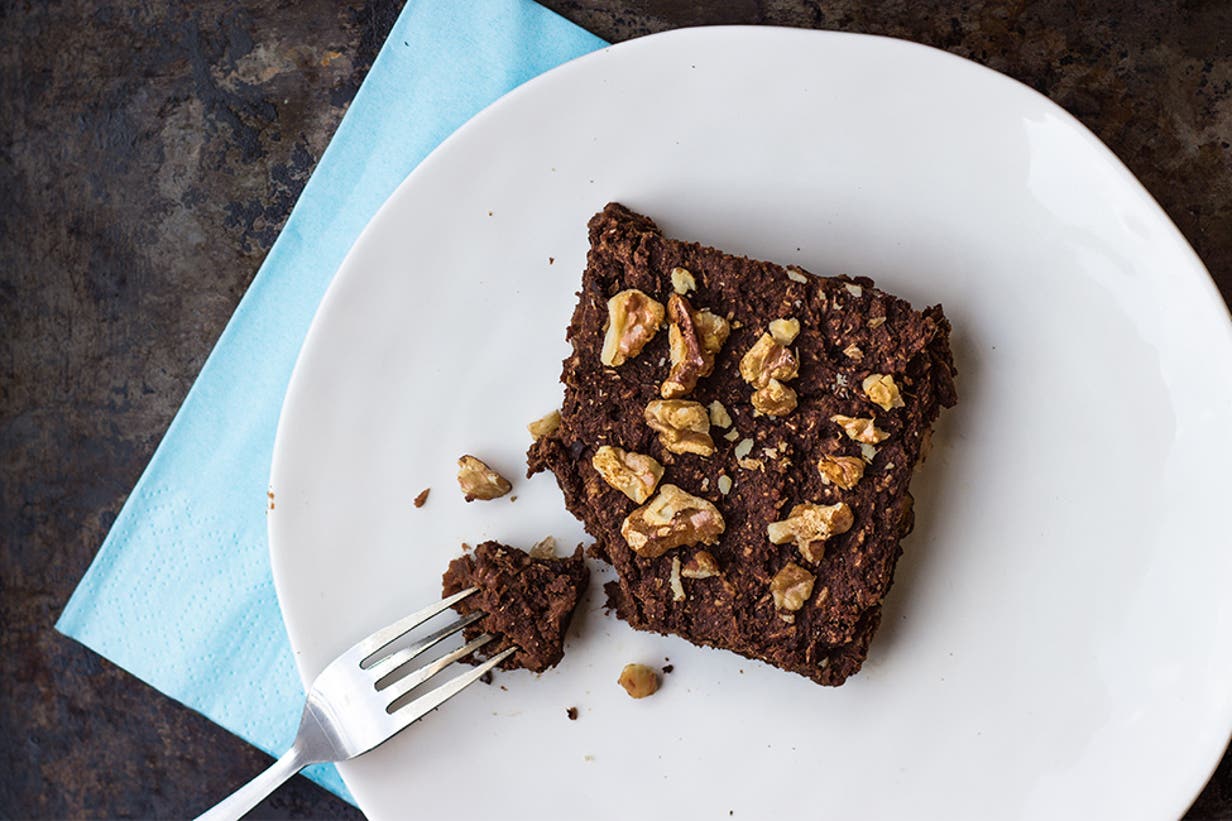 Ingredients:
Yields 10 brownies
2 medium-large sweet potatoes
2/3 cup of ground almonds
½ cup of coconut flour
14 medjool dates
4 tbsp raw cacao
3 tbsp pure maple syrup
pinch of salt
handful nuts, cacao nibs, or additional toppings (optional)
Instructions:
Preheat the oven to 180°C. Peel and cut the sweet potatoes into chunks and boil for 8-10 minutes, then add them to the food processor with the pitted dates.
Put the remaining ingredients into a bowl before mixing in the sweet potato, date combination and stir well.
Place into a lined baking dish and cook for about 20 minutes. Allow it to cool for 10 minutes outside of the oven.
Immune-Boosting Smoothie
Why just eat sweet potatoes, when you can drink them too? Mix it up and get your daily dose of goodness on the go. A rich, creamy and warm way to enjoy sweet potato pie…in a glass. Sounds weird, but trust us: it works.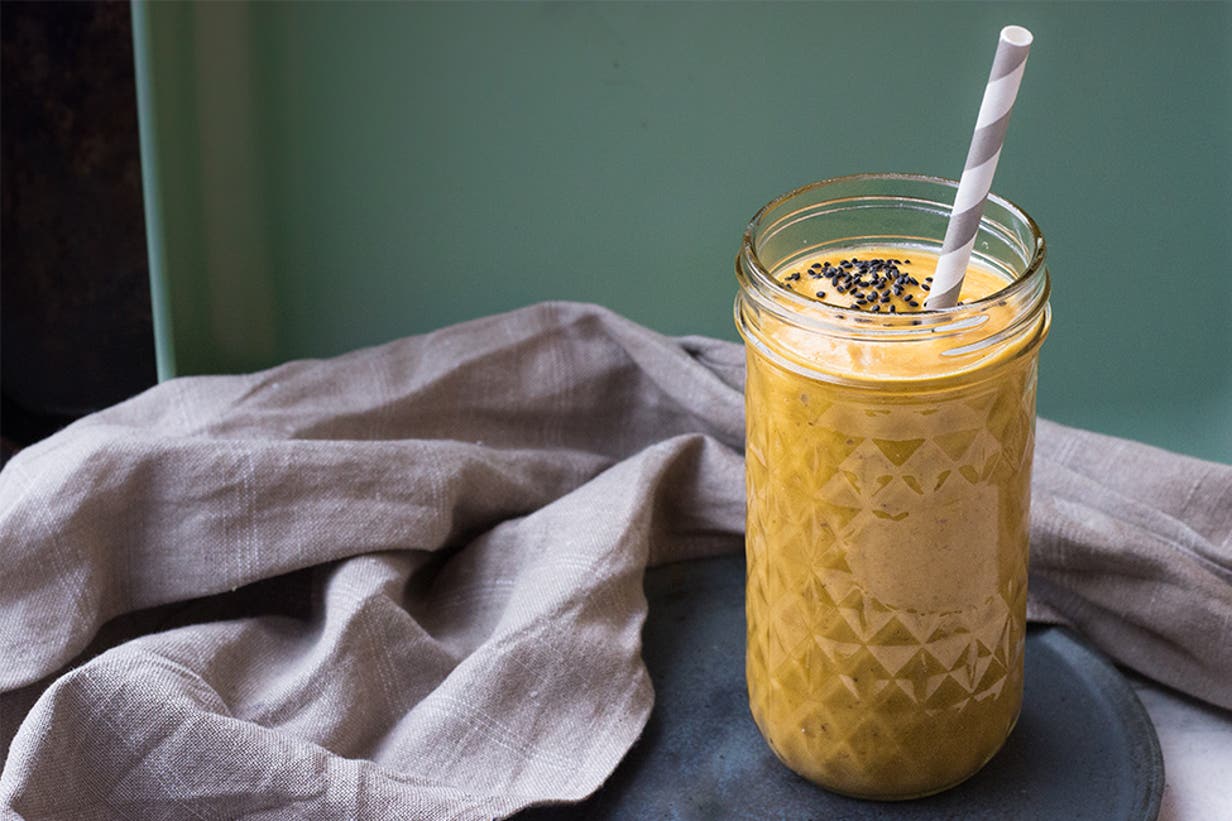 Ingredients:
Serves 2
1 cup of pureed, cooked sweet potato
1 medium ripe banana, pre-sliced and frozen
1 tbsp almond butter (optional)
¼ tsp each ground turmeric, cinnamon and ginger
½ tbsp. flaxseed meal or chia seeds
¾ cup unsweetened almond milk
¼ cup orange juice (optional)
large handful of ice
Instructions:
Add all ingredients to a blender and blend until smooth.
Not sweet enough? Add banana, honey or orange for added sweetness and more ice to thicken.
Vegan PB and Sweet Potato Nice Cream
When the sun comes out, cool down with some nice cream after your next workout! This one is creamy, luscious, and ridiculously easy to make. Plus, it strikes just the right balance between sweet and savory. The best part is it's no churn, so you don't need a fancy ice cream maker to enjoy it.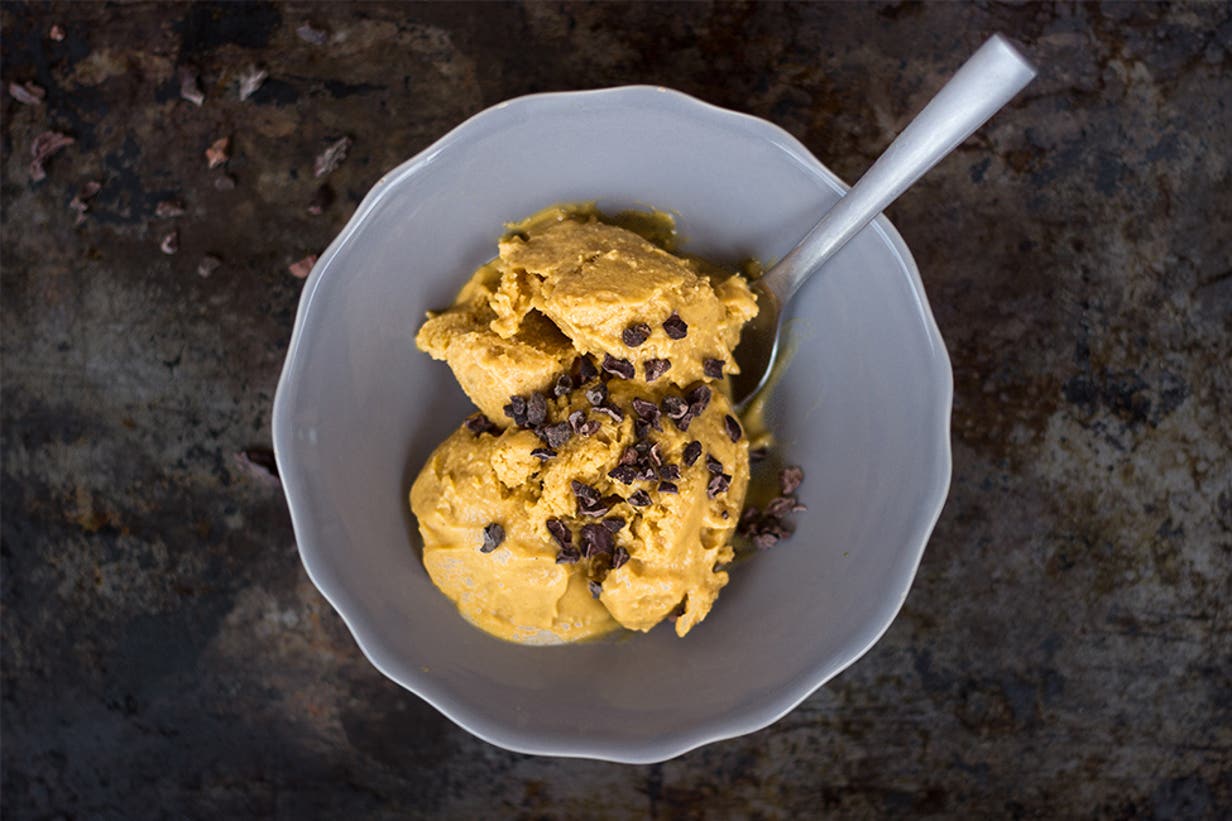 Ingredients:
Serves 4
½ cup baked, mashed sweet potato
1 cup creamy peanut butter with no additives
½ cup + 2 tbsp pure maple syrup
1 can coconut milk (this can be substituted for 1 ¾ cups of another creamy milk, like cashew or soy)
1 tbsp vanilla extract
½ tsp fine sea salt
Instructions:
Add the ingredients to a blender and blend until completely smooth and creamy.
Put the mix in a well-insulated ice cream storage container and place in the freezer for 2-3 hours, making sure to stir the ice cream frequently. Then…enjoy!
Easy Mini Pancakes
These pancakes are dairy-free, gluten-free and always a hit. Plus, with just 3 ingredients, this is clean eating at its simplest.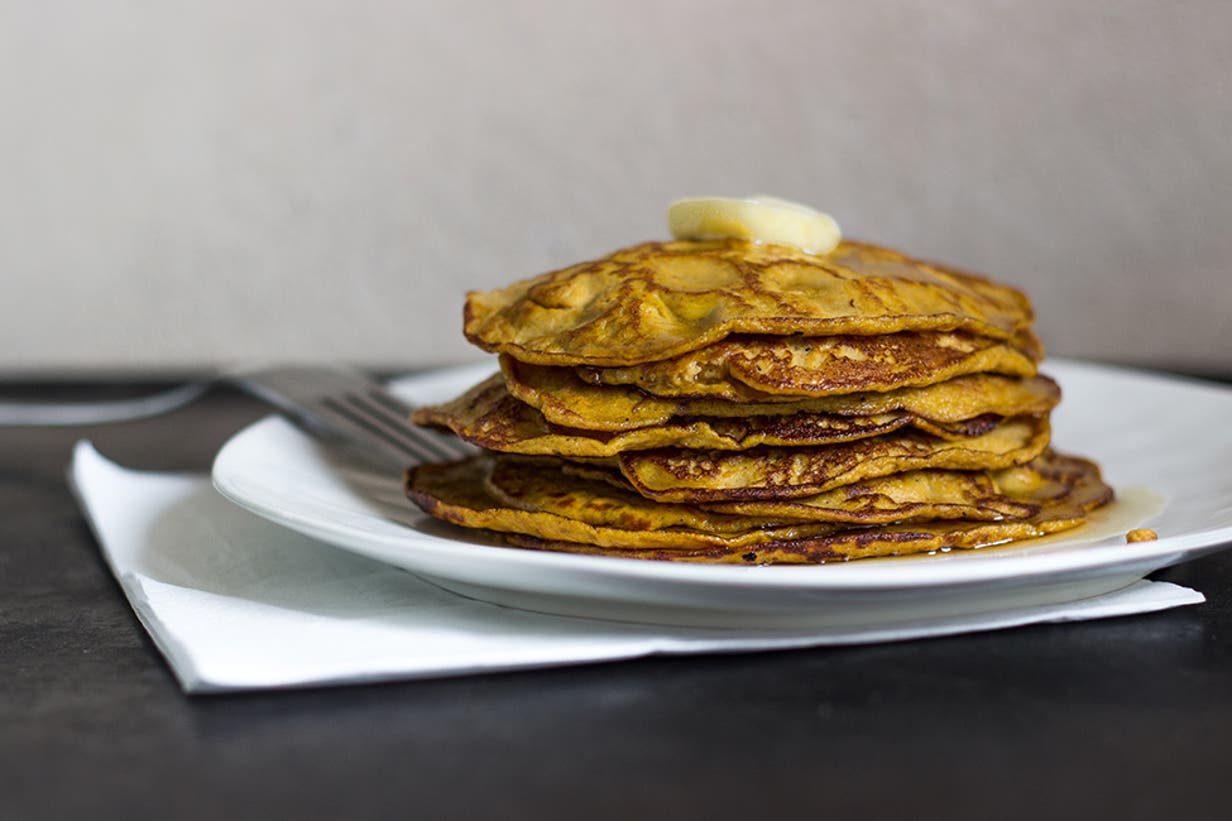 Ingredients:
Yields 10 small pancakes
¾ tsp ground cinnamon (to taste)
½ cup mashed sweet potatoes
2 eggs
coconut oil
pinch of ground ginger
pinch of salt
maple syrup or nut butter (optional)
Instructions:
Whisk together the sweet potato and eggs until well-combined. Add cinnamon if desired and stir. Heat coconut oil over medium-low heat.
Ladle the sweet potato mixture into the frying pan and fry for 3-5 minutes.
Flip each cake and fry for an additional 3-5 minutes until golden brown and cooked through.
Top with maple syrup or nut butter if desired.
Let's recap
That's your breakfast, lunch, dinner and dessert covered. Just remember: it's all healthy, as long as it's in moderation.