With its high nutritional value but bitter flavor, most people like the thought of matcha but just can't seem to stomach the stuff. Although an acquired taste, all it takes is some experimenting and you can easily make matcha work for you. Here, are three delicious and simple ways to incorporate this bitter ingredient into your sweet dishes.
Matcha Granola Topped with Berries
Upgrade your granola by making it yourself. Mix matcha with nuts and sweeten with honey or maple syrup for an energy-boosting breakfast that looks as vibrant as it makes you feel.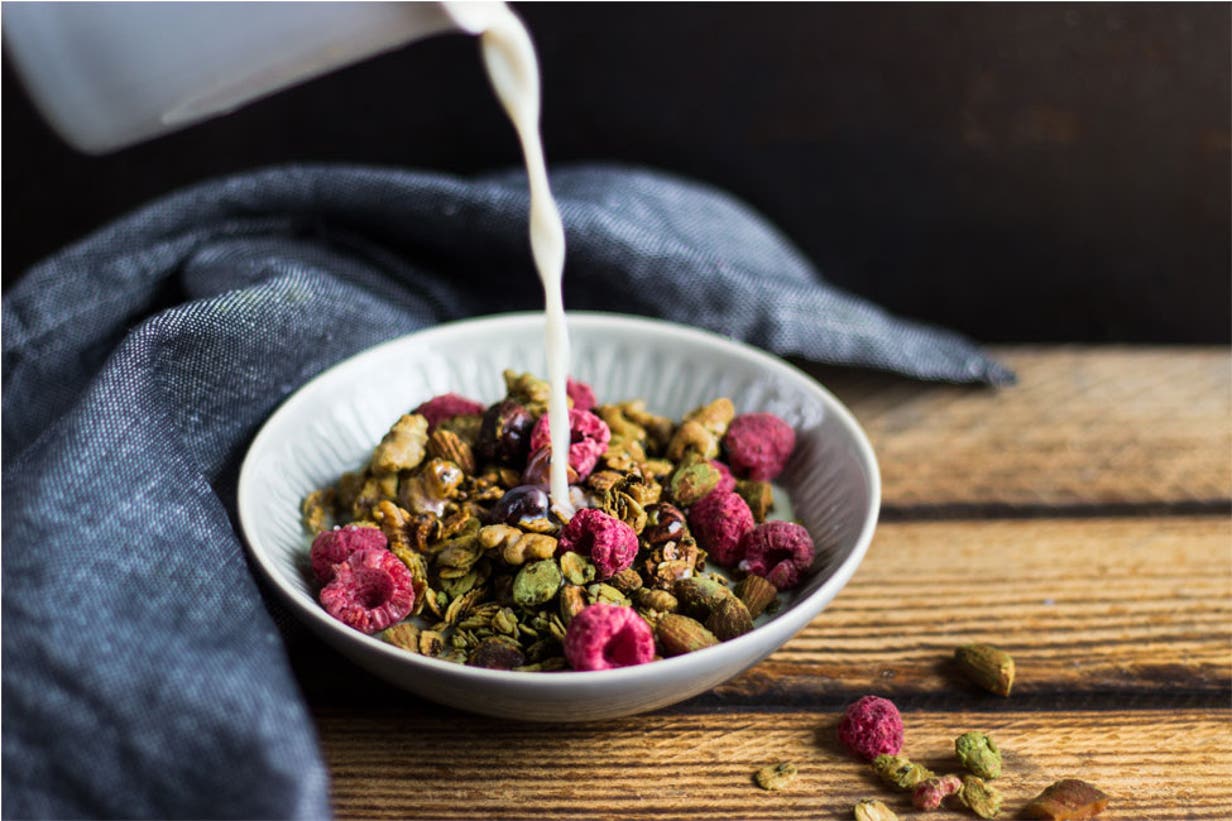 Ingredients:
Serves 8
3 cups rolled oats
2 cups nuts/seeds (almonds, walnuts, chia seeds)
2 tbsp coconut oil
2 tbsp vanilla extract
1 pinch of salt
2½ tbsp matcha powder
¼ – ½ spoon honey – or maple syrup for the vegan option
1 cup dried berries
Preparation:
Preheat oven to 120°C (250°F).
First mix nuts and oats.
In a separate small bowl combine coconut oil, honey/maple syrup, vanilla and salt.
Pour oats over the mixture and toss to coat.
Spread mixture out onto baking sheet and bake for 1 hour, stirring every 15 minutes.
Remove from oven and let mixture cool for a while before adding matcha and dried berries.
Pour everything into an airtight container and enjoy! Keep it boxed and enjoy this granola for several weeks.
Vanilla Matcha Protein Smoothie
Time to hit the training ground – and we have the perfect post-workout shake for you. Energizing, sweet and super easy to prepare.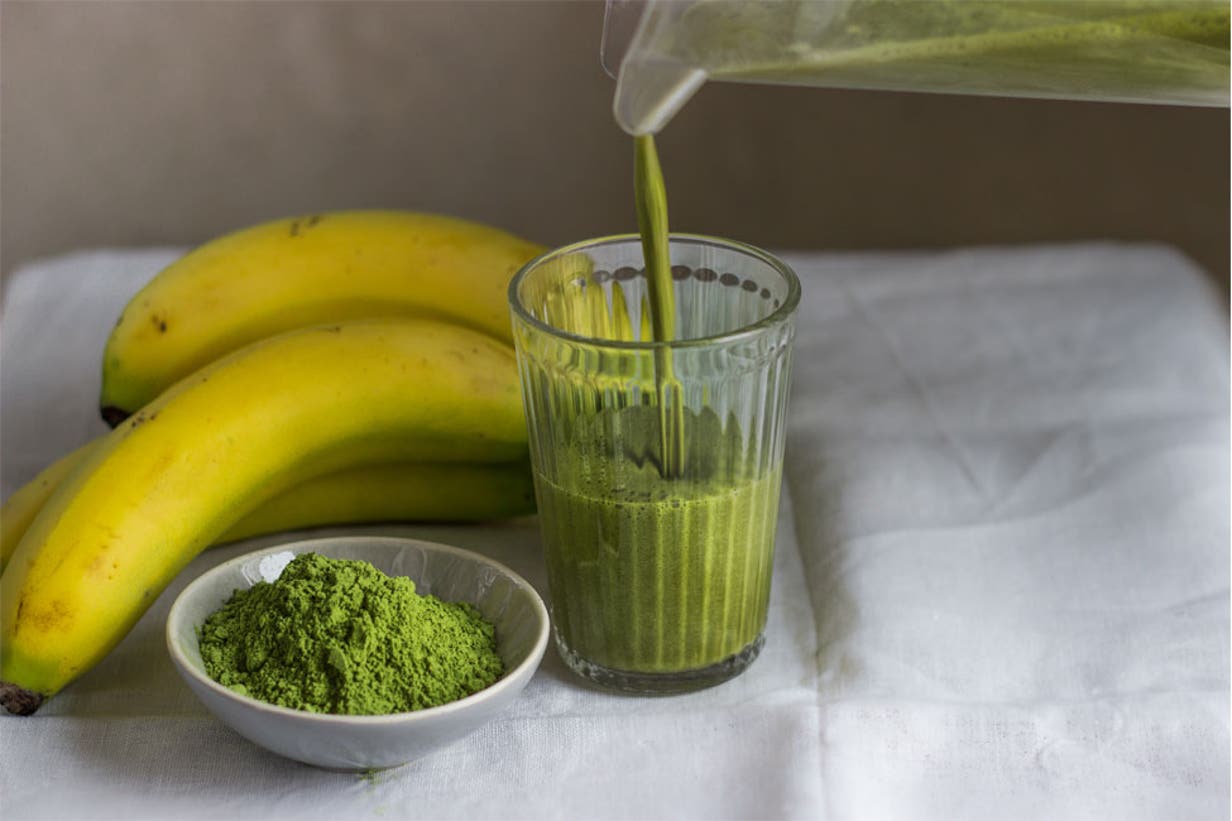 Ingredients:
Serves 1
1 cup unsweetened almond milk/ soy milk/ low fat milk
2 scoops (40g) vanilla protein powder
½ cup ice
1 large banana
2 tbsp matcha powder
½ tbsp agave syrup
Preparation:
Mix all ingredients together in the mixer and enjoy. Our tip: For the best taste and consistency, we suggest drinking this delicious smoothie directly after you've prepared it.
Matcha Chia Seed Pudding
Ready to go green? Infuse your usual chia pudding a slight green tea flavour and healthy dose of antioxidants. It requires no fancy kitchen equipment, just a little patience as it needs to soak for a few hours or overnight so the pudding thickens and gets an extra creamy texture. But trust us – it's worth it!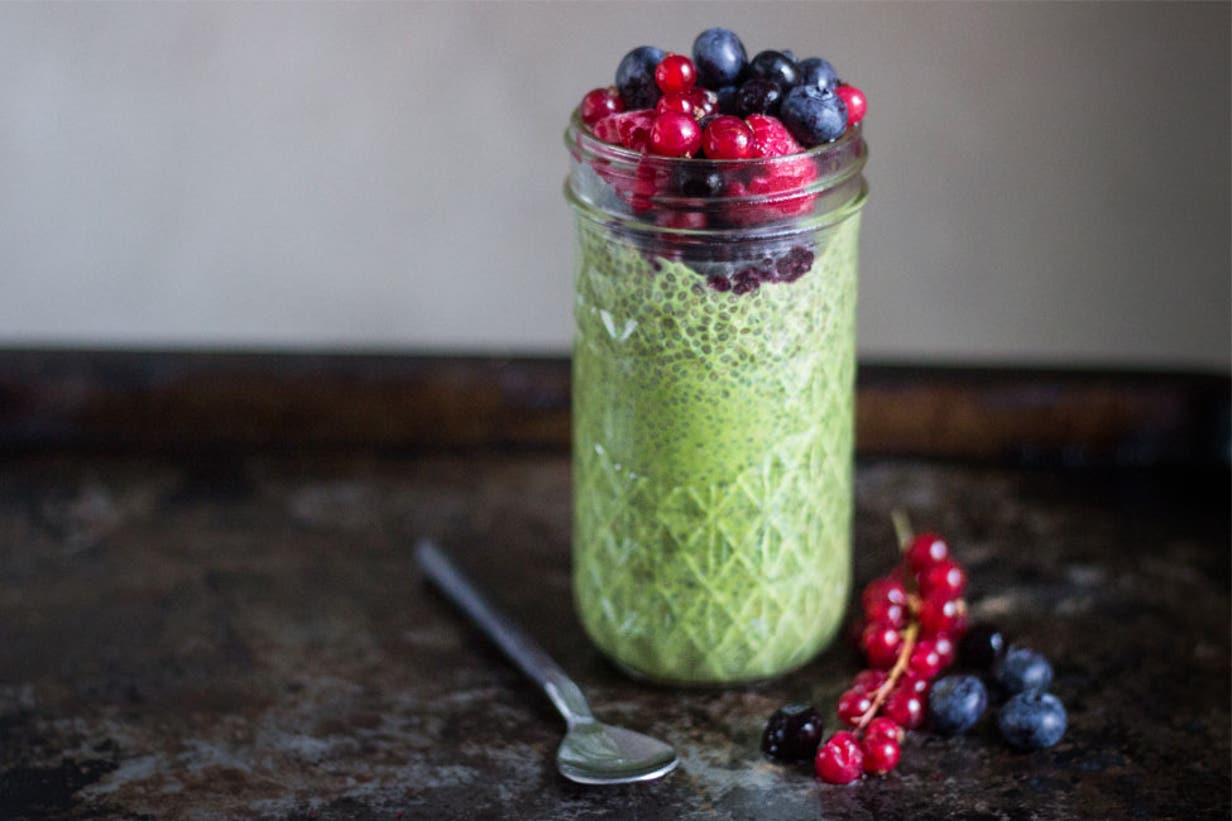 Ingredients:
Serves 2
2 cups unsweetened almond milk / soy milk / low fat milk
½ cup chia seeds
½ tbsp matcha powder
1-2 tbsp honey or maple syrup
fruits/Topping of your choice
Preparation:
In a glass, whisk together the milk and chia seeds.
In a separate bowl, stir matcha powder, honey or maple syrup until the matcha doesn't have any lumps.
Add the sweetened texture to the chia seeds. Close the glass and shake it.
Let the matcha chia pudding soak at least for 3 hours in the refrigerator, but preferably overnight. Add more milk if the texture is too thin.
Add your preferred seasonal fruits or toppings and enjoy!
Too much matcha, too little time.