The sad truth is, snacks eaten while watching sports tend to be unhealthy. No matter how much we love those buttery, creamy, deep-fried and high-calorie (sigh), meals on the couch watching football after a long day, it does way more harm than good. And take our word for it, the nasty long-term effects are not worth those few minutes of pleasure. Especially since, with a bit of modification you can actually turn these clean eating busters into healthier dishes without sacrificing taste.
Cauliflower in particular is an awesome substitute for many of the high-carb dishes we love, not to mention it's packed full of vitamins and minerals. Here are some of our favourite ways to enjoy this versatile veggie.
Grain-free Pizza
We know what you're thinking. A cauliflower crust? No thanks. But trust us, this crust is off the charts. It's easy to make, healthy, and some would even say it tastes better than real pizza. Bold statement…we know! But once you try it, we're positive you'll agree. Plus you can add any toppings, so it's just like your favorite deep dish or thin crust. You can discover the recipe for the Freeletics tuna pizza with cauliflower dough in the Nutrition Coach.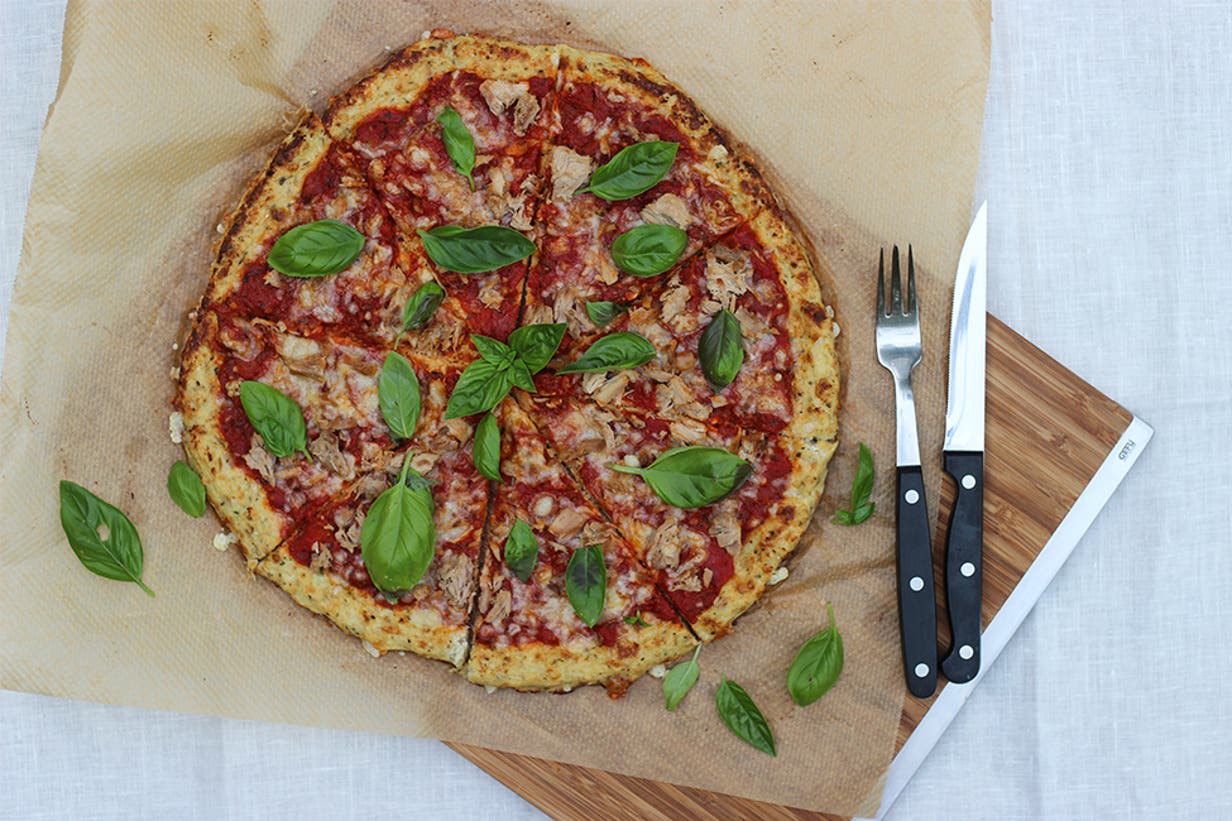 Ingredients:
Serves 4
½ cup tomato passata or can chopped tomatoes
1 cup shredded mozzarella cheese
½ cup shredded cheddar cheese
¼ cup fresh basil leaves
½ tsp crushed red pepper flakes (optional)
Toppings of your choice – we recommend tuna, sardines (protein), spinach, artichokes
For the crust
1 head cauliflower, chopped
2 large eggs
½ cup shredded mozzarella cheese
2 tbsp freshly grated parmesan
1 tbsp Italian seasoning
Salt and pepper, to taste
Instructions:
Preheat oven to 210°C. Line a baking sheet with parchment paper.
To make the crust, add cauliflower to the bowl of a food processor and pulse until finely ground (2-3 cups).
Transfer to a microwave-safe bowl, and place into microwave for 8-10 minutes, or until softened. Let cool.
Drain cauliflower completely, and transfer to a large bowl. Stir in beaten eggs mozzarella, parmesan and Italian seasoning, season with salt and pepper, to taste.
Spread cauliflower mixture onto the prepared baking sheet and press down. Bake for 12-15 minutes, or until golden brown.
Top with tomato sauce, cheeses and toppings (optional). Return to oven and bake until cheese has melted, about 10 minutes.
Sprinkle with basil and red pepper flakes – if desired – and serve immediately and guilt free.
Healthy Tempura
We've taken away the "guilty" and left you with the "pleasure". The tempura batter coats the cauliflower just enough to make it crunchy, while still leaving it nice and tender inside. Plus, the coconut oil gives a nice coconut-y taste. It's totally mouthwatering served alongside a dip or two. There's no need to get complicated, however; a simple sweet chilli or soy sauce will do the trick.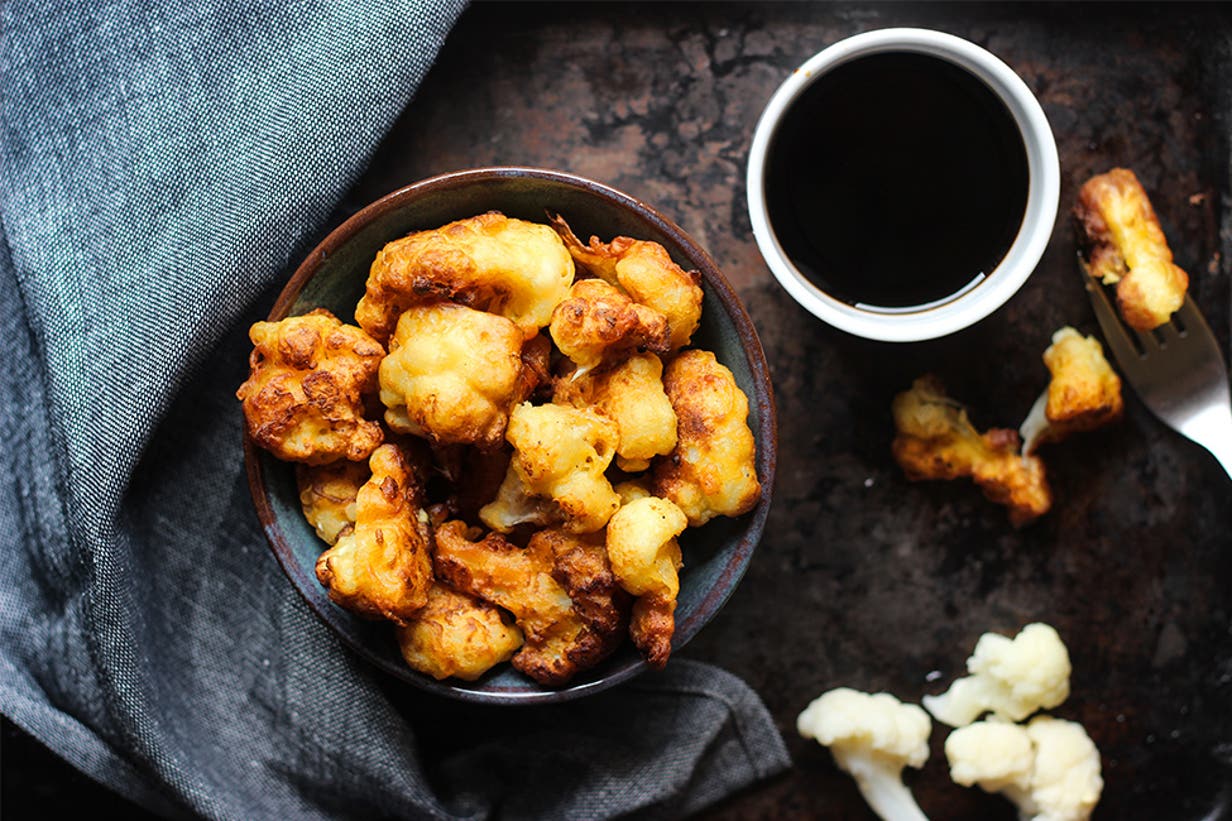 Ingredients:
Serves 2-4
1 head cauliflower
2/3 cup brown rice flour
½ cup cornflour
1 tsp bicarbonate of soda
1 tsp salt
soda water, refrigerated
Enough coconut oil for frying
Instructions:
Split the cauliflower into manageable florets, transfer to a saucepan, and cover with boiling water. Leave to stand for 5 minutes before draining.
In a large mixing bowl, combine the flour, cornflour, bicarbonate of soda, and salt. Using a whisk, incorporate enough soda water into the flours to yield a smooth batter.
Heat the oil in a deep saucepan or wok. Coat the florets in the batter one by one, dropping them carefully into the oil until golden brown and crispy. Don't be tempted to do more than a few at once.
When the first batch of tempura florets are done, pop them in a bowl lined with kitchen towel to drain. Then, dip and enjoy.
Revamped Rice
Bored with boiled white basmati? Then it's time to revamp your rice. Cauliflower rice is chewy in all the right rice-like ways, and unbelievably versatile. We promise it'll still feel like comfort food, just comfort food that's sneaking a few more vegetables into your day. You can even fry it with egg for your healthy, takeaway favorite.
Ingredients:
Serves 2-4
1 large head cauliflower, cut into large chunks
2 tbsp coconut oil
Salt and pepper, to taste
Instructions:
Place cauliflower chunks in a food processor and pulse until broken down into rice-size pieces.
Heat oil in a skillet over medium heat; add cauliflower rice, salt, and pepper. Cover skillet and cook until heated through, 3-5 minutes. Remove lid and fluff with a fork.
Versatile Tortillas
Feeling like a wrap? Taco shell? Breakfast burrito? With this quick and easy cauliflower "tortilla", you've got an all-in-one shell to fill with whatever you like. They come out solid enough to hold a lot of filling, but soft and flexible enough to bend into wraps. Plus they're a whole lot healthier than your usual ready bought wraps, so you can enjoy without breaking any clean eating rules.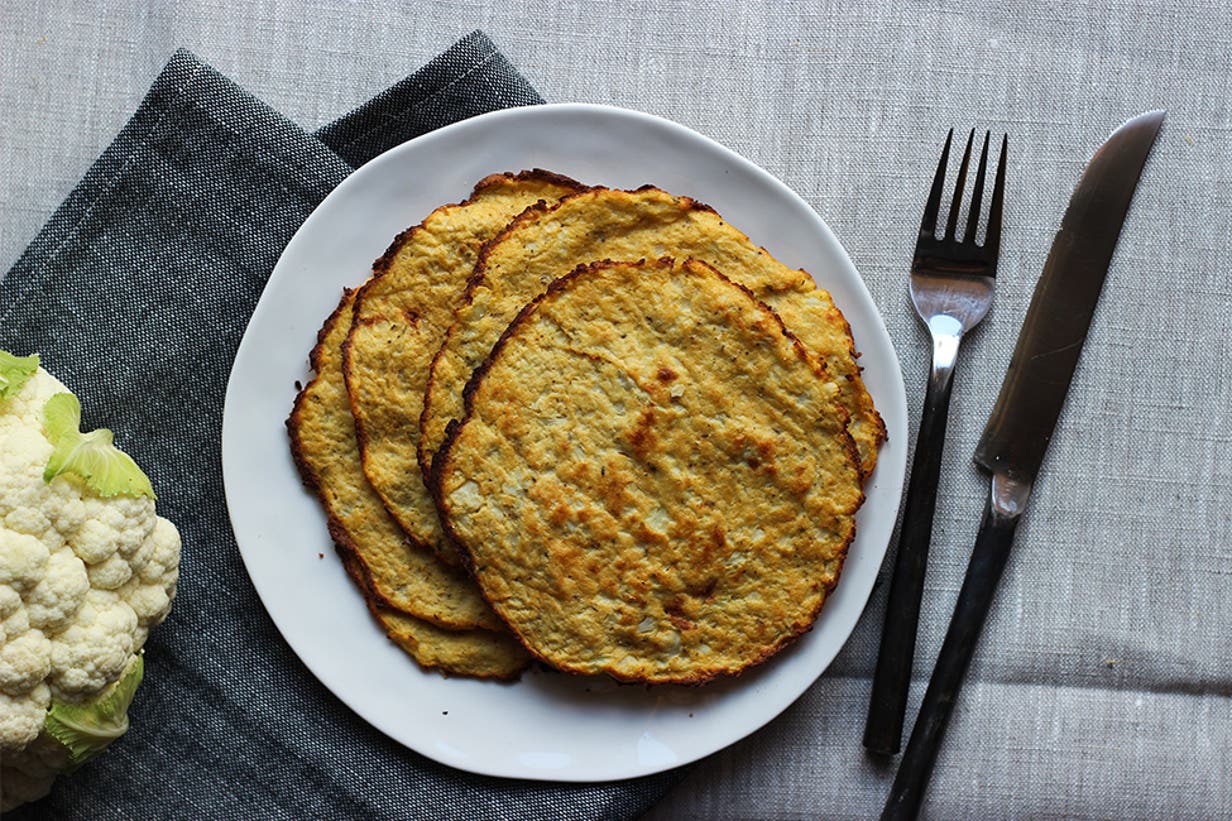 Ingredients:
1 head of cauliflower, cut up with stems removed
2 large eggs
½ tsp dried oregano
½ tsp paprika
Sea salt and black pepper, to taste
Instructions:
Preheat oven to 190°C.
Using a food processor, pulse the cauliflower until you get a texture that's finer than rice.
Steam the riced cauliflower in a skillet with 2 tablespoons of hot water, then cover and cook until tender for about 2 minutes.
Place the steamed cauliflower in a dish towel and squeeze out as much excess water as you can. This is very important unless you want soggy tortillas.
Transfer the cauliflower to a bowl. Add eggs, oregano, and paprika, and season to taste.
Separate the mixture into 6 balls of equal size. Spread each ball out on parchment paper on a baking tray, flattening them to make 6 small circles.
Place in the oven and bake for 8-10 minutes; then flip and cook for another 5 minutes.
Reheat in a pan placed over low heat when ready to serve.
Want to discover more creative ways to eat fruit & vegetables? Follow our food serial.