If the soft, tender flesh and glossy purple skin of aubergines don't appeal to you, then their health benefits definitely will. While they don't have copious amounts of one particular nutrient, they do contain an impressive array across the board. Most importantly for Athletes, they're low in calories and high in fiber and antioxidants, which keeps you feeling full longer and minimizes the risk of overeating. But if you thought aubergine was nothing more than a tasty addition to your meal, think again. Here are our 3 favourite ways to enjoy aubergine all on its own.
Aubergine Parmesan
Although it might sound healthy, aubergine parmesan can often be a calorie bomb. That's why we've given this dish a healthy makeover, by saying goodbye to the breading and frying and creating our own healthy sauce. The result? A new and improved recipe that's loaded with antioxidants and tastes fresh from the farm.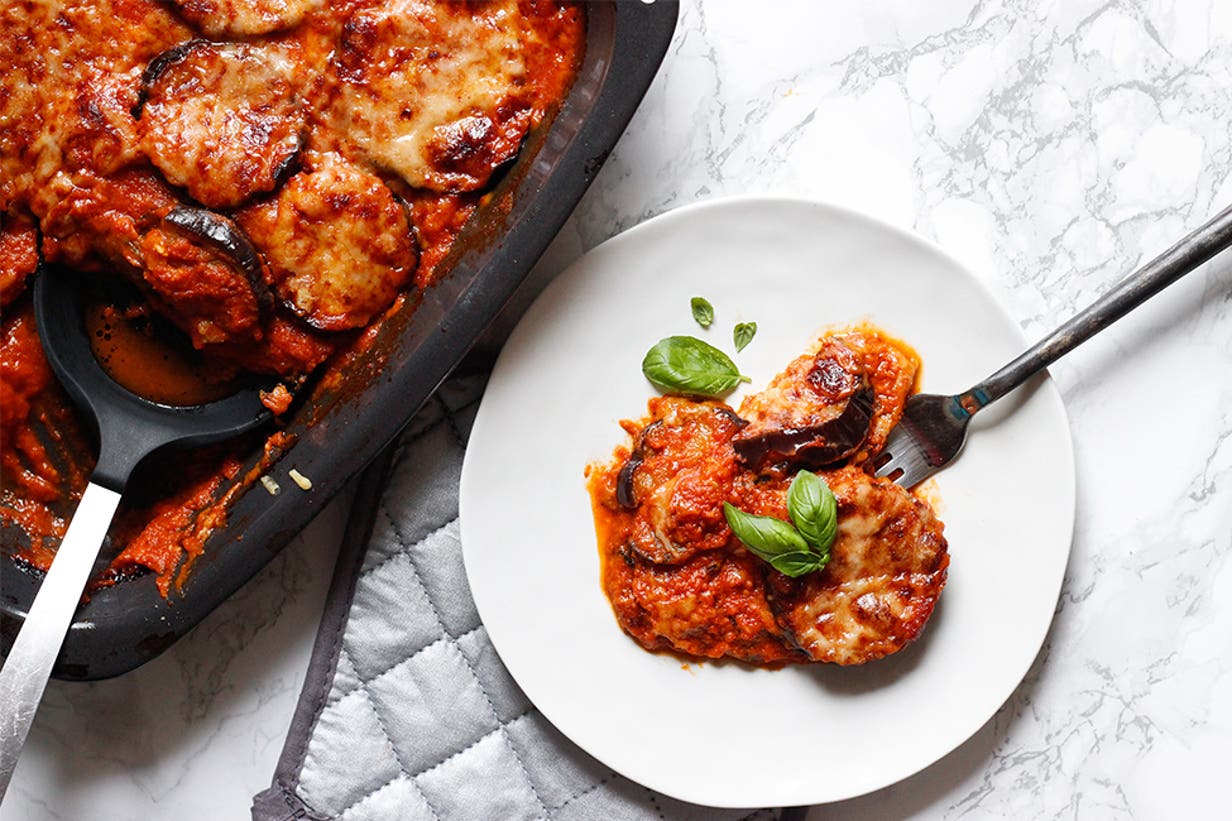 Ingredients:
Serves 4
2-3 small eggplants, cut into ¼ inch slices
¼ cup + 1 ½ tsp olive oil, separated
1 tsp salt
1 clove garlic, thinly sliced
2lb plum tomatoes, chopped
20 fresh basil leaves
1 tsp black pepper
¾ cup freshly grated parmesan
Instructions:
Preheat oven to 200°C. Place eggplant slices on non-stick baking tray and brush tops with ¼ cup of oil. Sprinkle with ¼ tsp of salt. Bake for 30 minutes or until soft.
Heat remaining 1 ½ tsp oil in medium saucepan. Add garlic and cook, stirring frequently, for 1 minute. Add tomatoes, basil, pepper, and remaining ¾ tsp salt and cook until sauce is thickened and reduced to about 2 cups. Season with salt and pepper to taste. Transfer to food processor and puree until smooth.
Coat bottom of baking tray with ½ cup sauce. Add ⅓ of the eggplant and top with another ½ cup of the sauce and 3 tbsp of the cheese. Repeat twice ending with remaining 6 tbsp cheese.
Bake until brown, about 30 minutes. Leave to cool for about 10 minutes before serving.
Walnut-Stuffed Eggplant
These high-protein Georgian classics make for a very satisfying main dish, and the filling strikes the perfect balance between spices, fresh tomatoes, moist onions and rich walnuts. Our tip: If you're tight for time, these can be made in advance and reheated, which also allows them to reach their optimum flavour. Win-win.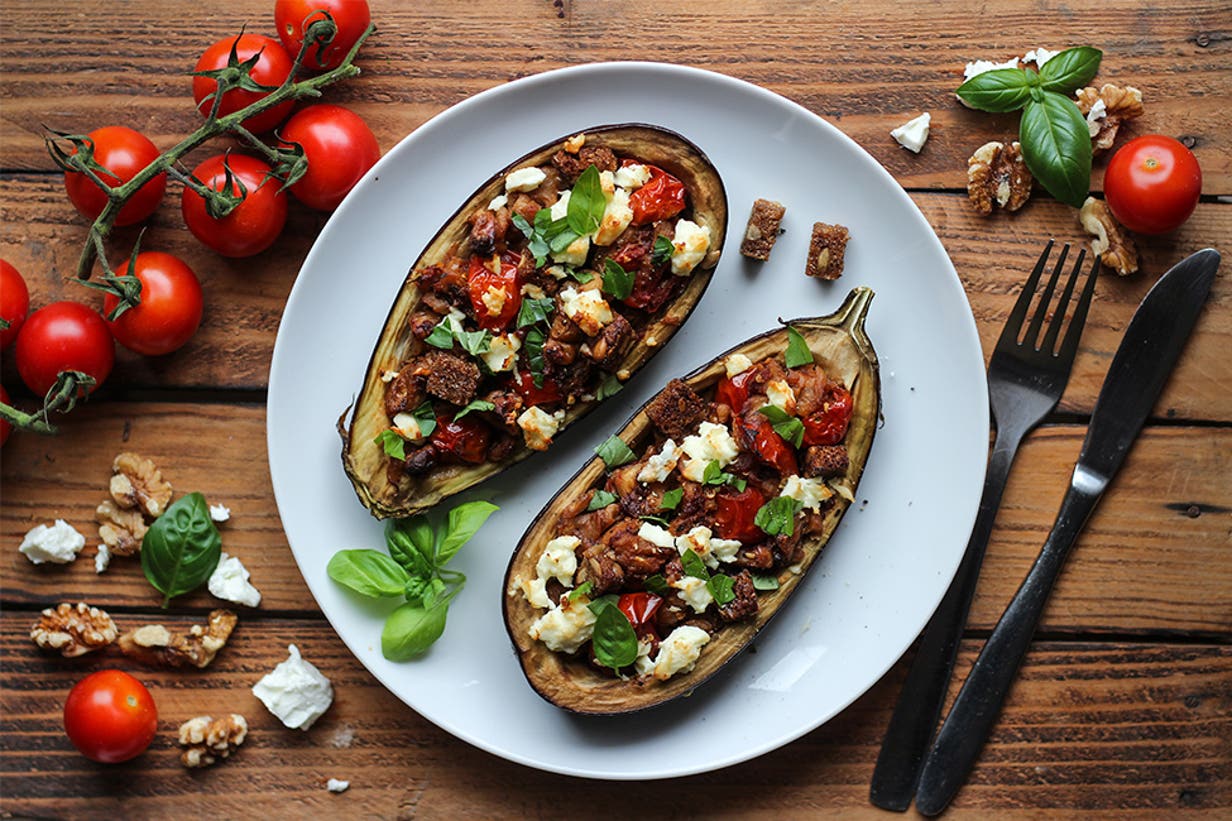 Ingredients:
Serves 6
3 medium eggplants
2 tbsp plus 4 tsp olive oil, divided
2 medium red onions, diced
3 cups grape tomatoes, halved
¾ cup roughly chopped walnut pieces
2¼ tsp ground cinnamon
1½ tsp dried oregano
¼ cup whole wheat breadcrumbs
⅔ cup crumbled reduced-fat feta cheese
Instructions:
Halve eggplants lengthwise and scoop out insides, leaving ½-inch thick edges on shells. Cut scooped out eggplant into ½ inch pieces. Sprinkle pieces and eggplant shell with salt, then let stand 25-30 minutes. Rinse everything under cold water and pat dry.
Bring large pot salted water to boil and simmer eggplant shells for 5-8 minutes. Drain and pat dry.
Heat 1tsp olive oil in large skillet over medium heat. Saute onions for 3 minutes, then add eggplant pieces, tomatoes, walnuts, cinnamon, oregano and ¼ cup water. Season with salt and pepper if desired. Cook for 8 minutes or until vegetables are brown, stirring occasionally.
Preheat oven to maximum heat. Toss breadcrumbs with 4 tsp olive oil in bowl. Brush each eggplant shell with ½ tsp oil and place on baking sheet facing up. Reduce oven heat to 190°C.
Divide filling between eggplant shells. Sprinkle each stuffed eggplant with breadcrumb mixture, and top with feta cheese. Bake 35 minutes or until heated through and browned.
Fries
Crunchy aubergine strips coated in almond meal taste just like fries, but without all the extra calories. With a crisp outside and a tender interior, these little guys pair perfectly with a creamy lemon dill dip.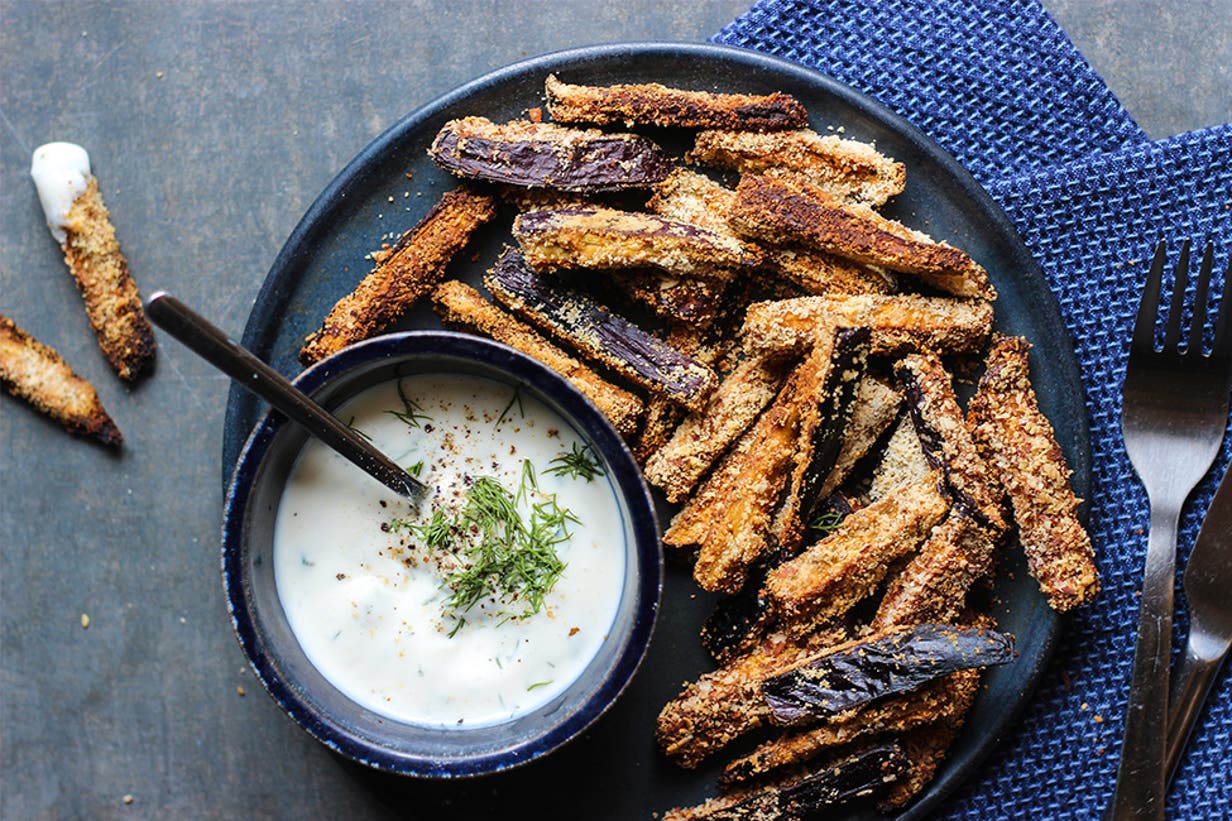 Ingredients:
4 side servings
For the fries:
1 eggplant
a drizzle of olive oil
1 tsp salt
1/2 tsp ground black pepper
1 tsp smoked paprika
2 tsp pure maple syrup
1 cup almond meal (or substitute with another flour to make it nut-free)
For the dip:
1 cup plain soy yogurt
1 tsp dill
2 cloves garlic, minced
2 tbsp lemon juice
fresh black pepper, to taste
Instructions:
Combine all dip ingredients in a medium-sized bowl. Place in the refrigerator for 1 hour to chill and allow flavours to combine.
Preheat oven to 200°C. Wash and cut eggplant into thin sticks. Note: the thinner they are the crispier they'll be.
Put eggplant pieces in a deep bowl and drizzle with olive oil, salt, pepper, paprika and pure maple syrup. Mix to coat.
Place almond meal in another bowl and mix. Put small handfuls of the eggplant pieces in bowl of almond meal and toss to coat well.
Place on baking sheet covered with parchment and bake for 35-45 minutes, depending on thickness.
Already got a favorite? Don't forget to share your food pics on social media using the hashtag #FreeleticsNutrition.