This winter, in support of the Dare To Be Free campaign, Freeletics launched its first ever nationwide survey, aiming to delve into the concept behind the campaign and uncover the biggest barriers Americans face when it comes to health and exercise.
Age, it turns out, is only one of multiple barriers to exercise Americans face, according to the study, but "not having time" took home the first-place crown with 42 percent saying that time is the biggest reason they fail to work out.
So, with everyone becoming so busy, are modern work pressures also getting in the way of a fit and healthy life? According to the results, the answer is yes.
When asked about excuses they have used to justify skipping a workout, nearly one in four said they have used "stayed too late at work" as an excuse, while a further 36 percent said having too much work to do is a reason they have skipped a workout before. Topping the list with 56 percent was being "too tired" to work out. Excuses, it seems, come in many colors.
Here are the top 10 findings from the Freeletics Dare To Be Free Survey
1. 42% of Americans claim they don't have enough time to work out
Time is a pain. We can't stop it, slow it down or rewind it. With busy personal and professional lives, it's hardly surprising that so many Americans put exercise to the bottom of their priority lists. But it needn't be. There's plenty of options out there for those with even the tightest of schedules, it's just a case of finding them.
2. 56% have skipped a workout because they were too tired
This is a tough one. If you're tired and unable to concentrate, running along busy streets or lifting heavy weights might not be a great idea. Frankly, we're surprised that this figure isn't higher. Sleep is an important part of the training process and one that shouldn't be skipped.
3. A third of Americans have missed a training session because the weather was "too bad"
And 10% even admitted to missing a workout because the weather was too nice!
4. Less than 30% consider working out to be convenient
Exercise is what you want it to be. Want to go to a fancy gym? Do it? Want to run along the river? Go ahead. There's so many workout programmes out there, finding the one convenient for you has never been easier. Want it to be convenient? Only you can make it so.
5. 69% believe that regular exercise would help them cut their bad habits
Daring to be free of what you know is bad for you can be difficult. However, change is in the air; almost 70% of Americans know what's good for them. The question now, is will they take action?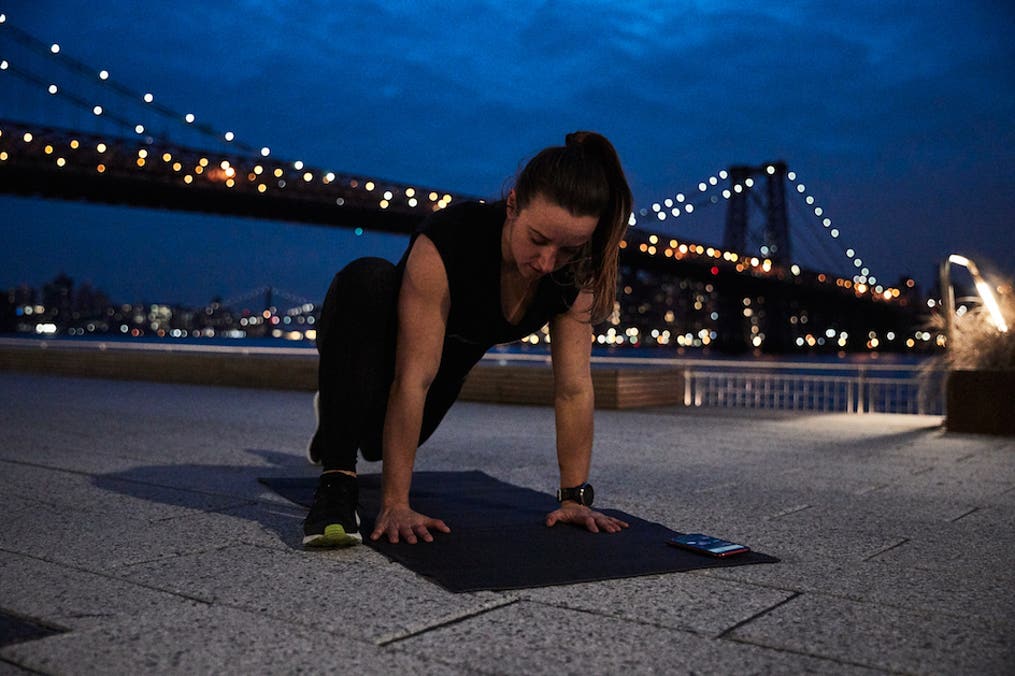 6. 45% say that workouts they could do at home would make them more likely to exercise
Which is where we come in. Sometimes, after a long day, the last thing you want to do is leave the house again. So don't. Freeletics has workouts you could do in even the smallest of spaces.
7. 23% consider themselves too old to exercise
As long as you're healthy, you're young enough to exercise and become a better version of yourself. Starting today is better than never starting. The average age Americans believe to be "too old to work out" is a shocking 41 years old.
8. 20% don't exercise because it's too expensive
20% are looking in the wrong places. Running outside? Free. Bodyweight training? Free. Whether you're looking to build muscle or get fit, there's a cost effective option out there, you just need to look harder.
9. 22% don't exercise because they don't see results
Results take time, they don't come overnight. Often, the most significant results aren't physical at all, but psychological. Just because you're not seeing results, doesn't mean they're not there.
10. 60% said that they would be happier if they exercised regularly
This is the big one and it begs the question, "so why not just do it?!" We know that there are many barriers to exercise, but none of them are insurmountable. Dare To Be Free of your excuses, and become a greater, fitter and, most importantly, happier you.
Is 2019 the year Americans will find their fitness freedom and get in shape on their terms? Daniel might have the answer: "with our brand-new platform approach to fitness, I am hopeful that in 2019, we will help more people discover just how simple and convenient regular exercise can really be".