We are a special community of people who share the same values and goals, and  are willing to put in everything in order to succeed. To give you even more opportunities to share your training experiences, workouts and personal bests with your friends and the worldwide Free Athlete community, we brought your feed to the web platform.
What's new?
Your feed
Get connected and motivated! Your feed will show you all recent training with friends,Also track workout and exercise times, show your respect with a ClapClap and comment on performances. Stay motivated with other Free Athletes honoring your training and motivate them as well. Be part of the community by sharing the workouts you did and the thoughts you had while training.
Your user profile
Your user profile tracks all your PBs. Have a look at them and get comments on them from other Free Athletes. Moreover, your profile will show all your recent workouts in a separate personal training feed. Look at your last workouts and be proud of what you have achieved!
Your personal network
Visit your personal network and follow your friends. Browse through their profiles to see their workouts and compare yourself with them.
Your mini profile
Next to the feed you will find a mini profile showing your current training status: The number of points you earned, level, and time spent training this week. Those are the results of your efforts  they should make you aware of how far you have come and that your hard work will pay off.
Your next workout
Check you feed, grab some motivation from it and then start your next workout. Right next to your feed, your Freeletics Coach shows you your next session. Take a deep breath, click on it and start your next workout.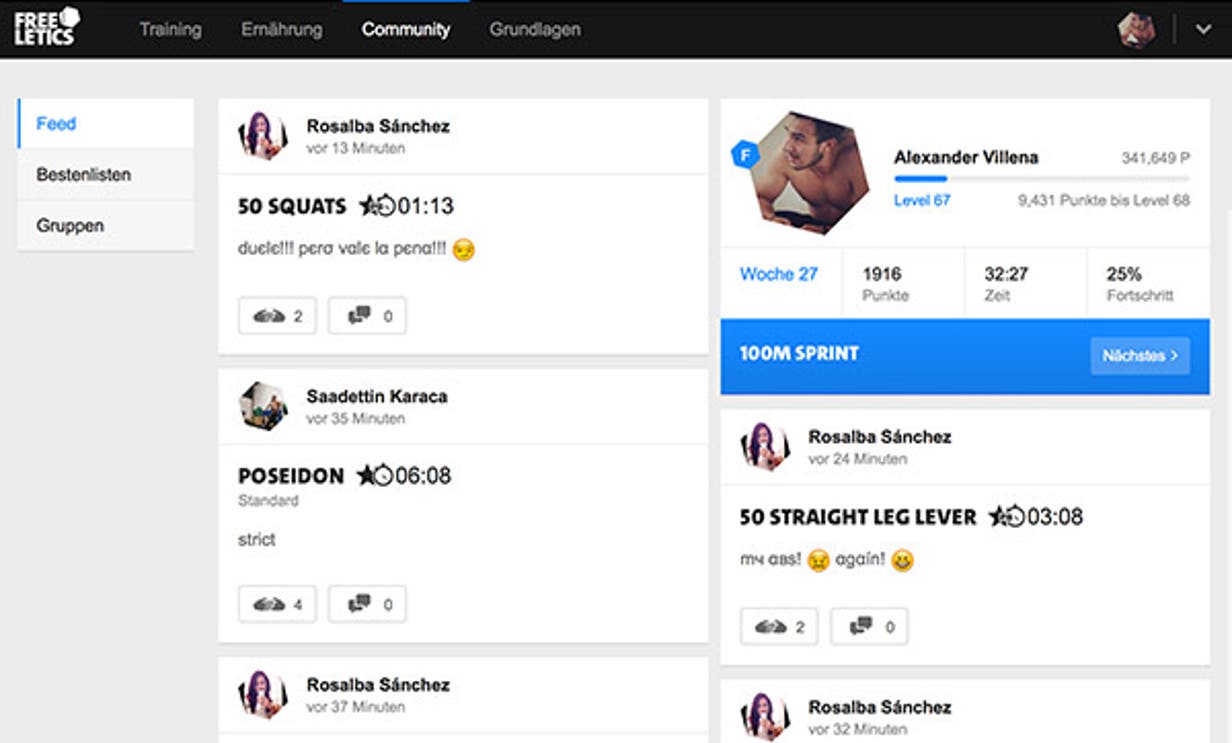 Now that the Community  is a web feature, you are able to connect with even more people. Share your workouts with others. Don't only get motivation from the community, but also play anactive part in it by commenting and acknowledging the effort of other Free Athletes. Log into your profile and start right now!