Immerse yourself in the world of PlayStation's latest critically acclaimed exclusive title: Horizon Forbidden West and train to take on machines just like Aloy, the great machine huntress.
Work out with the Coach's personalized training plan as you prepare to take on a new machine at the end of each week. Expect a variety of exclusive HIIT workouts inspired by machines that the game's protagonist, Aloy, takes on in her exciting journey in the Forbidden West. Starting with the Burrower, the Coach will help you make progress to defeat the more difficult machines you'll face throughout your journey.
Complete the Training Journey to Win Big
Want a chance to win a PlayStationⓇ5 and other amazing prizes? You've got 12 training sessions to complete, including 4 progressively more difficult machines to defeat. If you train 3 times a week, you'll complete your Training Journey in 4 weeks with plenty of rest days in between. This will not only earn you an entry into the grand prize giveaway, but will also set you up for a long-term, sustainable fitness routine. Win-win!
The Training Journey is available starting March 13. Make sure to complete your Training Journey by May 8 to secure your chance to win.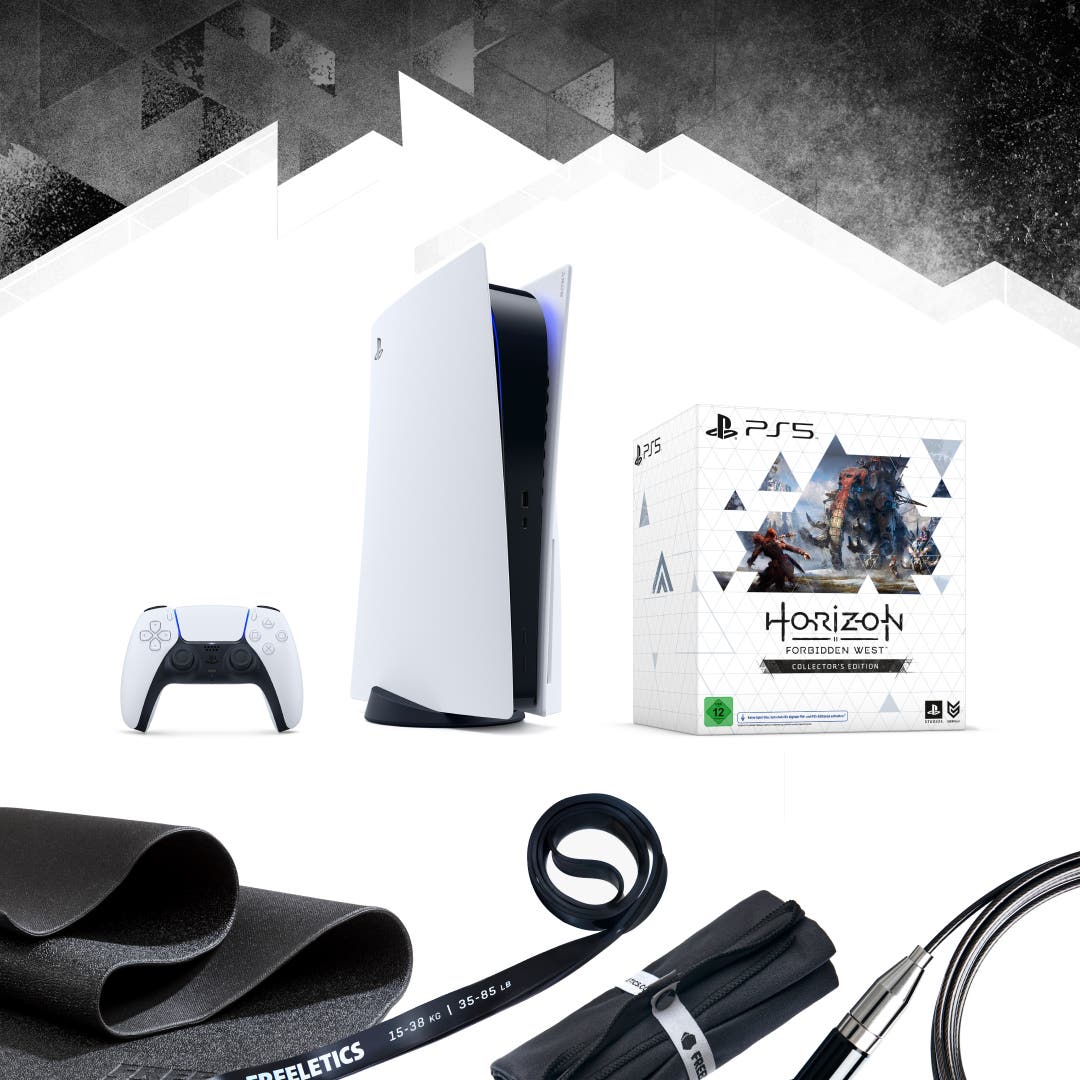 Prize Details
One lucky winner will take home the grand prize, consisting of a PlayStation®5, Horizon Forbidden West Collector's Edition, Horizon Tallneck water bottle, Horizon Waterproof Dry Bag, Freeletics Essentials No Excuses Workout Mat, Jump Rope, RainShield Gymbag, Resistance Band, and the Recycled PET Sweatproof towel.
Two runners up will receive a copy of Horizon Forbidden West (Digital Standard Edition) for PS4™ / PS5™, Horizon Tallneck water Bottle, Horizon Waterproof Dry Bag, Freeletics Essentials No Excuses Workout Mat, Jump Rope, RainShield Gymbag, and a €25 Essentials Shop voucher.
See The Training Journey In Action
Want to see what Defeat the Machines is really like? We've teamed up with streamer Gnu, @saftigesgnu, known for her gaming and workout videos. A fan of both Horizon Forbidden West and fitness, Gnu is the perfect match to walk you through the IRL experience of this exclusive Training Journey. Follow her on
Youtube
and
Instagram
to get training tips and to watch her Training Journey unfold!
Other Prizes & Giveaways
Make sure to follow Freeletics on Instagram: @Freeletics and PlayStation on Twitter: @PlayStationDE. We'll be giving away other prizes from PlayStation and Freeletics Essentials.
Tap
here
to read the Terms & Conditions.