Taking place in Cologne, Germany, over a weekend in early April, FIBO is the world's largest trade fair for fitness, wellness and health and Freeletics was there to leave its mark.
The Freeletics FIBO weekend kicked off with an early bird workout at Deutsches Sport & Olympia Museum by the iconic Cologne riverside. After a quick Typhon and a healthy breakfast, the Freeletics team were ready for the hustle and bustle of the event itself. Among the Freeletics contingent was health expert Sarah Schunter who's here to give the lowdown on five cool things Freeletics encountered at FIBO 2019.
A holistic approach to health and fitness
Stress reduction, well-being for both the body and soul, regeneration techniques and healthy nutrition: it's now clearer than ever that athletes strive for a truly holistic fitness experience. A dedicated area of FIBO gave extensive insights into health related topics such as equipment for recovery and relaxation, effective and healthy supplements as well as the psychology of eating and eating disorders. Fitness is no longer about spending an hour in the gym, it's a 360 life experience.
Neural training: connect body and mind
The rise of virtual reality technology in fitness has opened the door to a whole host of potential fitness technologies, one of which is neural training. In this method, muscles are set in motion while the brain "runs" through a virtual reality. This new experience is designed to improve endurance and benefit mental health by training cognitive and mental performance. This new approach to digital technology in fitness (and especially in studio classes) is set to become increasingly prominent in the next few years.
New to the well known: supplements
Among the bags upon bags of protein powder and the omnipresence of protein bars, we spotted some signs of change in the world of fitness supplements and nutrition. Companies from around the world presented protein alternatives in the form of lemonades, a 15 second scrambled rice, healthy puddings and even performance-specific alcohol-free beer were all on display at FIBO and are an interesting indicator of where sports nutrition is headed.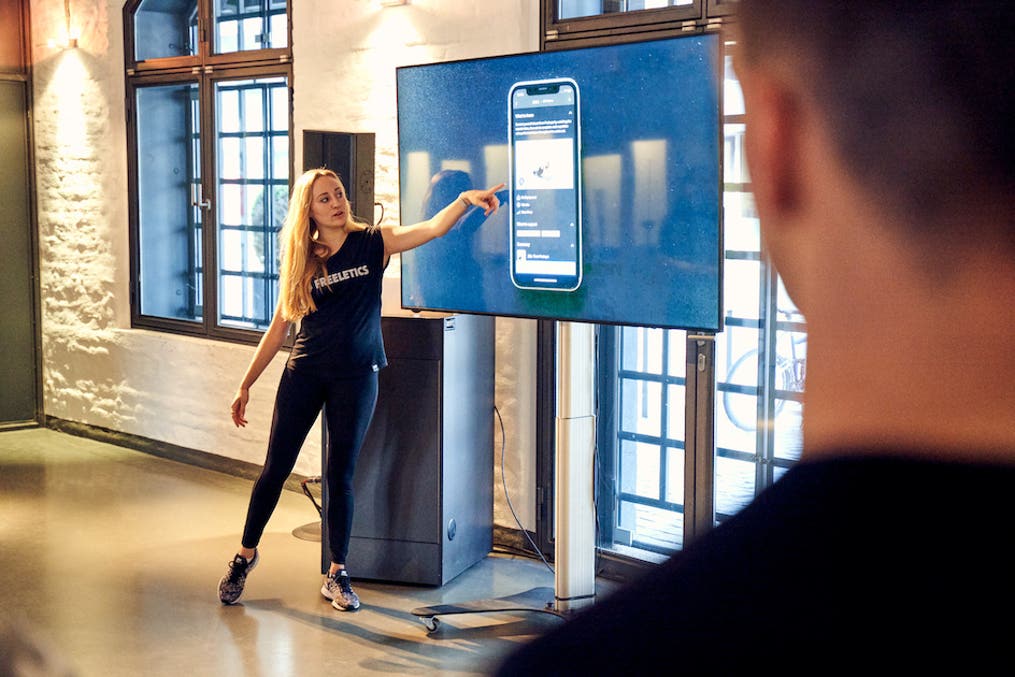 Quo vadis training: connected, diversified and individualized
The integration of digital tools in training can be extremely powerful, as Freeletics knows well. Athletes are increasingly looking towards more personalized solutions and digital readouts of individual training progress. In an increasingly crowded marketplace, the integration of apps and wearables, entertainment, competition and self-measurement are now decisive factors in people's fitness choices.
What's the news, FIBO?
With more than 1.100 international exhibitors and an estimated 140.000 visitors in 4 days, FIBO is the ultimate innovation hub for fitness and training and it's interesting to see the developments in the fitness industry first hand. However, what we mostly saw were treadmills, dumbbells in every size and color, spinning bikes, workout gear, protein bars and all kinds of (not so clean) supplements; no one can deny that fitness is becoming a commodifiable industry. In contrast, there's something to be said for having the choice and freedom to train however and wherever you like, with or without equipment. Could it be that Freeletics has outgrown FIBO?